Two Co-Founders develop features for a decentralized hyper-marketplace in Uizard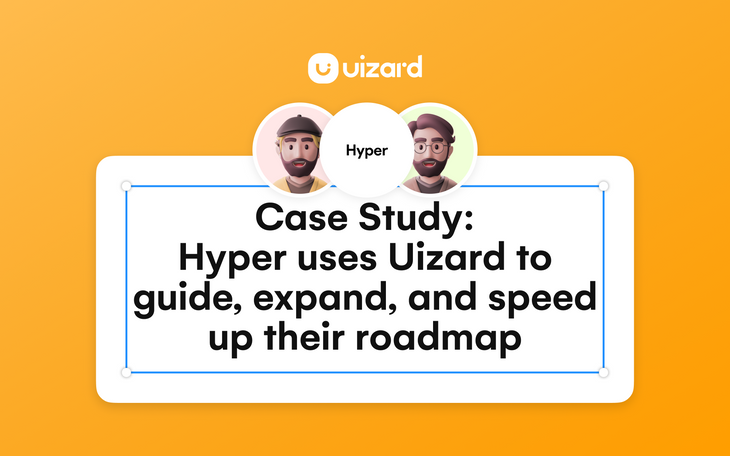 TLDR;
Hyper is pioneering Demand-as-a-Service (DaaS). Co-Founders George and Neoklis wanted to develop their platform quickly, but have decided to start the development themselves and engage developers at a later stage.
Following a personal onboarding with one of Uizard's founders, George and Neoklis rapidly put together Hyper's prototype in Uizard. The thing they appreciated most about Uizard was the speed of UX/UI prototyping. Rather than doing a wireframe, then a low-fidelity mockup, and then a high-fidelity mockup, they just went straight to high-fidelity and started putting in their own assets.
After years of not being able to visualize their idea, George and Neoklis finally did it with Uizard. Uizard enabled the co-founders to collaborate and answer: 'This is what I'm seeing, is this what you're seeing?' In Uizard, they collaborated and expanded on their vision, and according to them, that made an instant difference.
---
Who are George Karabassis and Neoklis Bloukos?
We sat down with Australia-based Uizard users, George Karabassis and Neoklis Bloukos, to learn more about their global vision for their startup Hyper, which they co-founded.
George, Neoklis, and a few others on their team are the brains behind this ambitious, user-centric project, where demand is transparent, and products are accessible in a decentralized manner.
What is Hyper?
George: Hyper is a hyper-marketplace that allows users to engage, collaborate, post, and demand. Users make a post, and we turn it into value. It's a marketplace where any business or institution can participate or post products, services — really anything.
Hyper is pioneering "Demand-as-a-Service (DaaS)," which is George's brainchild:
George: We encourage users to demand something through a visual, so, more or less, it's a Demand-as-a-Service. A Demand can be accepted, denied or pending, depending on whether the merchant gives you a discount or not. The user has the possibility to turn the demand into value through the other features that we've created. No one has ever really done that around the world. No one is really taking care of the user, but we are, because they are our priority.
George explained how Hyper's impact will be outsize, as society moves to web3 and other decentralized systems:
George: Users can get involved with a product in a way that they're of service to others. The platform allows users to create value and be rewarded financially. Anyone that makes a post can make a profit, depending on their content. It's unbelievable, the potential of how the network improves products, and how multiple thousands of people get to find out about products.
The Challenge
George and Neoklis wanted to develop their platform quickly. They decided to start the development themselves and to engage developers at a later stage so they would have a clearer concept on a set of procedures.
Neoklis: We decided on an app instead, and we needed a prototype with proper icons, photos, and text. We needed a high-resolution UI mockup, with good flow and interaction of our app screens. Our user interface has a lot of features, and it's very involved. The application is fairly simple, but our UI has to be user-friendly so it was very difficult to get the developers to understand every feature. In the end, we both decided that we should do it ourselves. Up to a point, at least. And that's when I came across Uizard.
Working with developers was also generating inefficiencies and costs in George and Neoklis' situation.
Neoklis: Initially, the developers gave us a brief on what they wanted to do, but it was a mixed result because it wasn't exact. We've got a lot of intellectual property and didn't want to make certain features obvious. We just wanted to tell them just briefly what we're doing, but then they couldn't understand as the idea is so complex. There are too many features. It was going to be tons of back and forth, and very costly and time-consuming.
When asked what caught their attention about Uizard, George replied:
George: We saw the simplicity. It worked, and from there onwards, we actually started talking to people at Uizard directly.
The Solution

Neoklis, who is more engaged on the technical side at Hyper, elaborated on the value they saw in Uizard:
Neoklis: The speed of actually being able to do a high-fidelity mockup of our ideas accomplished two things at once. Rather than doing a wireframe, then a low-fidelity mockup, and then a high-fidelity mockup, I just went straight to high-fidelity and started putting in my own photos. I really like Uizard's icons, and using them really speeds things up. When Uizard brought in Unsplash, that was a big deal for me because it meant that we could speed up the process by just inserting a photograph within Uizard.
He went on to explain how Uizard stood out as a design tool:
Neoklis: The thing that I loved about Uizard was purely the speed of prototyping. I looked at Uizard's competitors. I did try them, but I don't get their interfaces. They're okay, but Uizard is the speediest and most intuitive prototyping platform. The learning curve for me was easy. I got past the barriers of how to use their tools and templates quickly, and rapidly put things together, speeding up not only the prototype, but the further evolution of Hyper. Florian (COO at Uizard) was great; he went through it with me, and I couldn't have asked for a better teacher.
How did Uizard help?
When asked how Uizard impacted their business, Neoklis replied:
Neoklis: It's given me the ability to visualize what we were doing. I was able to say to George, 'This is what I'm seeing, is this what you're seeing?' and we were able to really collaborate and expand on our vision. As soon as we did that, it made an instant difference. We've done everything electronically, and Uizard helped clear everything up visually, especially in the flow clarifying our vision.
George added:
George: The impact was very clear. With Uizard, it was unbelievably simple to go from one screen to another. It made us innovate and come up with solutions. Before, it took 3-4 months to come up with a few screens. Now, in a few weeks, we're able to finish most of the main features and screens that we need.
George concluded the interview with some advice for other non-designers and founders. He shares that founders should build the initial prototype themselves because:
George: Today, we (founders) think about something, but tomorrow, we always improve it to something unbelievable. We are currently using Uizard to achieve amazing results. It will simplify the development process dramatically.
As for Hyper, if we were to remember one thing about it, George states that:
George: Hyper breaks all rules of innovation. We're a true omniverse; our users can move seamlessly between reality and our omniverse.
As George and Neoklis wholeheartedly recommend, get out there and achieve amazing results by signing up for Uizard here.