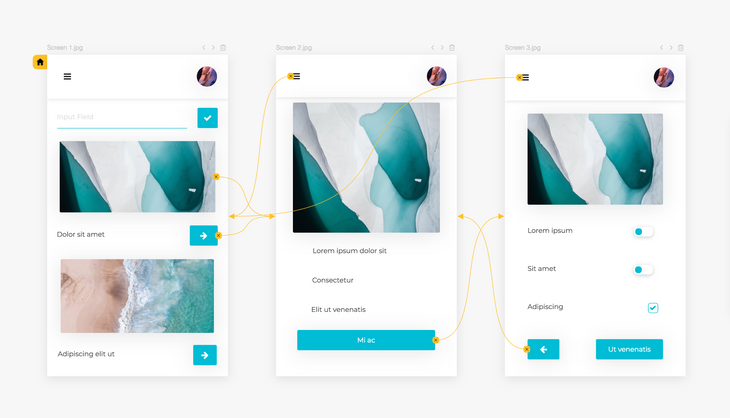 February 9th 2020
Wireframe mode
Automatic theme generator from images
Automatic theme generator from URLs
Automatic theme generator from Sketch files
November 3rd 2020
Permissions improvements
Duplicate prototypes
Duplicate themes
Export to JPG, PNG, PDF
September 21st 2020
Multiplayer
Public commenting
Trackpad pinch zoom
Permissions system for projects
August 26th 2020:  
In late August we released the new updated version of Uizard making editing and customizing components easier than ever before. The update brought with it:
New way of moving, adding and deleting components
Free moving around the canvas
Copy/past of components and artboards
and much more!
June 10th 2020
May 28th 2020: Overall updates
Updated roles and permissions
Web compiler improvement
Platform fixes
April 15th 2020
April 2nd: New components in themes
April 1st 2020
March 17th 2020:
Updates to the themes
Improved drag & drop feature
New sketching guide
Save custom templates
January 31st 2020: Desktop Support
Support for desktop and web app prototypes
Increased accuracy for mobile wireframe detection
Support for custom images
Layout fine-tuning controls
Support for Vue, Angular, and React (CSS, Styled Components, CSS Modules)
Support for artboard creation from scratch
Component starter kit
Dark Mode
June 6th 2019: Code Mode
No more snippets of code. Explore the entire generated project structure of your prototype in HTML/CSS, React, and Android.
April 4th 2019: Collaborate
You can now invite your friends and colleagues to collaborate with you on a prototype.
March 5th 2019: End-to-end workflow
Hack your design sprint! Watch Tony go from a few hand-drawn wireframes to an interactive prototype in 5 minutes.
January 24th 2019: Export interactive prototypes to code
It is now possible to export interactive prototypes to Sketch files, to HTML/CSS, and to Android code.
December 12th 2018: Prototyping
This video showcases how to use Uizard to transform several hand-drawn wireframes into a clickable high-fidelity interactive prototype.
October 25th 2018: Generating HTML/CSS
Uizard members can now download HTML and CSS code straight from their hand-drawn wireframes.
August 31st 2018: Style guides
This feature allows Uizard members to specify exactly how they want each element to look like and transform their wireframes according to the defined style system.
August 3rd 2018: From the whiteboard to Sketch with Uizard
This is a real-time video demonstrating how to transform automatically a hand-drawn wireframe on a whiteboard to a Sketch file.