Uizard announces Autodesigner: The world's first AI UI generator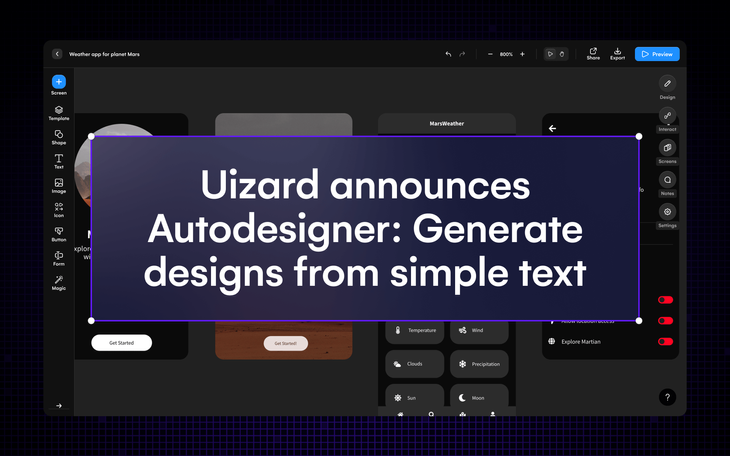 The news is out… On February 22nd, we announced Uizard Autodesigner, the world's first AI UI generator (COMING SOON). Autodesigner will empower users to generate editable, multi-screen designs from text. In the words of Uizard founder and CEO, Tony Beltramelli, it's basically ChatGPT for UX/UI design:
Uizard Autodesigner explained
Autodesigner is the latest feature in a long list of AI design innovations from Uizard and will provide users with yet another intuitive, AI-powered pathway for kicking off their app, web, or UI design project.
Got an idea for an app but you have no time to bring your idea to life? Maybe you have a concept for a design, but you lack the know-how to make it a reality? Uizard Autodesigner will serve as the perfect launching pad for your vision.
From a single text prompt, Autodesigner will generate a multi-screen, editable mockup in seconds for you to update, adapt, and iterate on. Once your design has been generated, you can use Uizard's easy-to-use drag-and-drop editor to update components, edit interactions, add new screens, and perfect your brand vision.
What is an AI UI design generator?
Put plainly, an AI UI generator is AI functionality that generates a UI design from a simple text prompt. Instead of spending mountains of time designing an app or web mockup from scratch, an AI UI design generator does the heavy lifting for you. Here are some example prompts the Uizard team has been having fun with behind the scenes ahead of the upcoming launch of Autodesigner:
🐕 A food delivery app for vegan pet food
🖊️ An app that sells black stationery for edgy designers
🪐 A weather app for planet Mars
🎨 A DIY store that sells only tartan paint
🍌 A grocery shopping app that only sells yellow food
🐢 An estate agent app that only sells houses for tortoises
🥀 An e-commerce store that sells only dying flowers
🎵 A music app for marketing managers
🧘 A meditation app for cool UX designers
When will Uizard Autodesigner be released?
We're excited for you to try out Uizard Autodesigner. Starting in late March 2023, we'll be inviting early adopters to test Autodesigner in small groups. The great news is, the sooner you sign up for early access, the faster you can unleash your creativity with Autodesigner. You can also climb up the waitlist by sharing your unique link with friends and colleagues.
Excited about the prospect of AI-generated UI design? If you want to be one of the first to try Uizard Autodesigner, then head over to our Autodesigner hub and sign up for early access. You can even jump up the waitlist by inviting your friends and colleagues with your unique Autodesigner link.