A complete guide to Uizard's AI features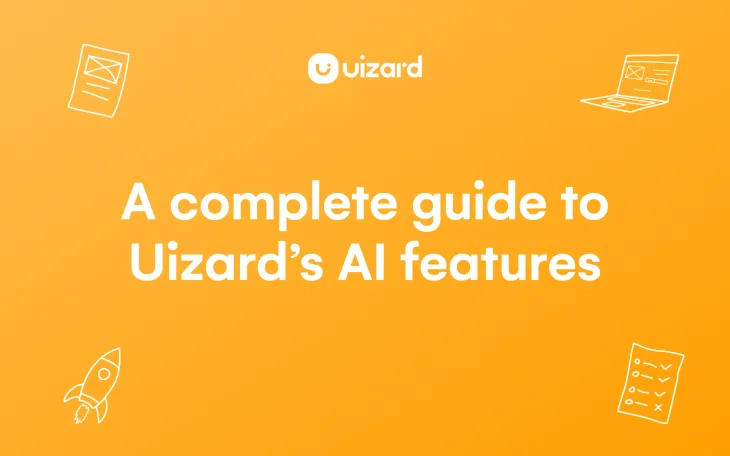 The word is out; Uizard's groundbreaking AI design features are transforming the design industry and making it easier than ever before for creatives of all skill levels to ideate, iterate, and prototype. Want to get the inside track on what AI-powered design mastery Uizard has to offer? Then you're in the right place.
Whether you are looking to use AI to generate editable mockups from simple screenshots, or you want to transform your hand-drawn wireframes into digital designs, Uizard is here to make your design journey faster and easier than ever before. From app design to UI creation and web page mockups, anything is possible!
Check out the comprehensive breakdown of our AI features below and revolutionize your workflow with the power of AI. The best part? You can sign up to Uizard for free right now! Before you do that though, let's find out what sets Uizard apart from its competitors and makes it the UX design tool of choice for creatives the world over.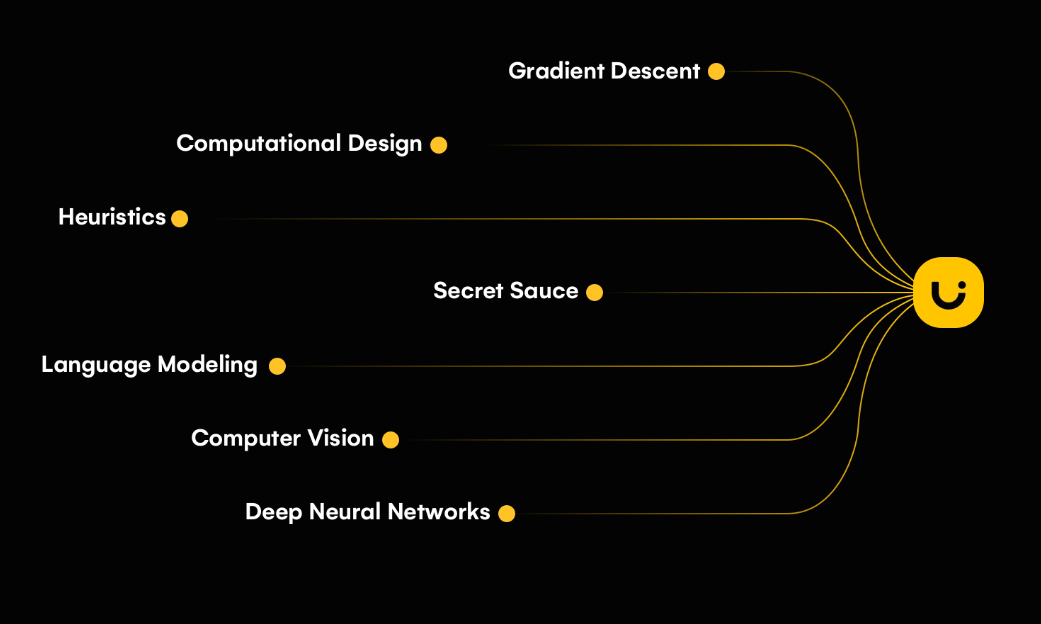 ---
Skip to section:
Generate mockups with simple text (COMING SOON)
Convert screenshots to editable mockups
Generate text for designs with simple prompts
Generate UI themes from images or URLs
Transform hand-drawn sketches into wireframes
Generate attention heatmaps to analyze your user flows
---
From text to mockup with Uizard Autodesigner (COMING SOON)
Got an idea for a project but don't know where to start? This is where Uizard Autodesigner comes in...
Autodesigner is the latest AI design feature from Uizard that enables users to generate UI mockups from simple text inputs. Joining Uizard's library of AI-powered features, Autodesigner will empower users to bring ides to life in a matter of seconds; simply enter a few simple phrases and let our AI tech do the hard work.
Autodesigner is not out yet but we'll be inviting early adopters to try out our amazing new tool in small batches starting in late March 2023. And the best part? The earlier you sign up for early access, the sooner you'll be able to unleash your creativity with Autodesigner. Sign up to the waiting list now.
Convert screenshots to editable mockups
Looking to adapt the design of a popular website or app for your own project? Maybe you're a startup creating a holiday home listing business and you want to create a UI mockup of the next Airbnb? Uizard's AI screenshot converter is the tool for you!
Upload screenshots to Uizard and let the AI magic unfold as your images are transformed into editable mockups in a matter of seconds. You can use screen grabs of your favorite apps, websites, and UIs and make them your own in next to no time. Check out the example below to see the whole thing in action…
Generate text for designs with simple prompts
Creating the right copy for your designs can be tricky. Even if you are working on an early iteration of your UI mockup, it's important to get the right text in place to demonstrate both your user flows as well as the general tone of voice and syntax of your messaging. The last thing you need when you're testing your design with stakeholders is repetitive copy or, heaven forbid, lorum ipsem text in the place of actual content.
Whether you are working on placeholders, CTA text, or titles and subtitles for the various screens of your app or web design, getting the perfect creative text has never been so easy. Make wrestling with your messaging a thing of the past with Uizard's AI Text Assistant. To get started, all you have to do is type in some relevant prompt words and let Uizard's Design Assistant do the hard work.
Generate UI themes from images or URLs
Want to overhaul the entire theme of your website or mobile app design? Maybe you want to copy the general theme of a popular competitor or market leader as a cognitive hack to instantly conjure up a sense of familiarity with your audience. Then Uizard's theme generation features are the perfect solution for you.
Uizard uses powerful deep-learning algorithms to generate beautiful design themes from the images you upload. Photos, screenshots, mood boards… regardless of where you get inspiration from, Uizard can generate a matching UX/UI theme in next to no time.
Uizard's AI design tools can even extract colors, stylization, typography, and other components from any app screenshot, meaning you can transfer a design style from one project to another with just a few clicks of a button.
Transform hand-drawn sketches into wireframes
Whether you scribble your app ideas down on a whiteboard, in a notebook, or on a scrap of paper, transforming your idea into a UX/UI prototype has never been so easy. Sign up to Uizard for free and scan in your hand-drawn wireframes to instantly transform them into editable digital designs.
Uizard's wireframe mode even allows you to take control over the level of fidelity of your design, meaning you can switch between low fidelity and higher fidelity with the flick of the switch, giving you complete control over the design and iteration process.
Generate attention heatmaps to analyze your user flows
Struggling to understand how your users might interact with your app design? Wondering where to place core CTAs to ensure a smooth user journey from discovery to your primary target action? Then bring the power of generative AI into your workflow with Uizard's AI heatmap functionality.
It doesn't matter whether you want to review the general structure of your design, analyze specific CTAs, or develop an understanding of how to advance your design through the next stage of iteration, you can use Uizard to generate attention heatmaps to predict the areas of your project where users will focus their attention the most.
Unleash your creative potential with the power of AI design
Whether you are a design whiz who has been through the ideation and iteration stages multiple times, or you're a founder with a brand-new idea that you can't wait to bring to life, Uizard is the perfect AI design tool to help you with your design flow. Scan in your wireframes, conjure up the perfect placeholder text, analyze your user flows... the possibilities are endless.
Ready to get started on your next web or mobile app design? Join the AI design revolution today and sign up to Uizard for free. Want to learn more about the world of design? Head over to the Uizard blog now.