The comprehensive AI design tool stack 2023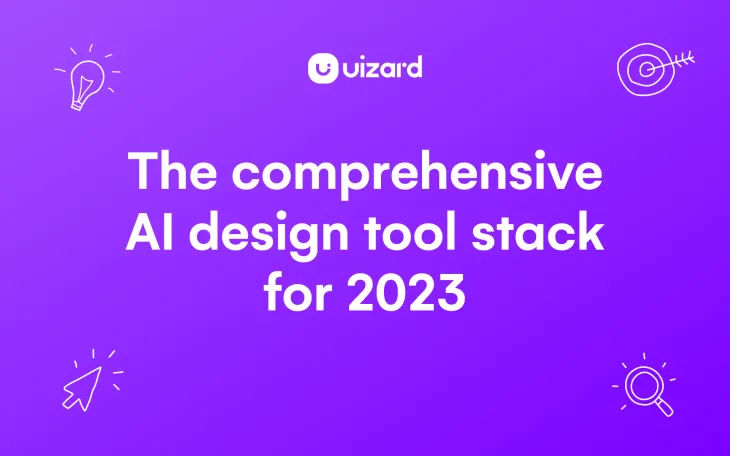 AI design is here and it's here to stay. Whether you are working on content generation, graphic design, online wireframing, or designing UI mockups, there are a whole host of AI design tools out there to help you get the job done faster than ever before. One of the biggest trends we anticipate for the coming year is designers leveraging AI to work more efficiently and effectively, freeing up time for more strategic thinking.
Perhaps more importantly though, AI design tools will empower more people to take an active part in the design and content creation process; even those with little design skill will be able to transform the way they approach almost any task.
With the recent emergence of ChatGPT, discussions around generative AI and AI design tools has been rife amongst the design community, and this only looks to continue through 2023 and beyond. The IDC forecasts that the AI software market will drive $791.5 billion in revenue in 2025, signalling that the adoption of AI-powered tech will skyrocket over the coming years.
But how can you as a designer, a founder, or a project manager leverage AI tools in the here and now? If you're looking to get the inside track on the best tools out there for any task, then you're in the right place. Here is our list of top-tier AI-powered design tools to supercharge your creativity. With our list of best-in-class tools, you can revolutionize the way you work on all your future projects…
Skip to section:
Bring your idea to life with the power of AI
---
What is AI design?
AI design is the production, creation, and development of digital products with the assistance of artificial intelligence. AI is predominantly used to increase the speed and outcomes of projects or to compensate for a lack of knowledge or skill gaps within a project team. AI design is a broad term, however, in common parlance, it is often used synonymously with the term AI design tool, which largely describes any software or application that uses machine learning to support processes, outcomes, efficiency, and creativity.
In practical terms, artificial intelligence in design allows users to perform a wide range of tasks to improve outputs as well as outcomes; however, the role AI plays varies depending on the core purpose of the software in question. A graphic design AI tool, for example, is largely focused on the creative power that AI can provide; generating images, icons, and templates. A UX design tool, such as Uizard, on the other hand has a vast array of AI features that support users with a whole host of design, testing, and iteration tasks.
AI design tools for any task
From more advanced tasks such as app design, right through to simple content generation for editorial copy, AI will truly open up the design world to all.
The common consensus among many designers is that, as interest in AI design continues to grow - as demonstrated by the Google trends graph below - and more tools make their way to market, so too will the adoption of AI-powered design software as supplementary methods of fueling creative thinking and outcomes.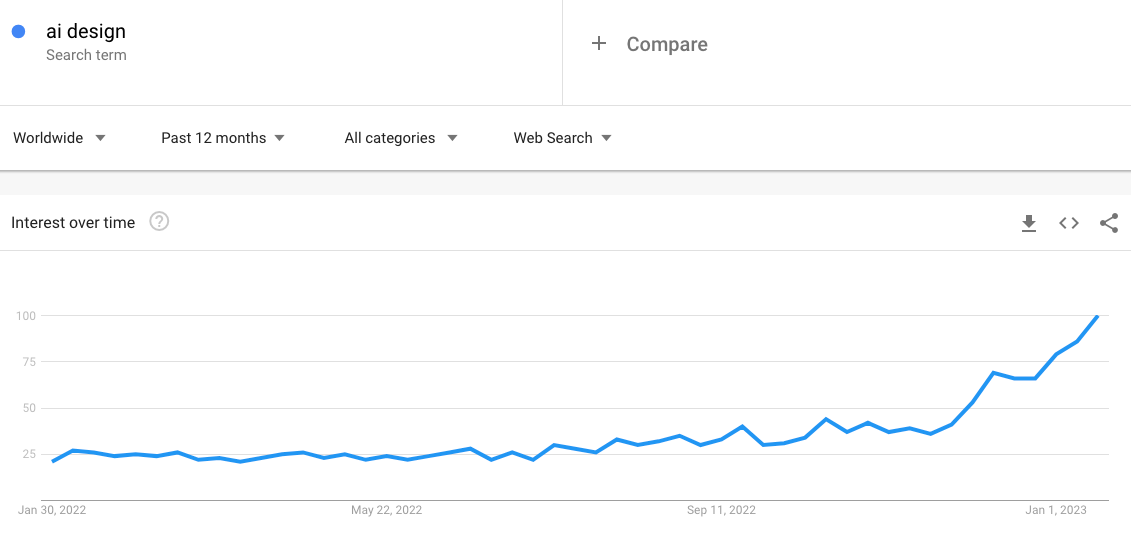 Ready to transform the way you design? Here is the ultimate AI design tool stack to supercharge your next project:
Uizard - AI for UX design
ChatGPT - AI for research and content creation
Jasper - AI for copywriting
NVIDIA Canvas, DALL.E 2 - AI for digital art and imagery
Runway - AI for video editing
Colormind - AI for color palette generation
Looka - AI for logo design
AI UX design
When it comes to AI-powered UX design tools, there are a couple of options out there on the market right now. However, having AI features doesn't automatically mean that the core user experience is going to be quick and simple, nor does it mean that the core functionality of the software instantly becomes easier to use.
In many cases, even with a sprinkle of AI-powered functionality, the learning curve with a lot of UX/UI design tools is extremely steep, particularly when it comes to vector-based design tools. This is where Uizard comes in. Uizard stands out in the market because it boasts an incredible repertoire of AI design features alongside an extremely easy-to-use drag-and-drop editor, making app design, web design, and UX design faster and more accessible than ever before.
In terms of AI features, with Uizard you can transform screenshots of UIs into editable mockups, convert hand-drawn sketches into wireframes, generate copy from simple prompts, and even generate UI themes from URLs! Head over to our complete guide to Uizard's AI features to find out more.
AI research and content creation
This wouldn't be an AI tool stack article without a mention of ChatGPT. The poster boy for generative AI, ChatGPT is a model created by OpenAI which allows users to ask questions, gather information, generate content, and even iterate copy.
ChatGPT functions in dialogue format which allows for a 'conversation' with users - the tool will remember what was asked earlier in an interaction creating a back-and-forth where ideas can be built on and refined, mistakes can be corrected, and concepts can be clarified.
In terms of design applications, ChatGPT can be used for ideation, to check conceptual information, and to assist with content such as landing page copy and editorial pieces. It can even be used for content translation! The caveat with ChatGPT is that the outputs are only as good as the user is at providing the right prompts and qualifications.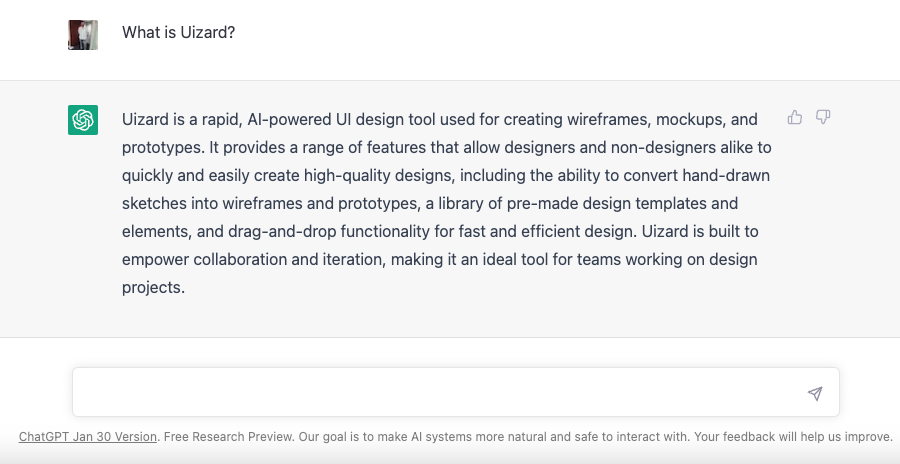 AI copywriting
When you think of AI tools to transform the way you design, you probably don't immediately think of AI copywriting tools, but a good copy generator can be of huge benefit to design teams, particularly when it comes to designing landing pages or informational pages for your digital product design.
AI writing tools, like Jasper, have the potential to save you mountains of time during both the design stage of product creation and during development, whether that be with landing page copy, product descriptions, editorial content, or even language translation for different geolocations.
Sadly, most AI writing tools don't come cheap. If you are working on a brand-new app or web design, why not try Uizard's AI-powered text assistant for your project? The feature allows you to generate copy for your headings, CTAs, and content blocks with the click of a button completely free!
AI digital art and imagery
If you're working on an app or web design, AI software for creating digital art probably isn't at the forefront of your mind as a must-have tool for the success of your project but, depending on the type of niche you're designing for, there are several tools you can leverage such as NVIDIA Canvas or DALL-E 2 for the creative elements of your project.
NVIDIA Canvas, for example, provides a space for users to paint or draw rudimentary shapes and images using a finger or stylus, with the tool's AI functionality then upscaling the design based on what 'style' or design element the user has chosen. DALL-E 2, on the other hand, has the capability of generating images in different styles based on text inputs - perfect for royalty-free placeholder images.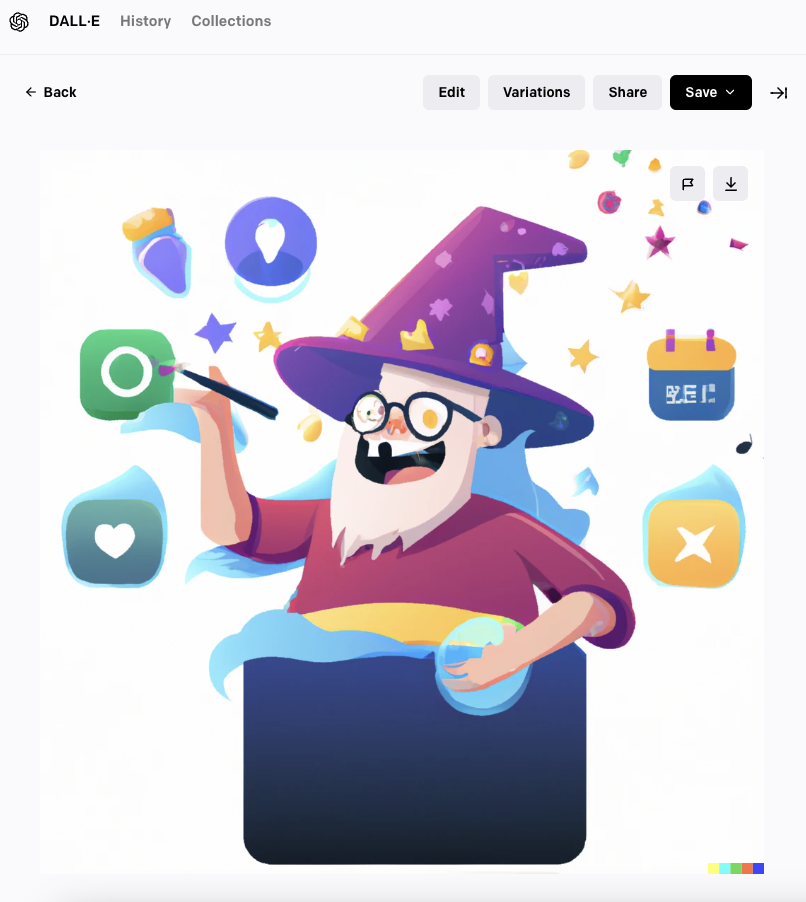 AI video editing
If you're a founder or project manager working on a UX design, video content can be a great way to showcase your product to stakeholders or even potential investors.
With tools like Runway, you can use the power of AI for all your video editing needs. Runway allows users to save a huge amount of time on the post-production of content, meaning you can perfect a product demo for your app with much less experience than would typically be required.
Runway also has text-to-video functionality as well as an inpainting feature that uses AI to expand the frame of an image, helping you to populate your landing pages with interesting and dynamic video assets faster than ever before.
AI color palette generation
If you're right at the beginning of your design journey, there are a huge number of considerations for how you want to position your product and your brand. One thing that you really need to get right is the color palette of your brand as well as the colors you use across your website or app design.
This is where AI-powered color palette generation tools such as Colormind come in.
Colormind is AI design software that helps you choose colors for your designs. The tool generates a palette based on a starting color to ensure you have a visual spectrum that work from a UI design POV.
Top tip: if you want to import colors from an established design or a brand that inspires you, then Uizard's AI theme generator is the tool for you! Simply use a screenshot or the URL of a target site to apply the color scheme to your own design in Uizard's easy to user editor!
AI logo design
Stuck when it comes to creating the perfect logo for your brand? One thing is for sure, your logo matters. You need to conjure up something memorable for users, something that invokes the spirit of your brand whilst also conveying your philosophy and purpose; it's no simple task.
This is where AI logo design tool, Looka, comes in.
Looka's AI software supports users to create a brand logo that matches the product vision. With Looka, you can generate variations of a logo based on simple inputs and then map them out across marketing materials to really help visualize what your brand would look like out in the wild.
Bring your idea to life with the power of AI
When working on a brand new web or app design, it's easy to get overwhelmed by the sheer scope of the project in front of you. AI design tools such as Uizard can be a great way to expedite your workflow. As well as being intuitive and easy-to-use, Uizard's groundbreaking AI features empower you to create faster and more collaboratively than ever before. Go from idea, to design, to dev handoff in next to no time.
Ready to bring your app or web design to life with the power of AI? Join the AI design revolution and sign up to Uizard for free right now. Want to learn more about the world of design? Head over to the Uizard blog where we cover everything from wireframing basics right through to advanced design tips.