Autodesigner 1.5: Generate screens, themes, & images from text prompts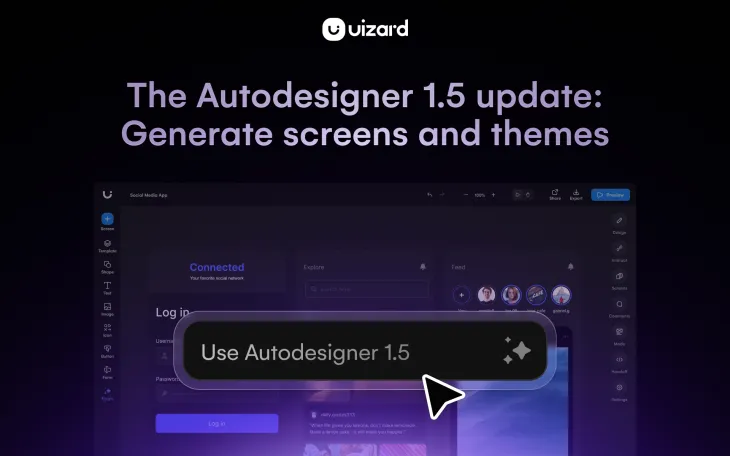 The release of Autodesigner earlier this year marked a pivotal point in the AI UI design tool space. Turning simple text prompts into multi-screen prototypes has helped thousands upon thousands of designers, product managers, consultants and more to get started with a design project. With a staggering 150,000 designs generated since launch, Autodesigner has not only become an essential tool in the design community, but also a testament to the crucial role of AI in creative processes.
That's why we are excited to announce the launch of Autodesigner 1.5! Crafted to inject even more efficiency and intuition into your design adventures, expect even more AI-powered design features with this update.
What can you expect from the 1.5 Update?
Located in a handy new widget at the bottom of the Uizard editor, Autodesigner has three magical new features to aid you on your design journey. So, let's delve into the features that are set to amplify your design experience:
1. Screen Generator
Ignite your creativity and expand your app or web design with Screen Generator. From a simple text prompt you can generate single screens to add to your Uizard project. Each screen generated will also perfectly match the theme of your project, so you don't have to worry about editing the aesthetics.
As if that wasn't enough, you also get five screen generations to choose from, which means finding your perfect AI generated screen is right around the corner. From sign up and landing pages, to product screens and more, there's a screen generation for any stage of your project.
2. Theme Generator
Consistency meets creativity with the Theme Generator. Craft UI themes using a simple text prompt and apply it to your entire project. Within moments, each and every design screen will be carefully updated to match your theme requirements.
Ensure a unified and aesthetically pleasing design across all screens with the latest Autodesigner update — the fastest way to unite your multi-screen UI design.
3. Image Generator
Looking for a super specific, completely unique image? With Image Generator you can turn text prompts into images, and you can even specify a style of image too. From illustrated images to life-like photos and more, simplify the visual creation process with Autodesigner's Image Generator.
Each of these three features are engineered to further streamline your design journey. From idea conception, to shareable prototype, the Autodesigner 1.5 update ensures a smooth and enjoyable transition.
Using Autodesigner 1.5
Embarking on your design journey with Autodesigner 1.5 is incredibly user-friendly, and most of all fun. The process, whether generating screens, themes, or images, involves just a simple input of text. And from here, you can let Autodesigner 1.5 work its AI magic.
For an in-depth look at how to transform your ideas into visual realities, watch our YouTube video below:
In combination with Uizard's AI UI generator, the Autodesigner 1.5 update stands as a collaborative ally in your design endeavors. It's not merely a tool but a co-creator, interpreting your textual ideas, and translating them into tangible, visual designs, ensuring your creative visions are always realized.
Ready to explore the capabilities of Autodesigner 1.5? Sign up to Uizard and navigate a world where your creative ideas are effortlessly brought to life. Keep your eyes peeled on our blog for more platform updates, as well as helpful UI design tips and tricks.