What's New? September Updates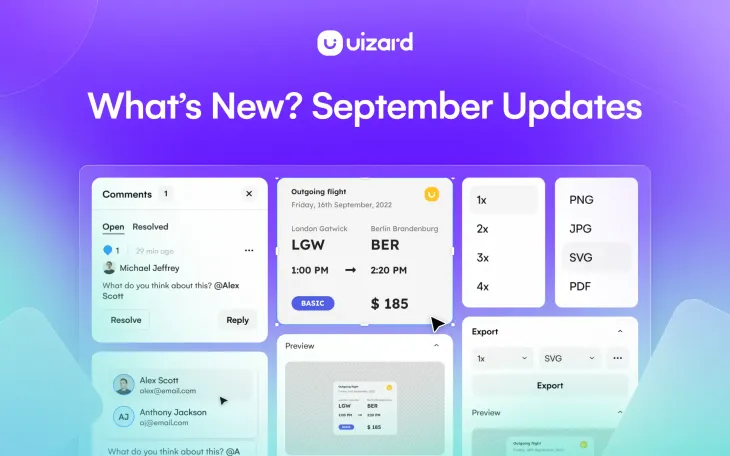 At Uizard, our team is hard at work behind the scenes adding new features and updates to the platform for you to enjoy. This month the Uizard platform has had a few hotly-anticipated updates: SVG export, Handoff Mode, and mentions in comments.
These new features allow you to work better, faster and more efficiently on your Uizard design projects. This article will explore Uizard's newest updates for the month of September, how they can be used, and how you can benefit from them.
---
SVG export
Now available to Uizard Pro users is SVG export. Which means you can export a singular element, component, or a whole design screen in an SVG format using the export function in the right hand side design panel.
Once exported, you can share your SVG file with clients for a second opinion, collaborate with colleagues, or send to developers to advance your project. SVG export can help you to complete your design workflow, and to make the most of your Uizard projects.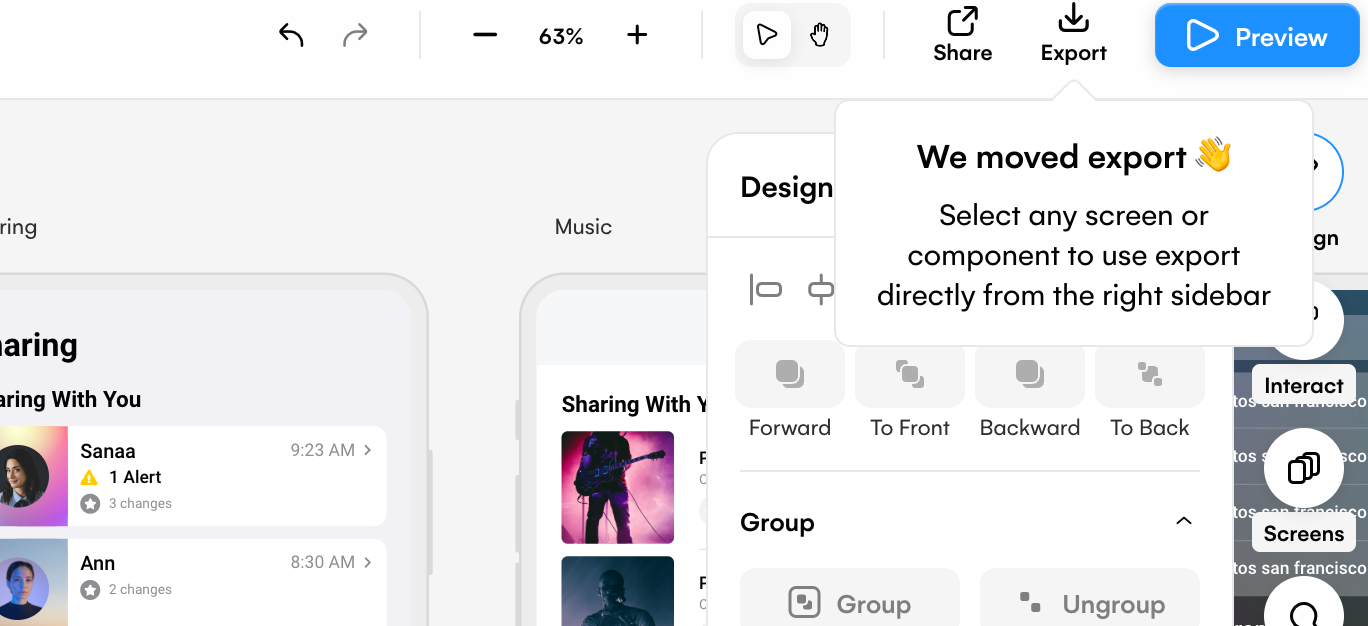 Originally, the export function was located in the top right corner of the platform next to the preview function. However, to incorporate more options for Uizard users, it has been moved to the design panel on the right.
How to use:
Select the screen, component or element that you want to export, and scroll down on the right design panel to the 'Export' section. Here you can preview your screen, component or element as it would appear once downloaded. You can also edit the type of format you want to download your asset in using the dropdown menu. To export as an SVG file, click the SVG option. Now all you need to do is press export and your design screen, element or component will be downloaded.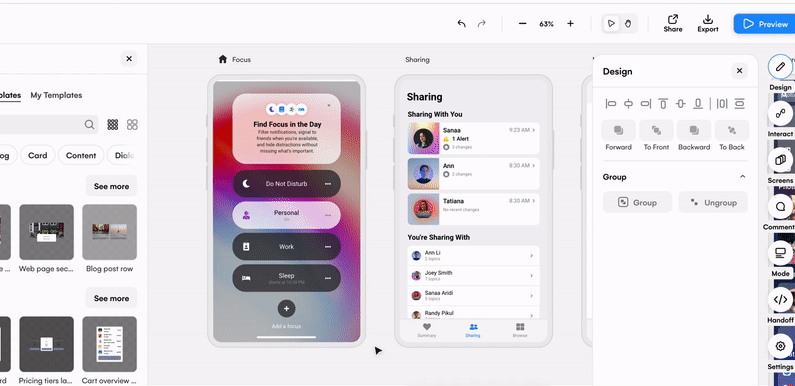 Handoff Mode
With Uizard's new Handoff Mode, you can inspect the CSS properties of any element or component in a Uizard project and export related assets. Streamlining your project sign off and handing over your designs to dev teams just got a whole lot easier.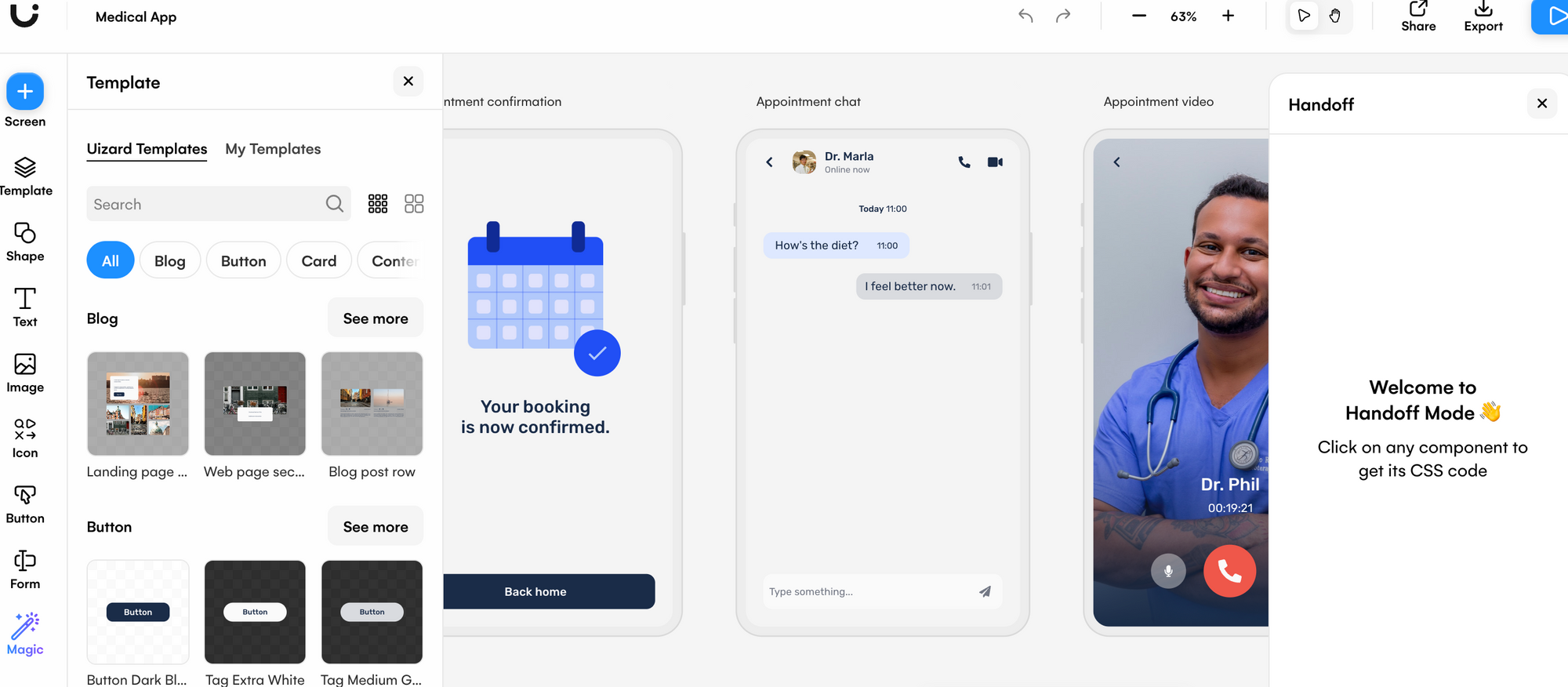 How to use:
Handoff Mode can be found in the menu on the right-hand side of the Uizard editor. Once you're happy with your Uizard project, you can select any component or element in your design, and hit the Handoff Mode button to get started. From here, you will have instant access to the CSS properties of your chosen component or element. Simply hit the copy code button to use elsewhere.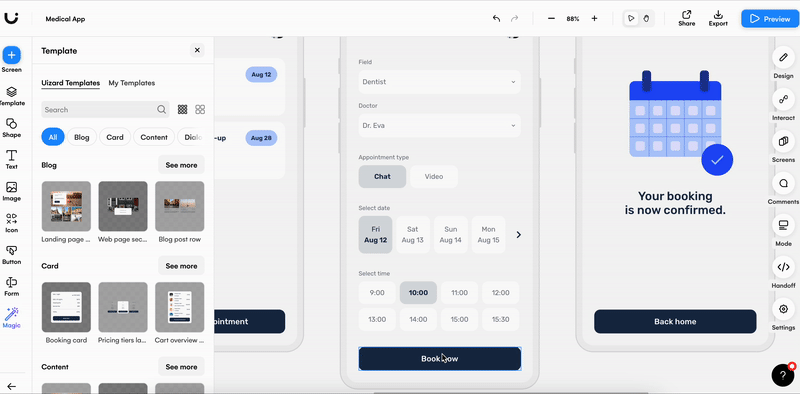 If you have selected an icon element, you can also export this asset using Handoff Mode too.  This option sits above the code section in the panel, and helps to further develop your project. Improve your design workflow whilst meeting team and project needs effortlessly with Handoff Mode in Uizard.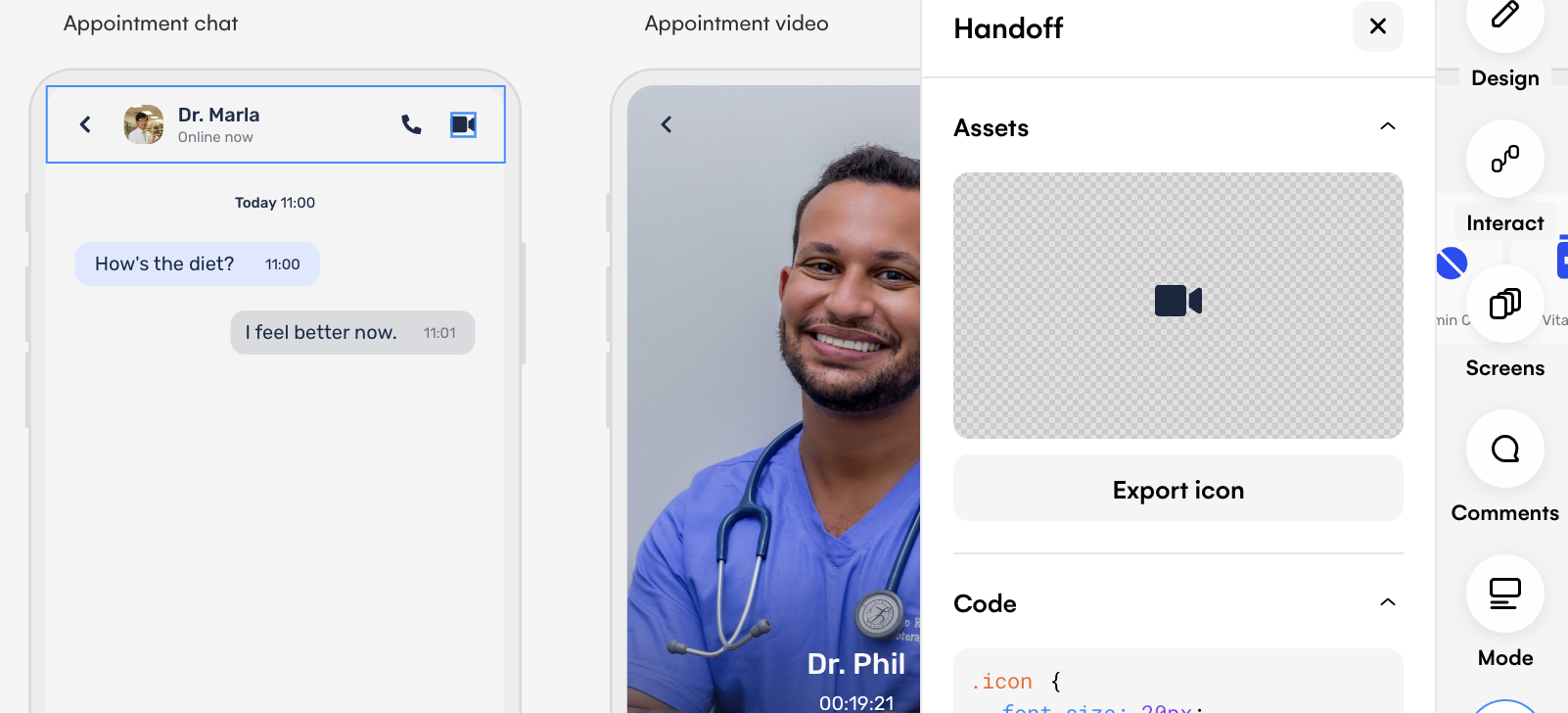 Mentions in comments
For faster, and more efficient collaboration, you can now tag colleagues in comments on your design project. Mentions in comments is easy to use, and ensures that certain comments are highlighted and directed to the right person.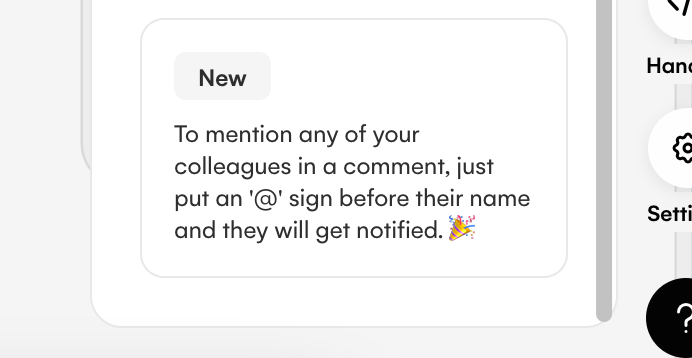 How to use:
Once you have invited others to collaborate on your project you can get started with the comments function. To start a thread, simply select the 'Comments' option on the right control panel, and drop a blue marker onto a desired point on your design. From here you can use the message function to mention one of your colleagues in your comment.
Typing the '@' symbol will bring up a list of people you can pick from, or you can use the '@' icon in the bottom left corner. You can then write your comment. This new addition to the Uizard platform offers the ability to draw a particular colleague, or client's attention to a comment for a quick and efficient thread resolution.
Coming to a Uizard Pro account near you…
The Uizard team has been working super hard on something magical for Pro users. Excited? Intrigued? Can't wait? Us too. Keep your eyes peeled for another Uizard platform update very soon.
Related reading: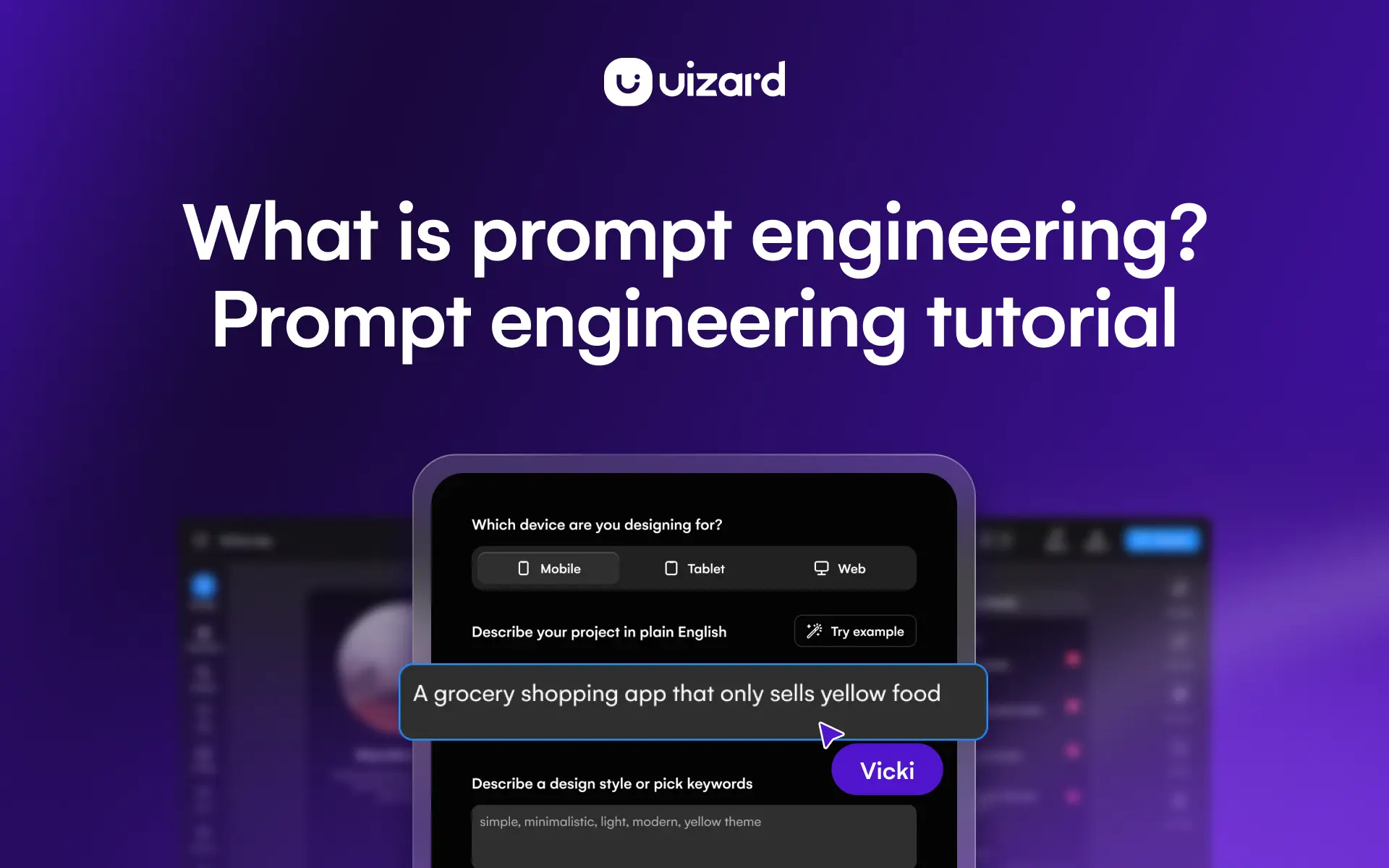 For more information on platform updates, check out our blog every month where we will do a simple round-up of what's new. New to Uizard? Why not get started with a design project and sign up today.