Uizard prototyping vs. Canva prototyping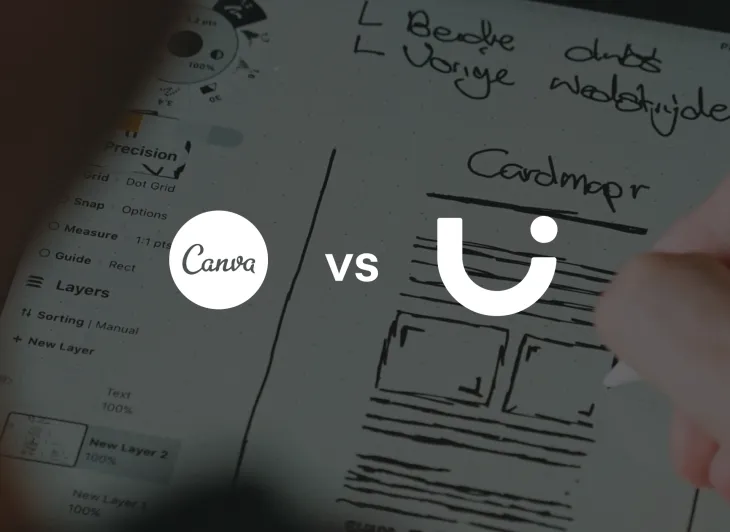 If there's one thing that we are proud of here at Uizard, it's how we've supported non-designers the world over as the go-to tool for user-friendly prototyping. With our AI-powered features, we've enabled countless startups and product teams to transform their ideas from rough concepts to design reality faster than ever before.
Whether you've got a few wireframe sketches or a full app vision, our quick and easy drag-and-drop editor is here to help you bring your product design to life.
Even we can admit though that we are not the only player on the market… Canva's journey from a small, user-friendly tool to a household name started over 10 years ago yet, even as one of the biggest names within the graphic design sphere, the platform has not been without criticism. One of the most common drawbacks of Canva often cited by its userbase is the lack of scope for app and UX design... enter Canva prototyping.
So, what is Canva prototyping, and how does it compare to a dedicated tool within the field, such as Uizard? Join us as we look at both, assessing the strengths, weaknesses, and use cases of each. Want to check out Uizard for yourself? You can sign up for free right now. All done? Let's dive into the ultimate head-to-head… here is Canva prototyping vs. Uizard prototyping.
Skip to section:
Uizard prototyping vs. Canva prototyping: The similarities
Uizard prototyping vs. Canva prototyping: The differences
Verdict: Rapidly design prototypes with the power of AI with Uizard
---
Uizard prototyping vs. Canva prototyping: The similarities
First and foremost, Uizard was created with one main aim in mind; to support users to design web and app prototypes in a fast, easy, and accessible way; Canva's prototyping tool doesn't stray too far from this core goal. Here are the main similarities between the two:
Rapid prototyping for apps and websites
Both Uizard and Canva prototyping are made with non-designers in mind. Before the rise of Uizard in particular, accessible UI design tools were just not a thing. Market leaders (such as Figma) have historically been more geared towards experienced designers, with an emphasis on more complicated systems such as vector-based design.
Uizard provides an extremely accessible solution for a wide range of use cases, essentially democratizing app, web, and UI design. With Uizard (and with Canva prototyping), designing prototypes is super quick and easy. You can create wireframes, transform them into mockups, add UX elements, and link screens in next to no time.
Collaboration made easy
Another aim we're passionate about here at Uizard is ensuring that users are empowered with easy and intuitive ways to collaborate and gather feedback from core stakeholders. This gave rise to our smart sharing features.
Once you've started a UX prototype with Uizard, it's super easy to add team members to your project, allowing you to collaborate in real-time and gather feedback on screens, aesthetic choices, and even specific user flows. You can even share a preview link of your prototype with prospective customers or external stakeholders to get vital feedback on the validity of your design.
Canva prototyping effectively mirrors this functionality (although we would argue to a lesser extent). Both tools are designed for fast collaboration and team projects but, more importantly, they are designed for the rapid testing of ideas and concepts.
Drag-and-drop editing for ease of use
Uizard and Canva prototyping are designed for ease of use. Both tools feature user-friendly drag-and-drop editing allowing even the most novice project manager or team member to flesh out an app or web design. Both tools contain an extensive library of UI components that make UI prototyping easier than ever before.
Uizard prototyping vs. Canva prototyping: The differences
Uizard and Canva prototyping might share a fair few characteristics and features, but the important distinction is that Uizard is a dedicated UX/UI prototyping tool whereas Canva prototyping is an addition to the platform's already broad repertoire of features and functionality. For this reason, it could be argued that a lot of Uizard's features are more comprehensive than what you might find with Canva.
Uizard: AI-powered design
The biggest differentiator between Uizard and Canva Prototyping? Uizard's groundbreaking AI-powered Design Assistant. Unlike other tools on the market, Uizard boasts a range of AI features that revolutionize digital product prototyping and redefine what it means to be a user-friendly rapid prototyping tool.
Whether it's Uizard's Wireframe Scanner which transforms hand-drawn wireframes into digital versions or Text Assistant which allows users to generate copy for CTAs, headings and other on-page elements, Uizard is leading the way as an AI design tool (you can even use Uizard to transform screenshots into editable mockups!).
Uizard: Design fully fleshed-out UX prototypes
Yes, Canva prototypes can include user flows and clickable link functionality however, it could be argued that these features a much less robust than what you get when prototyping with Uizard. Uizard was created to support UX design as much as it was created for layouts and aesthetics. This distinction may not be immediately apparent at a glance, but deep dive into both tools' pre-made UI design templates and the huge gap in scope becomes more apparent.
Uizard templates provide users with a fully fleshed-out app or web design concept that boats a detailed network of functional UX links and interactions. This gives users a huge head start in several ways. Firstly, they can simply sign up to Uizard for free and have a full prototype concept in front of them almost immediately.
More importantly, though, it allows users to truly fast-track their projects. Because of the level of detail provided in Uizard design templates, users can rapidly update a project to suit their own branding or design choices. You can essentially put together a design that is closely aligned with your vision within a matter of minutes, not hours.
Verdict: Rapidly design prototypes with the power of AI with Uizard
So, Uizard vs. Canva prototyping, what's the verdict? Well, it really depends on what you want to achieve with your project. If you want to create a mockup of an app or webpage to showcase a rough idea (and you don't mind doing everything by hand with no AI assistance) then Canva prototyping might be the solution for you.
If, however, you want to quickly create a fully fleshed-out prototype for an app, website, or UI system, then Uizard is the tool for you. Uizard's AI-powered features, its comprehensive UX components, and its focus on rapid, user-friendly design make it the perfect tool for your project, regardless of your level of design experience or skill.
Looking for an easy-to-use, user-friendly design tool for apps and websites? Try Uizard for free today. Want to learn more about all things design? Head over to the Uizard blog where we talk about everything from AI-powered design to design philosophy.