The democratization of design: A conversation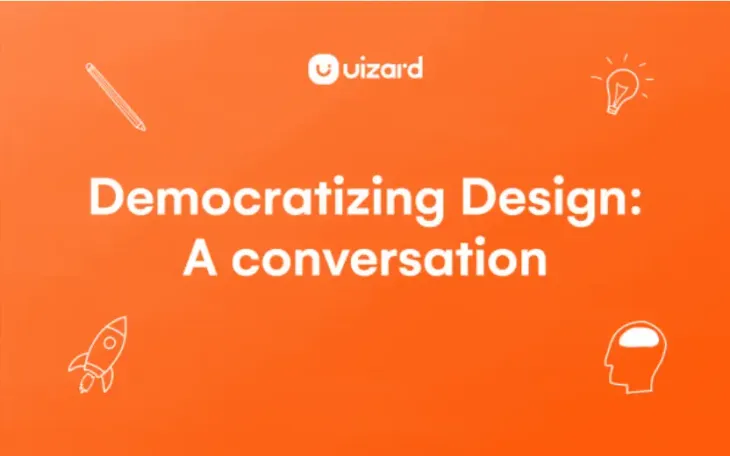 Designers and their specialized skills have long held a vaunted status within organizations, and have fiercely protected their domain. But the widespread adoption of design thinking methods and the emergence of no-code and no-design tools has blown the doors open on the digital product design and UX design processes, making them more, transparent, hands-on, and accessible to participants from outside the design sphere.

Further, in the words of design leader (and creator of Semplice Wordpress templates), Tobias Van Schneider, "we have standardized the "craft" of design with new systems, and a new creative class was born on the groundwork we've been laying for years." This has inevitably led to some rumblings in the professional design community, concerned about the diminishment of designers' formal training and the erosion of a design discipline.
But looked at from another angle, this democratizing effect has been, at its core, about empowering non-designers with what authors David and Tom Kelley call creative confidence.
Tapping into our individual creative potential, as the Kelleys suggest, is a powerful tool for innovation and problem-solving, regardless of our job titles or educational background. And it's hard to see that as having anything but a net-positive impact. Nevertheless, we wanted to open up a conversation about the democratization of design, including the growing pains associated with its implementation. For a broad spectrum of viewpoints, we interviewed nine individuals across a variety of roles, ranging from CEOs to UX practitioners. Here's what they had to say...
---
Skip to section:
What it means to "democratize design"
Every "democratized" company is different
Democratization of design; tools are changing the game
Pitfalls to avoid with the democratization of design
Uizard, driving design democratization
---
What it means to "democratize design"
It's helpful to start with a ground floor definition of what 'democratization' means in the context of design. Simply speaking, it implies distributing knowledge held by an elite group of professionals to a broader group of non-experts. To be fair, the hybrid nature of digital design skills can hardly be called elite, since the field's earliest adopters and promoters were largely self-taught. And over the past twenty-odd years, the field of design has necessarily evolved at the breakneck pace of technological change.
In Van Schneider's view, the democratization of design came in two phases. First was the embrace of design thinking, fundamentally reorienting business goals to center the customer, rather than the product (or even profit). Customer expectations shifted in parallel; good design and user experience are now table stakes.
Even as companies are still wrapping their brains around what design is, or where it fits in their org structures, they need to look no further than their bottom lines to justify investing in it. According to a widely-quoted McKinsey report on the value of design: "Businesses that embrace design generate 32% more revenue, and 56% more shareholder returns, on average."
As a result, the demand for design is fast outpacing the supply of designers. Hence the popularity of platforms like Fiverr, a global platform where design services can be bought for bargain prices. Says Peculiar Ediomo-Abasi, Product Manager at The Zig, "Designers are now pressed with a need to do so much more to be able to stand out of the plethora of 'design enthusiasts' readily available for hire." But while there may always be a marketplace for design-as-commodity (get your logos here!), it's not truly indicative of the sweeping democratic spirit we're discussing.

Rather, we're looking at a movement that "allows people who aren't trained as designers to use creative tools to address a vast range of challenges." The democratization of design began with a mindset shift, espousing a product development approach grounded in empathy, curiosity, and experimentation. This led teams across the organization to adopt design methods like user research and prototyping into their processes. By natural extension, design tools found their way into the workflow and therefore the hands of non-designers.

And therein lies the a-ha moment. Urška Ilc, CEO at Notice the Elephant says it best: "After all, one doesn't have to be a UX designer or developer, to have a great software idea. And when people have the power to put their ideas into tangible solutions, sometimes even MVPs, they are excitingly close to a real business."
Every "democratized" company is different
The democratization of design within an organization implies a leveling of the playing field. At its extreme, this means that design thinking, methods, and tools are accessible and usable by everyone from the C-suite to customer service. At Intuit, for example, virtually every one of its nearly 10,000 employees is trained in design thinking through its enterprise program, known as Design for Delight (D4D). But that's certainly not the norm.
As Julia Swidron, Front-end Developer & Consultant at Deloitte told us, "I worked in a team where no one owned a design and it was just up to the developer to figure it out based on the existing design in a project that was done by a freelancer long ago. I've also worked in very structured projects, where there's a design team that owned the design, and only a few non-designers were allowed to contribute to changes."

In many ways, digital design is still in its awkward teen years, growing fast and furious, but still less mature than other parts of the organization, like marketing or technology. An organization's design maturity happens in stages, and depends on its starting point.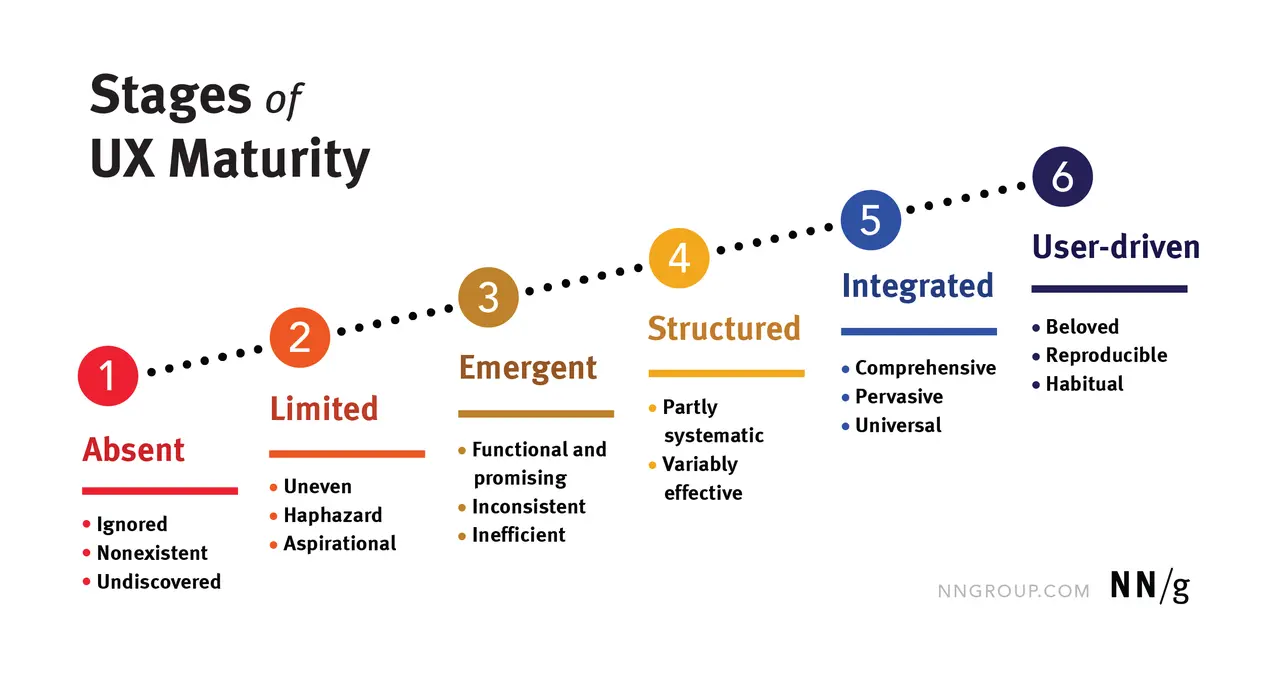 Source: Neilsen Norman Group
Both Elizabeth Alli, Founder, Instructor, and Senior Product Designer at DesignerUp and Carlo Frinolli, CEO, Founder, and Head of Design at NOIS3 come from designer-led companies. Says Alli, "We are a small bootstrapped company founded by product designers. Being a design education platform, every person in the team is deeply invested in design in some way or is trained in our mindful, integrative approach to product thinking and has touch points in the landscape and industry regardless of their main position or role."
But for Ganenthra Ravindran, Project Manager at CodeCloud, "In our software development company, we have one design guy. He directly reports to me, the project manager, on some projects. So it's my job to get the design requirements from the client and to get the basic logic behind each application."
Even as companies develop their design maturity and their own model of design democracy, there are still a few benchmarks to hit along the way. For Urška Ilc, CEO of Notice the Elephant "...conversions and sales goals need to find a way to coexist with user goals, brand design language." Cross-functional collaboration is key to spreading this ethos: Says Brainy Swaibu, CEO at Spectrum Transformation Services: "Whether we're holding a workshop to teach our organization about design thinking or starting off with a small project to gain hands-on experience, we make sure our design groups include people from across departments and disciplines."
Perhaps the biggest takeaway in democratizing design is that, according to Swaibu, "...design is not only the responsibility of the UX designer, but [the team's]."
Democratization of design; tools are changing the game
Cross-functional collaboration has been one of the major drivers in making UX design software more accessible to non-designers. Traditional tools of the trade, like Photoshop and Illustrator typically demanded hours of training under the guidance of expert design mentors. Today, tools like Uizard and Canva are usable "out of the box," encouraging hands-on learning by doing.

Project Manager Ganenthra Ravindran points out how these user-friendly tools accelerate the process from vision to execution, bridging the communication gap between clients and designers. When non-designers are able to visually express their ideas, teams have greater potential for uncovering innovative solutions from the bottom-up, instead of having them handed from the top down. This also opens up a greater diversity of perspectives and increases the odds of more inclusive participation.

In more mature design organizations, teams tend to be more open and experimental with their tools, probably because the tools themselves are evolving so rapidly. Designers are constantly optimizing their workflows to stay competitive, but also to be prepared for collaborating with different teams. "We don't really use anything right out of the box," says Senior Product Designer Elizabeth Alli, "we put a lot of effort into customizing these tools to make them work for us."

The democratization of product and UX design tools, and the rise of no-code and no-design platforms are unquestionably shaping the future of work. The tools that were purpose-built to facilitate better design collaboration and co-creation were game-changing as teams adapted to remote work:

"We actually discovered that we were already remote-friendly even before the pandemic. We were using Slack for internal communication already. Even though we were in the office, it was in place. We were already having a lot of video calls with clients. We had rituals, like a sprint planning, that was actually happening in place, so it was pretty easy to switch on remote. It came as kind of an epiphany to me," said NOIS3 CEO Carlo Frinolli. "When you have one member remote, well, you are a remote-friendly team."
But in terms of holistic impact, Alessio Ferracuti, UX Designer at Matillion & Podcast Host at Users First believes that "...the biggest advantage is that everybody always knows what is happening...So there is complete transparency. And everybody's aligned on the business goals, to the results."
Pitfalls to avoid with the democratization of design
Of course, even democracy has its flaws. "The biggest disadvantage [of the democratization of design] is the same as in the open source movement: a problem of governance," says Carlo Frinolli, "How do we facilitate the process, when there are so many people involved." Urška Ilc agrees. Thinking about the challenge of managing expectations, she points out that, "[t]he more people that are involved in the process, more people expect to see their contribution in the final design, or more people feel they have a say in a final design decision."

There are a few other unintended consequences of democratizing design, such as the way that it favours rapid commercialization over real market need. Further, without proper grounding in ethical frameworks, some of the 'ethnography lite' methods of quick-and-dirty user research may overlook certain biases in collecting data. In his provocative handbook of ethics in emerging technology, author Cennydd Bowles also considers embedded dark design patterns, and the powerful and often nefarious influence of persuasive tech.

"As much as we want to democratize access to design," says Derick David, Web3 startup Human Interface Designer, "we want ensure that [people] still learn the fundamentals...We need to bear in mind that tools are only enablers and people need to practice their fundamentals, critical, and creative-thinking abilities in order to be future-proof."
Uizard, driving design democratization
If we've arrived at a near universally-understood standard of good design, and believe those standards can be not only upheld, but actually enhanced by non-designers engagement in design work, then what possibilities does that open up in the design discipline at large? More capacity for solving bigger, harder problems. This is why thinking like a designer is really the greatest skill, far beyond manipulating pixels. And that problem-solving capacity is accessible to anyone and everyone.
Got a great idea for a product that you want to bring to life on a screen in front of you? Sign up to Uizard to free and start your design journey, or select one of our app UI design templates to fast-track your design flow. Want to learn more about design democratization? Head over to the Uizard blog now.

Many thanks to our interview participants:
Urška Ilc, CEO at Notice the Elephant
Derick David, Human Interface Designer at Stealth Web3 startups
Brainy Swaibu, Humanitarian & CEO at Spectrum Transformation Services
Ganenthra Ravindran, Project Manager at CodeCloud
Elizabeth Alli, Founder, Instructor, and Senior Product Designer at DesignerUp
Carlo Frinolli, CEO, Founder, and Head of Design at NOIS3
Julia Swidron, Front-end Developer & Consultant at Deloitte
Peculiar Ediomo-Abasi, Product Manager at The Zig
Alessio Ferracuti, UX Designer at Matillion & Podcast Host at Users First