Digital product demos: The how, when, & why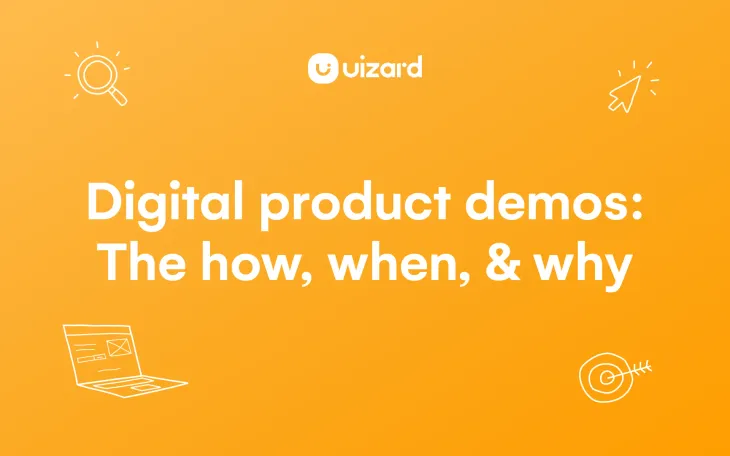 Whether you are a fledgling founder or a product consultant, how you present a product to various audiences is going to be a crucial step in the success of your MVP. Selling products, or rather selling the core concept behind a product, is largely dependent on building buyer or investor confidence, and a strong product demo can be the best way to do just that.
Not only are product demonstrations for SaaS and startups one of the most effective strategies for piquing the interest of potential investors, or for helping you to connect with a specific target market, but they are also a great way for you to test ideas with different stakeholders. Unlike UX prototyping, mapping out a product demo that outlines specific user flows helps you to showcase the purpose of your app, but also the feel of it, and exactly what pain points you're aiming to solve.
So, what is a product demo? Why do you need one? And how can you fast-track the digital product demo design process to streamline your workflow for clients and buyers? We explain all in our guide to digital product demos.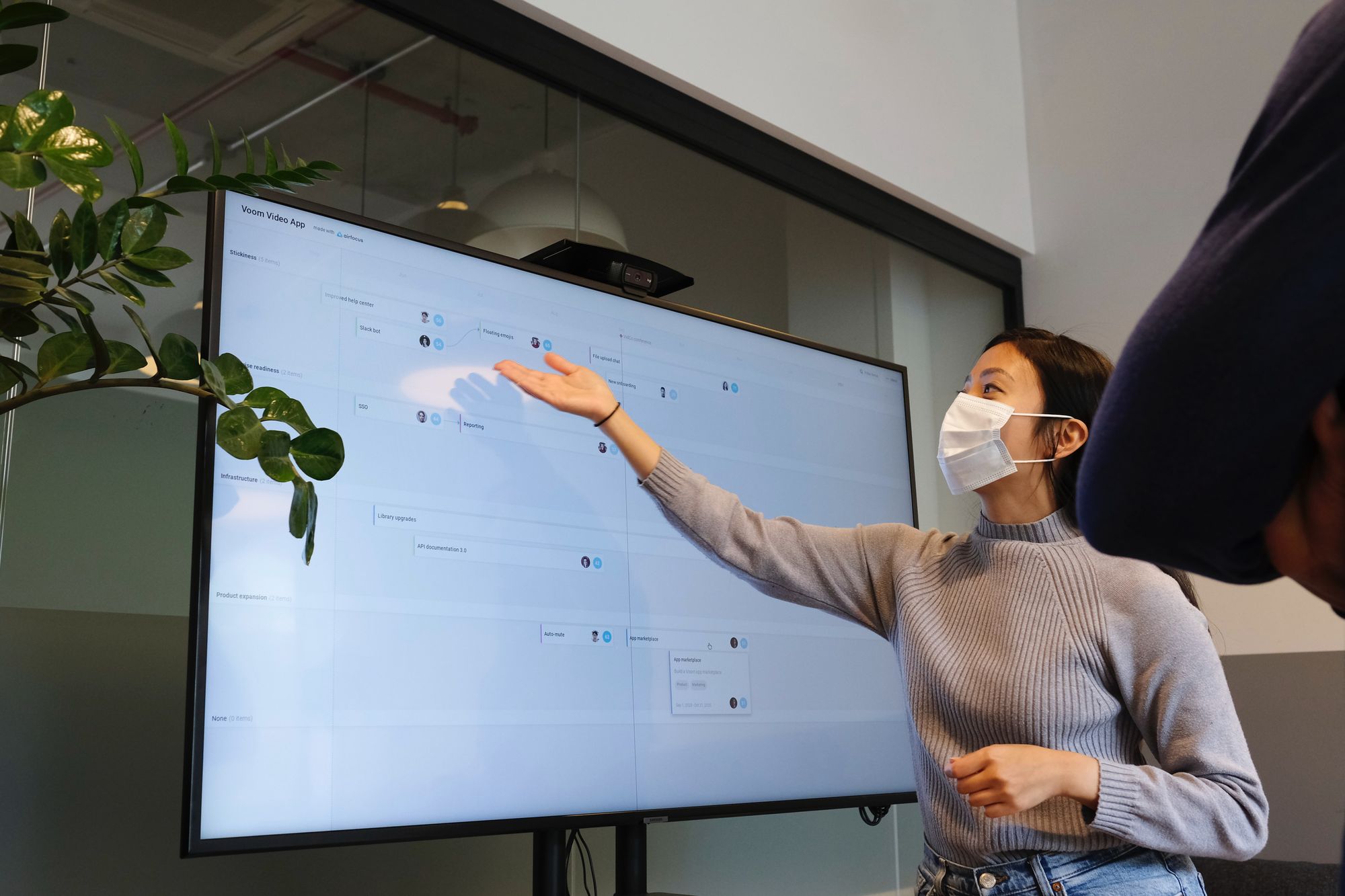 ---
Skip to section:
Why do you need a product demo?
When will you use your product demo?
How to create a digital product demo
Digital product design templates for consulatants and founders
---
What is a product demo?
A product demo is a presentation that demonstrates the purpose, value proposition, and USPs of a product to potential customers, investors, or stakeholders. Product demos typically include interactive elements allowing full or partial demonstration of a product or service however, having a final iteration of the product in question is not necessarily a requirement for a product demo. Product demo collateral can be made from functional UX/UI prototypes or early-stage designs as well.
Within the realms of mobile applications and web designs, a product demo can be a crucial way to demonstrate purpose. The core aim of a digital product is to provide a robust solution to a specific problem, or set of problems. A digital product demo can help to demonstrate directly how a problem is solved, whilst also outlining what makes a product unique.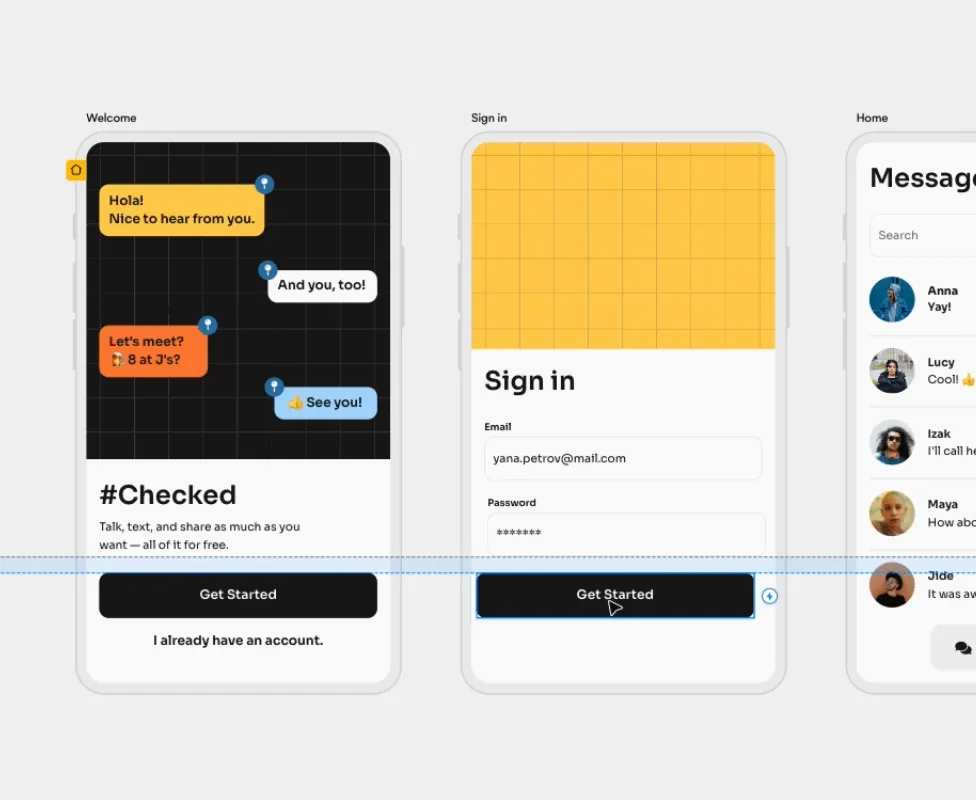 Why do you need a product demo?
You know what a product demo is, but why do you really need one? If your product design is good enough it will sell itself, right? Well, not exactly. Evidence shows that a well-constructed product demo can significantly impact success, conversion, and uptake.
If you are an early-stage startup demoing your app prototype to potential investors, or a product consultant looking to hook in potential clients or customers, then a fully fleshed-out product demo is a must-have. Here are four reasons why a great product demo is so useful...
Helps you to demonstrate your MVP
Helps you win over various audiences
Strongly supports conversion rates
Helps to showcase the USPs and innovations of your product
When will you use your product demo?
When you use your product demo will largely depend on what stage of the product journey you are on. You may be demoing for stakeholders or you could be demoing for potential users during an event or webinar…
During design & development – An early-stage product demo can be a great way to convey your goals to your wider team or to external stakeholders. This might be the case if you are a startup designing your product and you want to showcase improvements or features. Or you could be demoing low-fidelity UX mockups or early functional iterations of your actual product to convey form, function, and core USPs.
For investors – A product demo is a really strong way to show people what your digital product does and how it does it. If you are a startup founder or a digital product consultant, you might just find a product demo is the magic element that really gets people on board with new products at seed rounds and beyond.
For sales – Once you have the final version of your product (or something close to it) a digital product demo is likely going to be the number one way of selling your product. If you have innovative mobile app, you might be demoing to customers and businesses alike. If you are a SaaS startup then you might be making use of your product demo at events, during webinars, or during strategic meetings with other brands.
How to create a digital product demo
The steps involved in creating a digital product demo will largely depend on the purpose of the demo you are creating - a demo for internal or external stakeholders is going to be a lot different to a product demo for a potential investors (although some of the assets that you may use could be the same).
Regardless of audience, you will likely be demonstrating your product's core features and purpose with either a practical demonstration or a video demo. Here is how to create a digital product demo to really showcase your product's strengths and overall vision:
Decide the aim of your demo - are you selling the finished thing to customers? Are you winning over investors? Are you showing off an early prototype to convey your core mission?
Identify your target audience - think about what your audience expectations are. Are they seeing your brand and product for the first time? Is this a demo of new version of your app that you only have in prototype form?
Define what collateral you need - are you running a practical demo with a focus group or talking over a demo video? Define what content you need to make your demo a success for your target audience
Build out visual assets or outline your practical demo - create your assets and plan your approach
Create a script to suit your aim and audience - create your script to really sell your idea
Test your demo for feedback before the real thing!
Digital product design templates for consulatants and founders
In an ideal world, you would be blessed with endless runways and weeks of design time to create your app or web designs, turn these into workable UX prototypes, and subsequently fold these into a product demo however, time isn't always on your side, sometimes you need to go from idea to demo in a matter of hours.
More importantly, if you are turning around multiple demos for multiple audiences in a short amount of time, you need to ensure you are maintaining a certain level of quality with each project you are working on.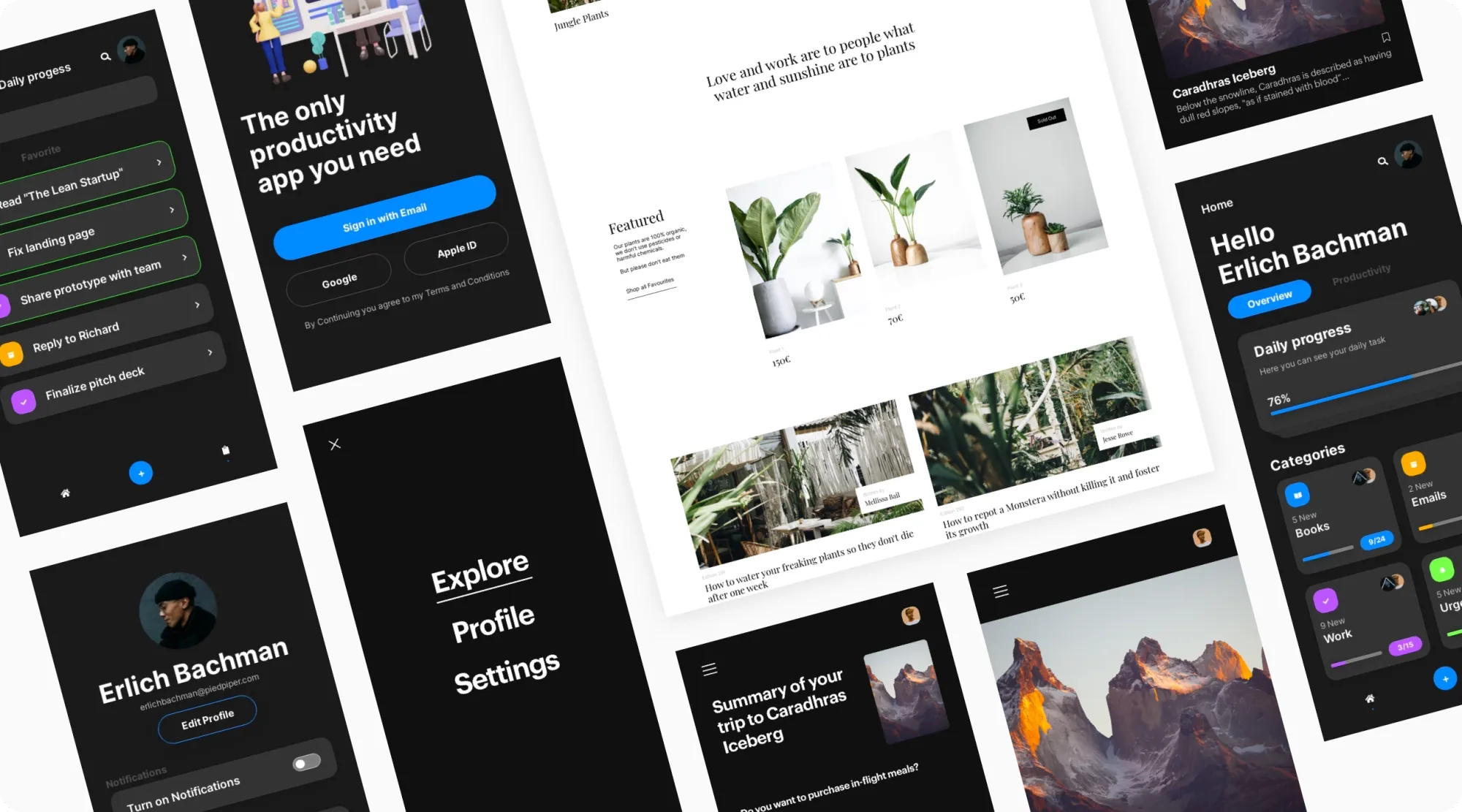 If you are designing a web, mobile, or tablet app, or working on a website design to showcase your product idea or service, then Uizard templates are here to expedite your product design flow, giving you the superpowers of rapid speed and consistently high quality.
To get started, simply sign up to Uizard for free and select one of our predefined design templates to get your demo creation underway. All our UI design templates come with all the necessary UI design considerations and click journeys built in, meaning you can update them to fit your product or service quickly and easily.
Of course, you can always design your product prototype from scratch with Uizard however, our templates empower you to design multiple products at speed which can easily be folded into your practical product demonstrations.
Ready to give Uizard a try? Sign up now and streamline the product demo design process. Want to learn more about the world of design? Head over to the Uizard blog now.