Uizard launches out of private beta!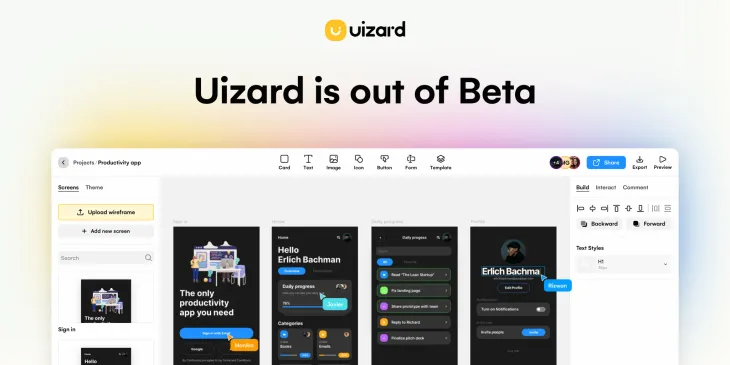 Today is a special day.
Today is the day we are launching Uizard out of private beta: the first design tool that empowers non-designers to design mobile apps, web apps, websites, and desktop software in minutes.
Thanks to the amazing 120k+ people that joined our private beta, we've learned a ton! Needless to say, the product wouldn't be what it is today without their amazing continuous support! We are so grateful! ❤️
When we started Uizard in 2017 with pix2code, our goal was to improve the designer/developer workflow. Along the way, we realized that our technology was enabling a lot more than that.
Instead of only helping designers and developers work together more efficiently, we realized that Uizard was also empowering everyone in a given team to bring their imagination to reality easily — regardless of their design and technical background.
Sketch, Figma, and Adobe XD are all great UX design tools if you are an expert designer, but they are pretty complicated and daunting to use if you aren't. Without extensive training, it's hard to create anything without getting lost in the countless menus and options.
These tools are made for designers. Uizard is made for everyone else.
While today's launch is a massive milestone, it's also just the first step toward our ultimate goal of empowering everyone to create digital products.
One more thing
Alongside today's public launch, we are unveiling a brand new, unprecedented AI design feature: automatic theme generation!
Whenever you want to test a new design idea based on existing sources of inspiration or adapt the style of a project to match your customer's brand identity or design system, we've got you covered. Uizard can now automatically generate themes and components matching any screenshots, moodboards, images, URLs, and Sketch files you upload.
We can't wait to see the magical things you'll build with Uizard! ✨😊
Try Uizard for FREE.