Learn how a Full-Stack Developer uses Uizard to prototype & user-test a heart-monitoring system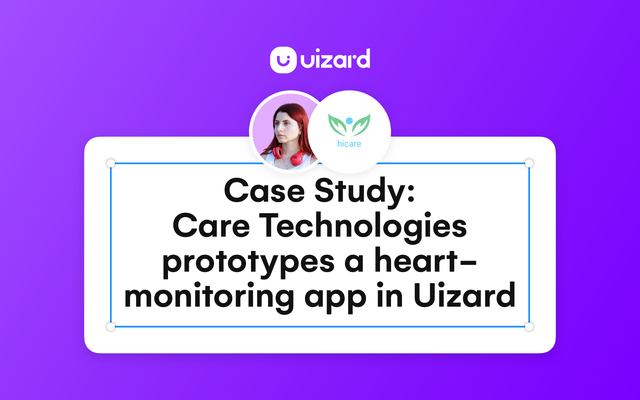 Customer Introduction
Lilit Hovhannisyan is an enthusiastic self-learner with 2 years of industrial experience and an obsession for discovering new technologies. She has switched careers from sociology to engineering and is now specializing in Java. She is currently working as a Full-Stack Developer for Care Technologies in Yerevan, Armenia.
In her current role at Care Technologies, Lilit is taking a lead in developing a software mobile application that's complementary to a physical heart-activity monitoring system called "Hicare cardio."
The Challenge
Despite being a full-stack engineer and a non-designer, the lack of a designer at Care Technologies led management to give Lilit the task to create the prototype for the software application.
I'm a full-stack developer specializing in back-end, so I was really surprised that they gave me the design part. There were no designers in the team, as we are a small startup, so the managers thought that I'm the more creative team member.
In spite of her creativity, Lilit has never used product design tools before.
I've never tried a design tool for apps and websites. I've only ever tried Canva, and I love that tool because it's very easy to use. So naturally, I searched for something like Canva that can help me with our software application.
The Solution
When asked how she ended up working in Uizard, Lilit shares that:
Actually, Uizard came first on my search engine when I typed in a bunch of keywords about an easy-to-use design tool. When I tried it, I was really impressed how fast it was to begin designing. There was no elaborate onboarding, asking me where I'm born or what my interests were. I was there for designing, and Uizard led me to designing fast.
Three days later, Lilit was ready with a full-fledged design of the software application for the heart-activity monitoring system.
It took around three days to design, then I had a 23-screen prototype of the application. I was able to bring something to my CEO and ask him for any advice to improve the design. Care Technologies was also able to share it with doctors, who are potential customers, so that they can interact with the design and share their feedback.
The team worked closely on the project in Uizard for around a month, and then we got the final version that all stakeholders were pleased with.
After finalizing their prototype in Uizard, the team at Care Technologies then hired a designer to design the UI based on the prototype created in Uizard. It was then sent back to Lilit and her team members for coding.
How did Uizard help?
We asked Lilit what she loved most about Uizard. She told us that:
What I loved the most is that you can design so quickly. You don't need to take time learning any feature. You also don't have any trouble finding what you'd like to achieve. And that's important because when people are not designers, there's no need for complexity.
Lilit adds that:
The most amazing part about Uizard is that it's simple, but it's very useful.
We also wanted to understand what impact Uizard has made to Lilit and her company.
Uizard saved us time and money. The main features are actually free, but later on, we fell in love and got a subscription. We saved money because we didn't immediately hire a UI designer just for prototyping. We saved time because we had the chance to understand and test the product among ourselves and with our customers before we exerted more effort into designing and developing the actual application.
Lilit truly has gotten a lot of value from Uizard. As a piece of advice, she shares that:
My advice is to research a little bit about templates of what you want to design. Uizard has a few of their own that you can start with, but you can also use something from Dribbble or any other website and imitate it in Uizard.
You save time and money when you create prototypes prior to design and development. If you're looking for an easy-to-use prototyping tool, Uizard is a great place to start. Sign up for free here.