Learn how Florian Baer leveraged Uizard to upskill his colleagues on design thinking
Customer Introduction
Florian Baer has been with mse IT Solutions for almost 2 years now.
We are a  30-person software company, based in Germany. We mostly work on ERP solution industries like waste management logistics. We offer solutions in every step of the process; for example, we have a solution for the cart that picks up the waste or a solution for the facility that then recycles that waste.
The goal of mse IT Solutions is a key influence in Florian's enthusiasm.
Our goal is to digitize, automate, and simplify processes for customers. We do this for companies who have a lack of sufficient digital solutions but also companies that have a digital infrastructure in place that we need to create solutions for. This goal is why we are focused on producing solutions that are human-centered, and this excites me the most.
Florian is mse IT Solutions' first UI/UX designer, and he is thrilled to contribute to a customer-centric culture.
I have the opportunity to help build the system that allows all stakeholders to ideate and be involved in the product development process. I get to help facilitate design being used as a discipline to solve problems and not just aesthetics.
The Challenge
Florian had to bring his colleagues into the design process, but without a clear understanding of the process and the design mindset, it wasn't easy.
We are working on big and complex solutions, but in our team, design was conventionally not in focus. The problem is that the design tools I use do not help with this. With the traditional design tools, it just ends up with me designing a solution to show to the rest of the team, who then say yes or no. This does not help build design intelligence in the team. Uizard helped change this.
The Solution
Allowing non-designers to ideate, Uizard provided the platform that helped fuel discussion on design at mse IT Solutions.
Uizard is so easy to use for non-designers. It does not require tutorials to learn and gives people the confidence to use visuals to present their ideas. For example, I was able to ideate in Uizard with a developer. He asked why don't we make all the buttons yellow because they stand out, and this ended up turning into a discussion on high-emphasis buttons and how we can use different button styles to help users understand the best option when logging in. We never would have had this discussion if we did not ideate visually together, and my colleague would never have learned about high-emphasis buttons and button categories.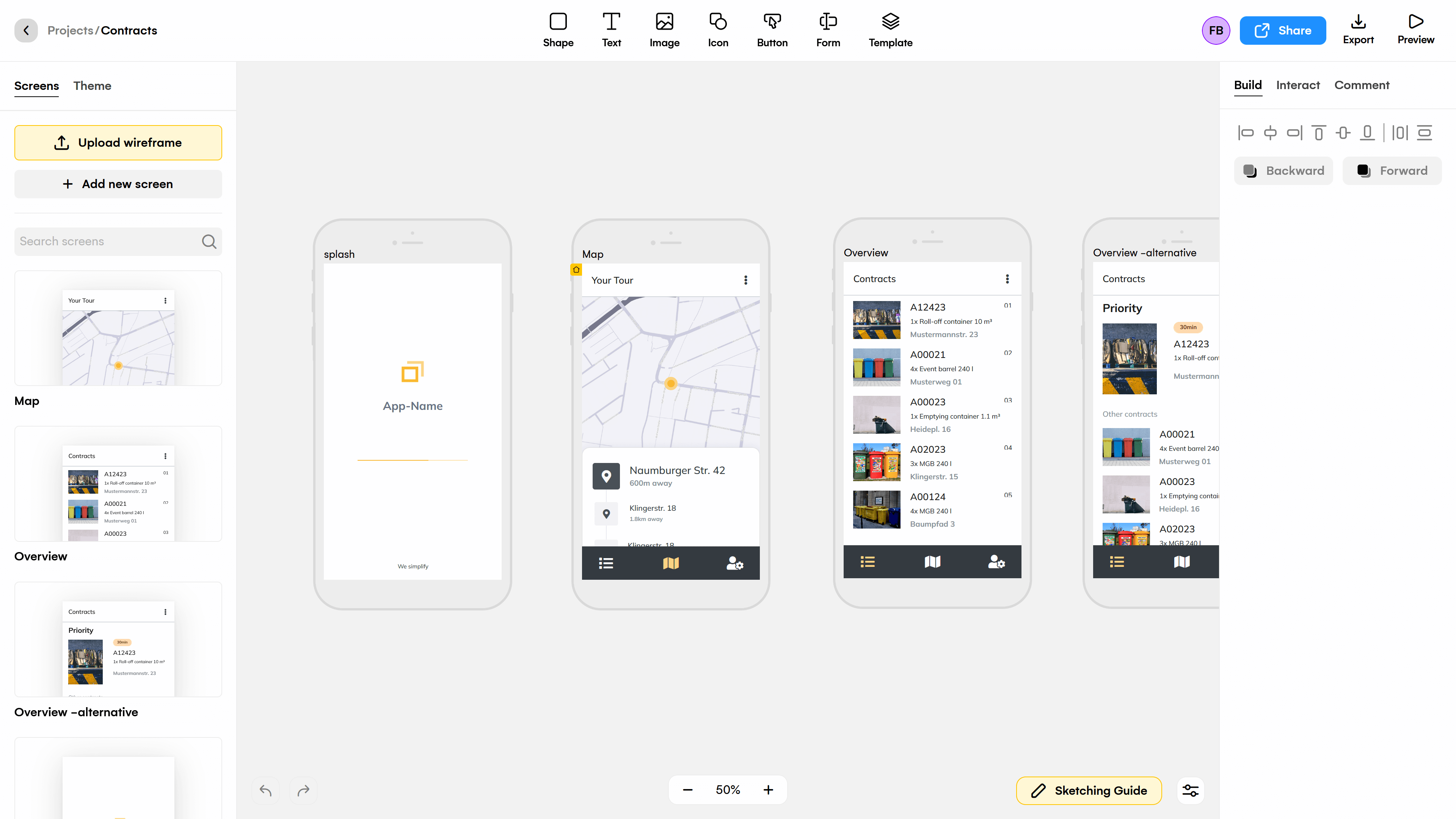 These discussions are leading to better communication and collaboration.
I could write documentation or run sessions explaining to them how things work in UI/UX design, or I can let them participate in the process and learn this way. Waste management in Germany is strictly regulated, and the people who understand these regulations very well are the people who sit in support. We have developers who provide the technical insights on app development and then myself on the design side who keep the user in mind. So we need a place to meet and have these discussions, and we do that in Uizard.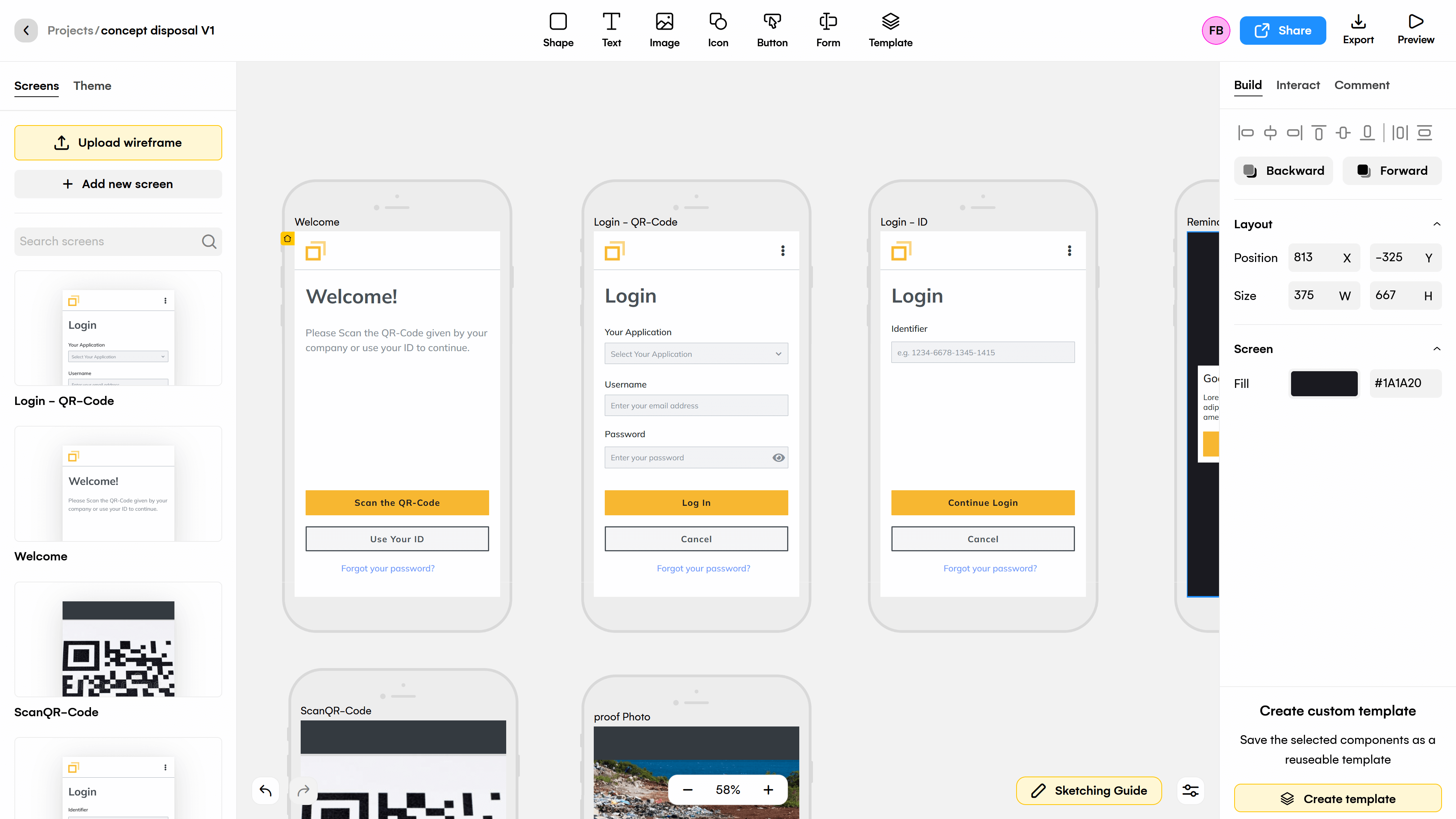 How did Uizard help?
Florian is enjoying how Uizard empowers everyone to participate in visual ideation.
My boss has limited experience with design software, but with Uizard, he was able to create a mockup for a client by himself. He didn't have to wait for me (the designer) to create it. He created it, and we were on the same page very quickly.
He adds that:
As a designer, I honestly appreciate this. It's much more effective to get a clear visualization of my colleagues' ideas than a bunch of text documents with scribbles I can barely understand. Uizard makes it easy for my non-designer colleagues to express themselves and communicate their ideas with me so I can design the polished version.
If you're considering Uizard for your team, Florian has some advice.
I would show your team the sketch conversion feature in Uizard. Taking a scribble and very quickly and easily turning it into something interactive inspired a lot of my colleagues. It shows just how easy it is to design in Uizard and that anyone can do it.
Interested? Start designing with Uizard for free here.