Web3 multimedia startup breaks barriers between art and technology with Uizard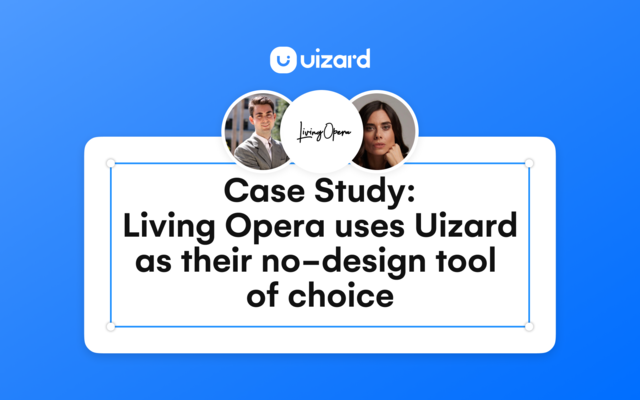 TLDR;
Living Opera is a web3 multimedia startup that also trains artists in strategy, entrepreneurship, advocacy, and problem-solving to build a lasting musical career in the digital era.
Despite being experts in opera and research, neither Soula (CEO) nor Christos (CTO) are designers, so they didn't have the experience to use complex tools for designing and communicating their app ideas. They tried Wix, but it was still too complex, and they already knew that they weren't going to build the app themselves.
Once they adopted Uizard, the idea for Living Opera came to life in no time. Soula and Christos adapted one of Uizard's templates to express their Living Opera app idea in only 43 minutes. Not only did they get to communicate their ideas clearly to the developers, they also saved time and resources by not needing to outsource visualization!
Who are Soula and Christos?
In this interview, we've had the pleasure to speak with not only one, but two people, who are behind the inspiring web3 multimedia startup, Living Opera, working to bridge classical music and blockchain technologies.
We chatted with the award-winning opera singer, Soula Parassidis, the CEO at Living Opera, and Christos Makridis, an expert in digital technologies (among other things), who's also the CTO and Head of Research at Living Opera.
What is Living Opera?
Soula: I founded Living Opera in 2019. Before, I was just using social media to talk to younger opera singers and tell them about the pitfalls and perils, as well as the good things that happened in our lives working as singers. It was never the intention to start a company, but as I created more and more content, and they lived on so many different platforms, I felt the need to make a website for living on the road as an opera singer.
Living Opera was a product of Soula's genuine desire to help people who are pursuing a career in opera; she loved doing this as a side project while being on the road, travelling for gigs. However, she hasn't always had the confidence and the bandwidth to make a legitimate business out of it – until she did.
"I asked myself, why should I feel like I can't do more than one thing? I can do this. I want to do this. And so, I did", she explains.
And we are thankful that she did!
Soula: My first thought was to do online voice lessons. Norman Reinhardt and I had planned this back in November of 2019, not knowing there's going to be a global pandemic. Luckily, we designed it to function fully online, so we were quickly able to offer free online services, like voice lessons, multimedia training, video production, and more.
It was during these times in the pandemic that Christos, an opera enthusiast, came across Soula and her work. Christos was instantly captivated by Soula's work and efforts and saw its value and potential. He wanted to take it to the next level.
Christos: I saw the potential for what Soula was doing. There's not a lot of resources in opera, not just in learning about the discipline, but also actual tools that help people. And so, I came in, and together, we were thinking about ways that we might be able to automate and equip and bring down the cost for singers, especially in countries that don't have access to voice teachers. This is something that we might easily forget coming from some of the more notable conservatories or in Europe where opera is already a big deal. But other places in the world don't have it so easy. By launching the Living Opera app, we are going to fundamentally change the way that performing artists practice – not only giving them access to new content at scale, but also helping them have a more enjoyable and memorable experience.
The Living Opera app, among other things, leverages machine learning to provide voice assistant training, to identify opera singer voice types and to match them with the repertoire that is aligned with that voice type. It also serves as a logging tool for practice times, encouraging the user to consistently train.
The Challenge
Soula and Christos are experts in their fields, but neither of them are designers and therefore didn't have the experience to use complex tooling for designing their app ideas.
Soula: While I know how to produce content that is useful and engaging for singers and a wider audience, I do not have experience in design and coding — that's a totally new world for me. So, I started with pencil and paper: drawing squares on paper, with notes that this part does this, and this part does that. But it was nonetheless frustrating because I realized that my scribbles on a page are not operational for an engineer.
To which Christos adds:
Christos: While I am really good at writing and producing quantitative research, I don't have experience with software engineering or product design. So, like Soula mentioned, we needed a tool that was accessible for us to use.
The Living Opera team initially used Wix, but it wasn't what they needed. Soula didn't need a no-code tool; she needed a no-design tool to achieve her goal.
Soula: We tried using Wix. I would click some components, and it worked, which was nice, but I still found it not as user-friendly (as Uizard). And I already knew that I wasn't going to build the app myself, so I didn't need a no-code tool. I just needed a tool where I can easily design my ideas.
The Solution
Soula came across Uizard on Instagram exactly at a time she needed the platform, and so, she decided to try it out. More than anything, she's most grateful about finding an easy means to visualize her design ideas.
Soula: I like to build things myself. I like to understand as much as I can how things work. And so, giving over control to someone and trusting them with my vision is really hard for me. When we decided to build the Living Opera app, it was important for me to express it and see it apart from my scribbles on a piece of paper. I knew that if I gave an engineer my scribbles, they might develop it in a way that I didn't intend for them to, then I might hate it. So, I needed a tool that could help me visualize how this was all going to play out. And that's what Uizard did.
Once Soula started working in Uizard, the ideas came to reality in no time — finally addressing the frustrations she's had with pen and paper and other complex tooling.
Soula: I remember we were sitting at a cafe in Dupont Circle here in DC, and I'm designing the app out in Uizard. "This page is gonna go here, and this page is going to go there. And these are the colors, and this is what it's going to do." It was just so easy. It really helped me visualize what we're trying to do with the app in the fastest way possible. Uizard helped me feel comfortable and gave me the means to express myself in an easy, user-friendly way, then give it to an expert so they can replicate it for me and bring this vision of mine to life.
In a matter of 43 minutes, she came up with a prototype of the Living Opera app, with some of the screens featured below. The idea is currently being brought to life by developers!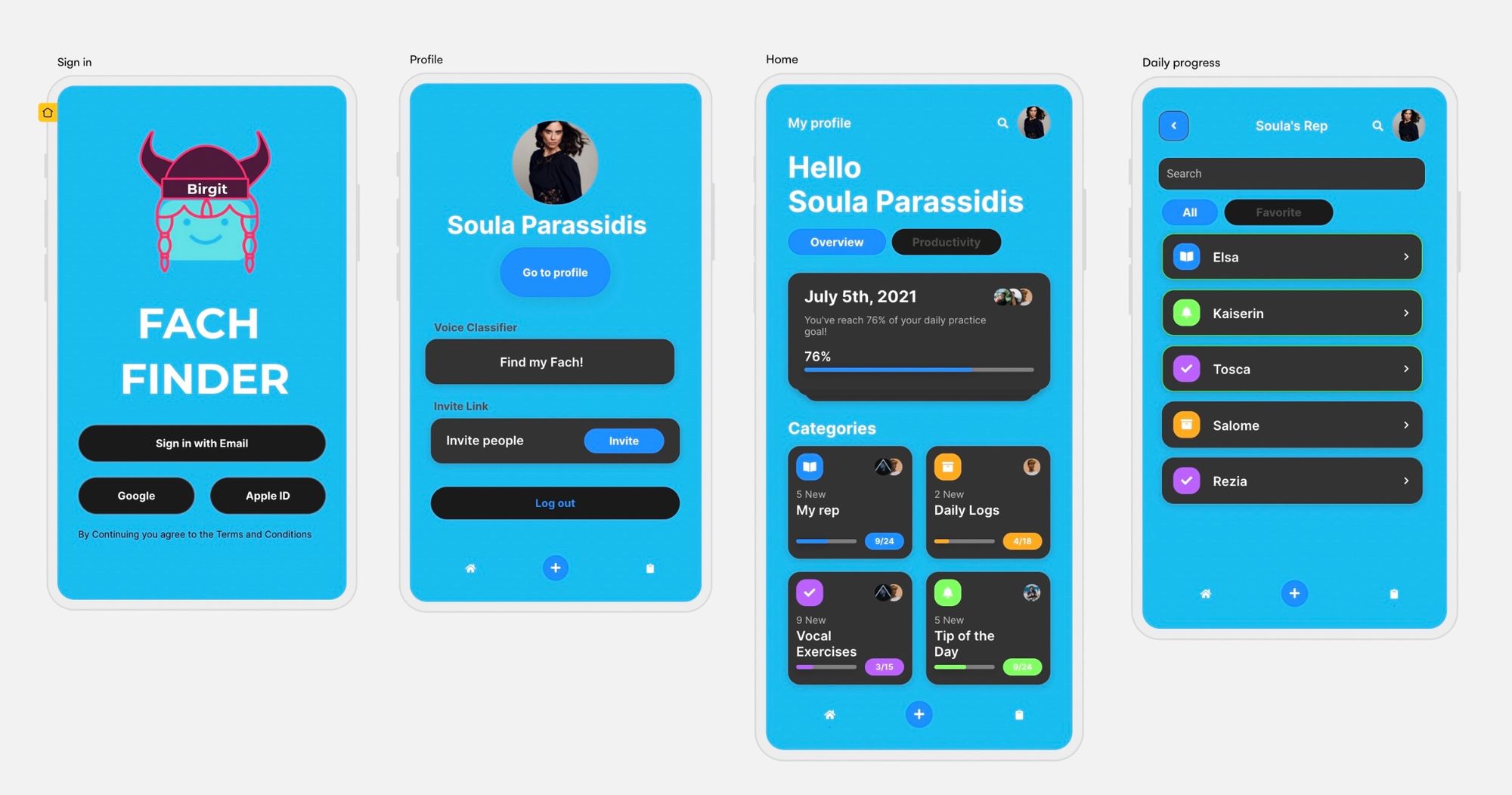 How did Uizard help?
We'll let Soula answer this question...
Soula: Uizard is a communication tool. It's helping me as a non-technical person to communicate to the person that's going to build my vision. That, for me, is the clearest value proposition of Uizard: to help communicate from a non-technical to a technical person, so everybody's happy. And it just cuts out a lot of noise.
In addition to that, Christos shares that Uizard had enabled Living Opera to cut down costs.
Christos: If you're only outsourcing a specific task within the overall project, then you're driving down the cost quite a bit. We didn't need somebody who would build everything for Living Opera – that would be very expensive. With Uizard, we could show that: 'here, we know what we want to do, and we need you for the coding part.' And so, that saved us a lot of resources.
With their work at Living Opera, Soula, Christos, and their team are contributing to breaking down the dividers between artistic and technological communities. And the fine arts and blockchain technologies are two seemingly distant worlds, so how amazing is it to see how Living Opera brings the two worlds together?
If you are considering starting your own project, here's what they have to tell you:
Christos: There's always gonna be something that we don't know. It can be intimidating to try, but it's worse to always be afraid of something down the road and never actually get involved. I just want to encourage people to do what they can to be ambassadors in their domains of influence. Luckily, today, there are tools like Uizard that's going to make that easier to achieve.
Soula ends our interview with this empowering quote.
Soula: There are two different things that happen when people don't know what to do: they either sit down and don't do anything, or they can get uncomfortable and jump onto a space where they're not experts. I think that anytime you're a non-technical person that deals with technology, you must embrace that discomfort. If we just embrace the discomfort of not being an expert and dive, it'll make people's experience with Uizard or any other technology much more palatable. And there's really nothing to be afraid of. Because Uizard is very easy to use. And if you can do an Instagram post, you can use the tool.
We were greatly inspired by these frontrunners in their field.
If you want to be an ambassador in your domain of influence but don't know where to start, create a Uizard account and start communicating your ideas now.