A guide to wireframing with Uizard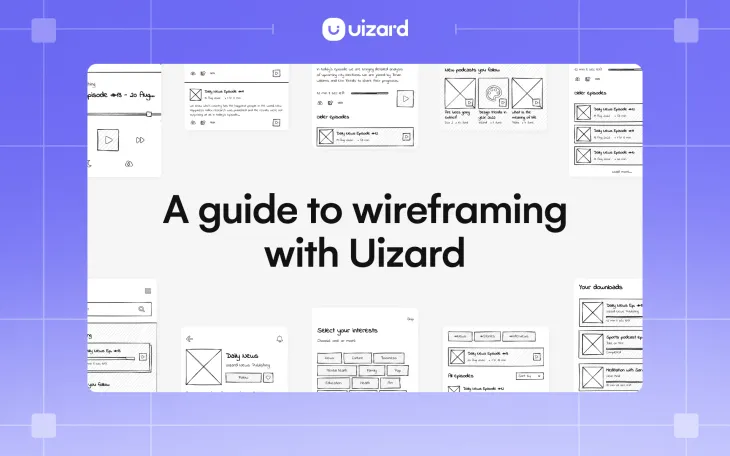 So, you've got an app or a website idea that you are sure is going to be a runaway success, but what comes next? Before you get overwhelmed with fancy design software or dive headfirst into premature conversations with a developer, the best place to start is with some simple UX/UI wireframing to help you visualize and demonstrate your core concept.
A wireframe illustrates the hierarchy of all of the basic elements on a screen: text, imagery, navigation, and calls-to-action. The job of a wireframe is to facilitate conversations and collaborations between product managers, designers, developers, and stakeholders, making sure everyone understands the idea the same way.
With Uizard, you can take your wireframe sketch from paper to the screen, with the help of Uizard Wireframe — an AI-powered wireframe scanner. In this article we will run through how you can use wireframes in Uizard to get a project started, or to add to an existing one.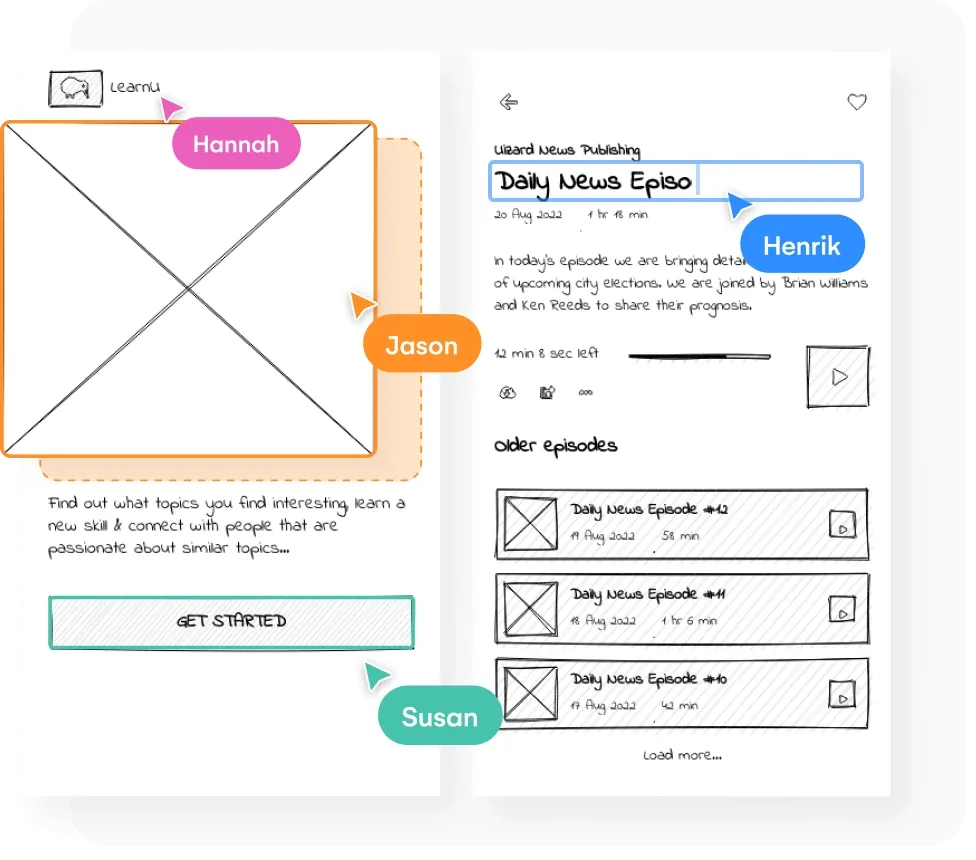 ---
Skip to section:
How to start a new project with wireframe sketches
How to add a wireframe screen to an existing project
Start with a Uizard wireframe template
Use the UI components library to create a wireframe
---
How to wireframe in Uizard
There are multiple ways you can wireframe in Uizard:
Start a new project with Uizard Wireframe: Kick-off a blank project with Uizard Wireframe, and turn your hand-drawn wireframe sketches into editable design screens in no-time at all.
Expand an existing project: Expand an existing Uizard project or UI template by importing a wireframe sketch.
Choose a Uizard wireframe template: You can also use a premade wireframe template to get started on your Uizard project straight away.
Use Uizard's UI components library: In wireframe mode, you can design wireframes easily using Uizard's components library.
In the following sections we will take you through each of these options, and then you can pick which one suits your wireframing needs.
How to start a new project with wireframe sketches
Let us run through how to get started with Uizard Wireframe in a blank project. It's quick and easy.
1. Setting up your Uizard account
Before you learn how to create wireframes with Uizard, you will first need to create an account. Getting started with Uizard is easy. All you have to do is sign up and complete the onboarding questions. For extra information on this process, follow the helpful video below.
2. Define your goal, audience, and level of fidelity
Before you even open Uizard to start creating UX wireframes, you need to define your goal, audience, and level of fidelity so that your efforts are aligned with your objectives. By doing so, you'll be able to decide how much time you should put into creating wireframes at this stage of your design process.
Goal: First, think about what you're trying to achieve with your wireframes. Are they for testing out a new idea? For sharing suggested updates to an existing screen or flow? What's the feedback you'll need in order to move forward?
Audience: Since wireframes are a conversation tool, think about who you'll be talking to. Be specific with what you're asking from your audience, and tailor your approach to get the right input from the right people. A conversation with your dev team will likely generate different questions and insights than one with your user interface (UI) designer.
Level of fidelity: By level of fidelity, we mean determine how detailed your final wireframe should be. Think about where you want your audience to focus their feedback. Low-fidelity wireframes are best when your aim is gaining buy-in on the "big idea" or when you want to keep attention on a particular feature. Higher-fidelity wireframes will garner feedback on copywriting, look, and feel. Decide what's essential to convey your goal at this point, and eliminate any distractions (you can find out more about fidelity in our wireframe fidelity guide).
Odds are you've already been thinking about these things as you've been developing your idea. Answering these three questions shouldn't take too long, but it will set you up for success as you iterate your way forward.
3. Sketch out your wireframes
Now it's time to get started on your wireframe sketches. If you need some help drawing your wireframes, take a look at our 'How to draw wireframes' article to kick-off the process. As these wireframes will be uploaded, and used in the Uizard editor, it's important to check Uizard's sketching guide to make sure your designs will render properly. This will ensure that you have the smoothest possible journey in Uizard.
Tip: For every wireframe sketch, snap an individual photo. This will help with the next step.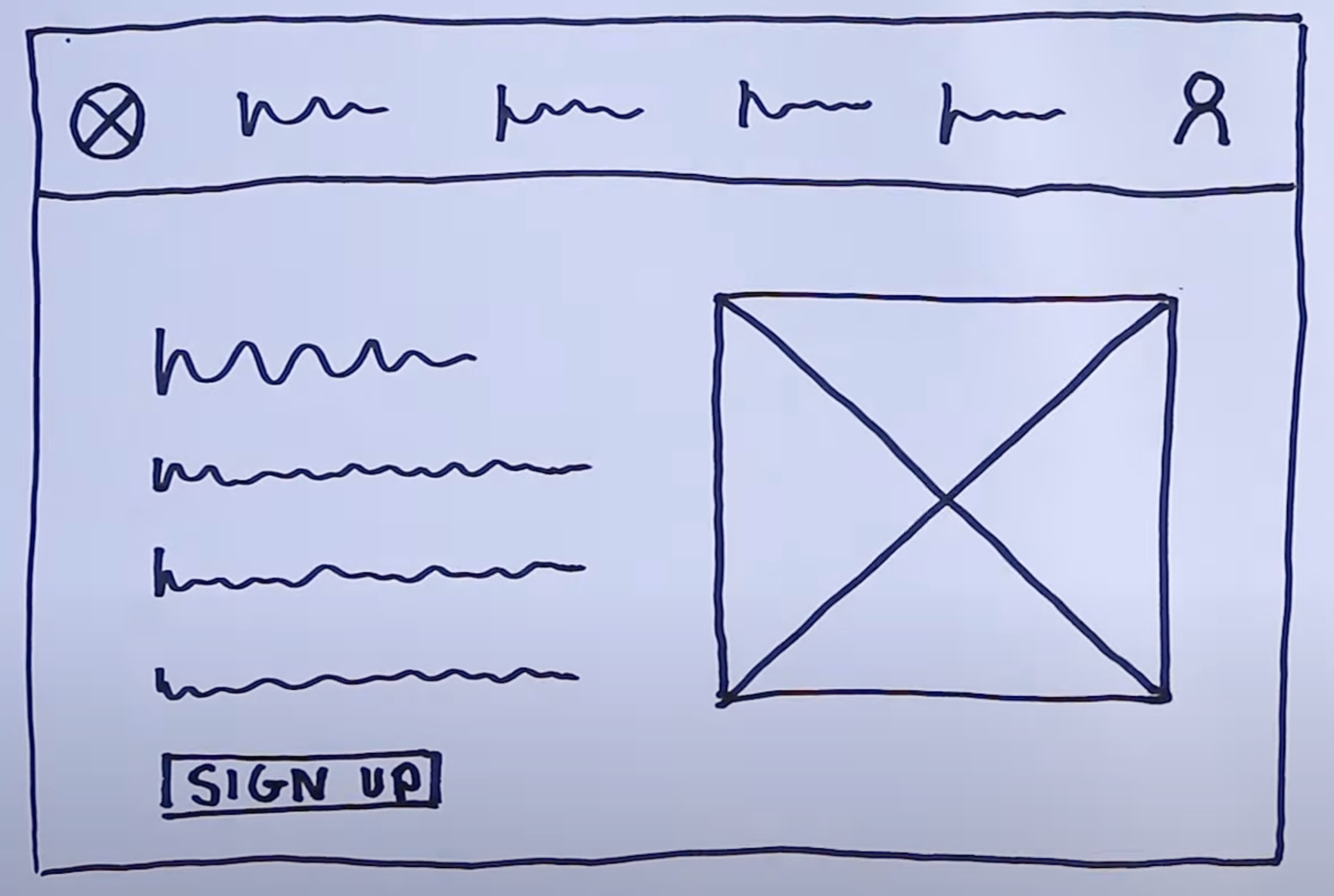 4. Upload your wireframe sketches to Uizard
Once you are in the Uizard platform, open up a brand new, blank project. This will ensure that you can start off your project with a hand-drawn wireframe sketch. Under your first design screen, simply select the 'Scan wireframe sketch' option.
From here you can drag and drop your wireframe image, click to upload, or scan the QR code to import straight from your phone. From here, Uizard will turn your wireframe image into an editable design screen. If you have multiple wireframe sketches, upload each individual image to add more wireframe screens to your Uizard design.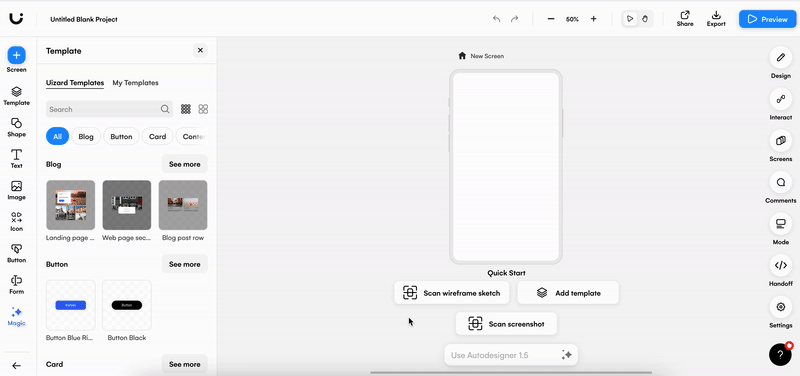 Once your wireframe image has been imported, it will automatically convert to high-fidelity by default, but you can switch back to low-fidelity by using Wireframe Mode in the magic tab located on the left panel. This converts the polished design back to a simple black-and-white hand-drawn sketch style.
Generally speaking, a wireframe's level of design fidelity increases with iteration, starting from a sketch and layering on detail as you get more feedback and direction from your team and users. Uizard makes the move from UI wireframe to stylized mockup to clickable prototype seamless, so you don't lose any momentum between iterations, making it an ideal tool for rapid prototyping workshops like design sprints.
5. Edit your screens
Now you're ready to start building out your screens. Using the drag and drop editor, you can easily move around your elements and components, or use the left panel to add in new ones to further expand your design screens.
Whether you've kept your design in high-fidelity, or converted it back to low-fidelity using wireframe mode, the UI components library will update accordingly. This means, whatever your chosen fidelity is, you can drag-and-drop components in to match. It couldn't be easier to go from a wireframe sketch to a fully-editable and customizable UI design.
6. Add in your user flows
Take your design to the next level with Uizard's user flow mapping tool. Whether you want to test the barebones of your design in wireframe mode, or take your mockup to the next level, it couldn't be easier to map user flow. All you have to do is select an element, and drag the lightning bolt icon to the design screen of your choice. You can then test your user journey via the preview button in the top right corner of the editor. From here, any interactions you have added in you can click through just as a user would.
This is a great way to test the usability of your design before handing it over to a developer.
7. Share and collaborate
Design is a fundamentally collaborative process, and design work is always better as a result of inviting multiple perspectives to the table. Invite your teammates to edit and comment directly in your Uizard project for real-time feedback using the share button in the top right corner. Or, export your design screens, components and elements in multiple formats using Handoff mode, located on the right panel in the editor. Share and develop your design within and outside your organization with Uizard.
Check out the walkthrough below for more information on how to use Uizard Wireframe:
How to add a wireframe screen to an existing project
Whether you have generated a prototype with Autodesigner, designed an app or website from scratch or used a UI template, the process of adding a new wireframe screen is the same. Once you're in the Uizard editor, head to the magic tab located on the left hand side panel. Here you will find the 'Wireframe Scanner', and upon selecting this option you can upload an image of your wireframe sketch. Uizard will then work its magic to add a brand new screen to your existing project, and convert it straight into high-fidelity.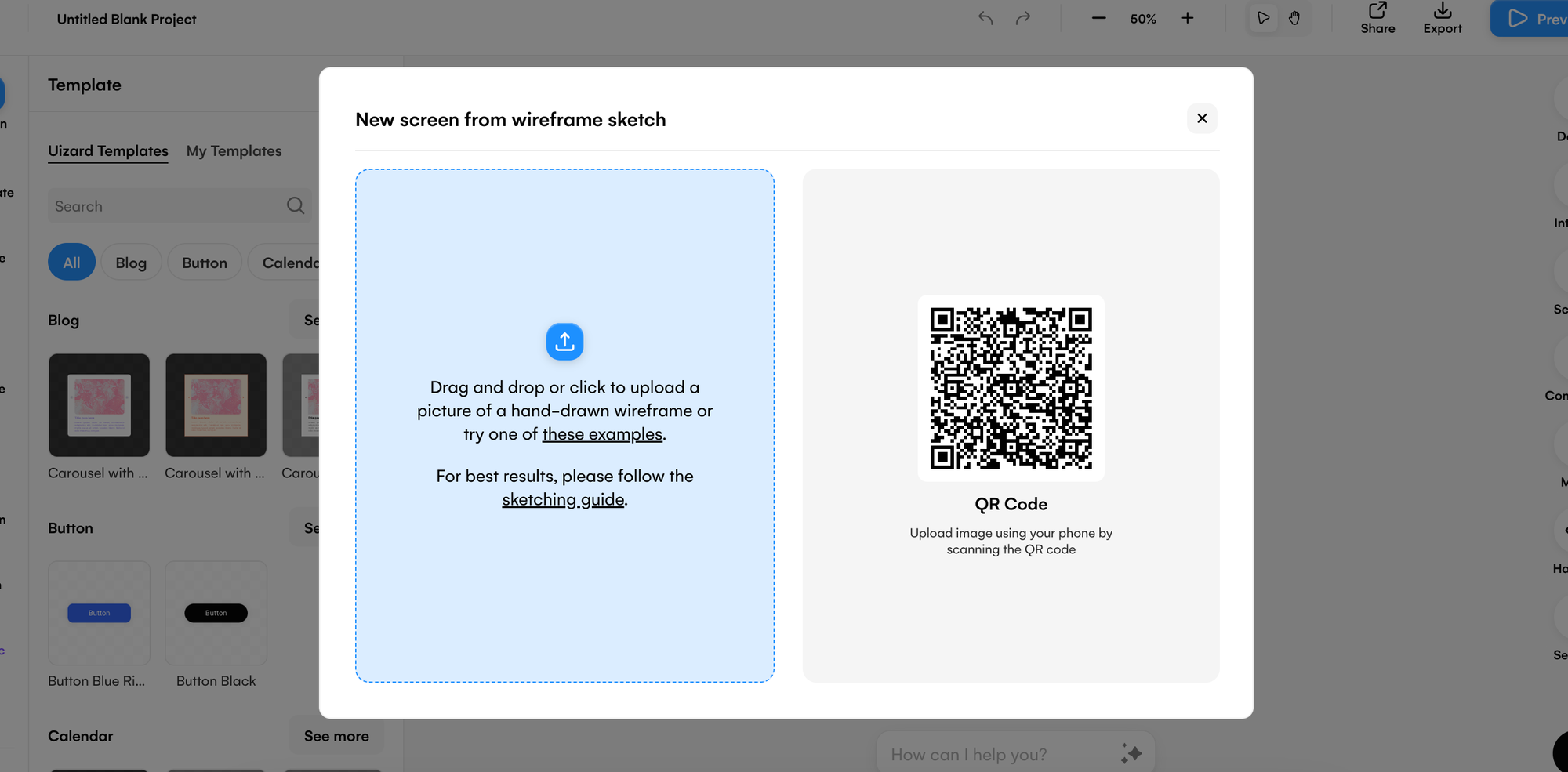 Then all you have to do is edit your wireframe upload to suit the rest of your project.
Start with a Uizard wireframe template
An alternative to importing your hand-drawn wireframe sketches is to use a premade set of wireframe screens. Select a wireframe template such as Uizard's mobile app wireframe template, or the website wireframe template, and create your design from the barebones of a digital wireframe. There are also medium fidelity wireframe templates available to give you a further head start on your design journey, without making design decisions for you.
You can then go ahead and edit the Uizard template to suit the needs of your design project.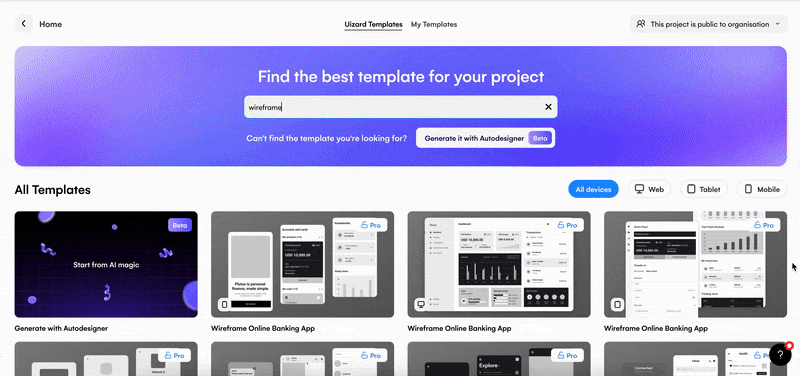 Use the UI components library to create a wireframe
In the magic tab on the left panel in the editor, you will find Wireframe Mode. Here, you can switch your design between low and high fidelity. Setting your blank, or existing project, to a low fidelity, will keep your project as a wireframe, and you can then add to or create a new screen from the components in the left panel library. If you are starting with a Uizard wireframe template, Wireframe Mode will already be switched on, and so the components library will appear with wireframe design assets.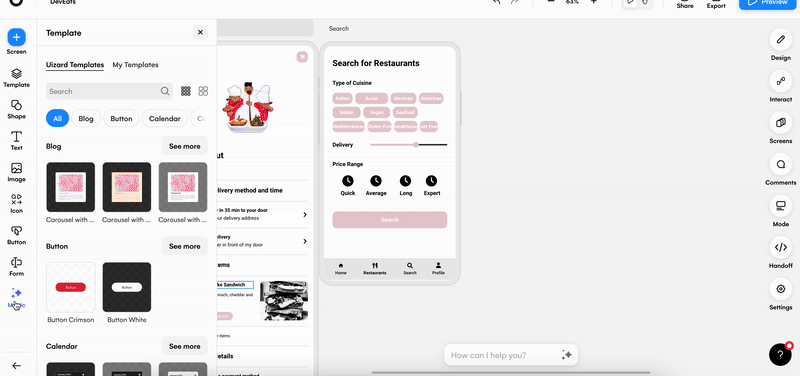 Ready to jump into the UX/UI wireframing process? You can create a Uizard account for free today or sign up to Uizard Pro to get access to our incredible range of product templates. For more helpful articles like this one, check out the Uizard blog.