Democratizing the design process: AI design software for non-designers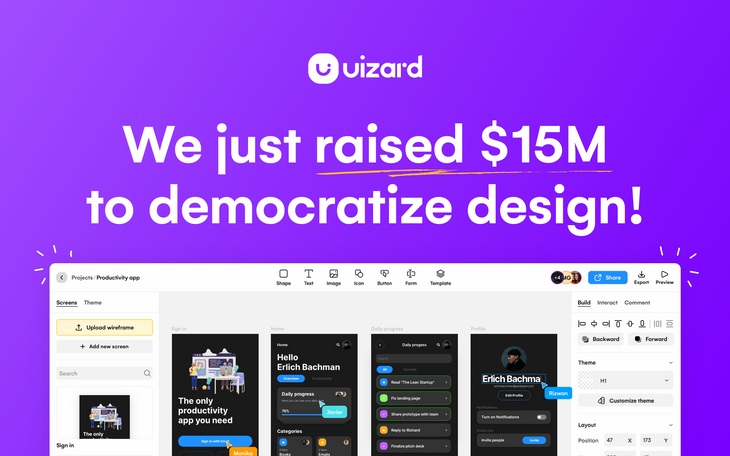 Back in August 2021, we raised $15 Million in Series A financing from Insight Partners, with participation from Mariano Suarez-Battan, CEO and Co-Founder of Mural, and existing investors byFounders, LDV Capital, and av8 Ventures.
"We at Insight are excited about Uizard's vision of enabling a new wave of citizen designers by harnessing the power of AI in their intuitive and powerful app-building design platform." Nikhil Sachdev, Managing Director at Insight Partners
This round of financing set us on our path to the democratization of design to empower non-designers around the globe to bring thier ideas to life like never before with the power of AI design - you can read the original, official PR announcement here.
So, how did we get to where we are now and where are we going next? Let's take a look...

Skip to section:
The industry shift towards design AI design tools
The importance of user-friendly design software
Empowering non-designers with AI design tools
Why non-designers choose Uizard
Bring your idea to life with Uizard
---
Design for non-designers
The startup Canva recently climbed to a whopping $15 Billion valuation, less than a year after their $6 Billion valuation in 2020. The company is serving 55 million non-designers each month to help them design flyers, posters, social media posts, and recently even Zoom backgrounds.
What Canva is enabling is to make graphic design accessible to everyone  — something that historically would have required some level of mastery with complex software such as Adobe Photoshop or Adobe Illustrator.
In a world increasingly driven by consumer-focused apps and software that we all rely on at work and to live our lives, digital product design — the process of designing mobile apps, web apps, websites, and desktop software — is still far from being accessible to everyone.
This is where Uizard comes in, but I won't pretend that my co-founders and I had it all figured out from day one!
When we started, Uizard was always meant to be a smart design tool powered by AI to speed up and ease the process of designing digital products. However, when we launched Uizard's private Beta in 2018, we initially thought that our product was going to serve designers and developers. In retrospect, this was a very naïve and simplistic assumption that completely overlooks the dynamics of the market.
Over time and throughout our private Beta, the majority of our recurrent active users increasingly became startup founders, product managers, consultants, business analysts, engineers, marketing teams, and user experience professionals. Something became increasingly clear: Uizard is a design tool for non-designers.
This became ever clearer when we saw massive adoption of our tool amongst non-designers at companies of all sizes when we launched out of private Beta in February 2021.
In this blog post, we'll discuss why our customers are often describing us the "Canva for designing apps and websites" and why we believe our AI-powered technology is a stepping stone for enabling the democratization of digital product design.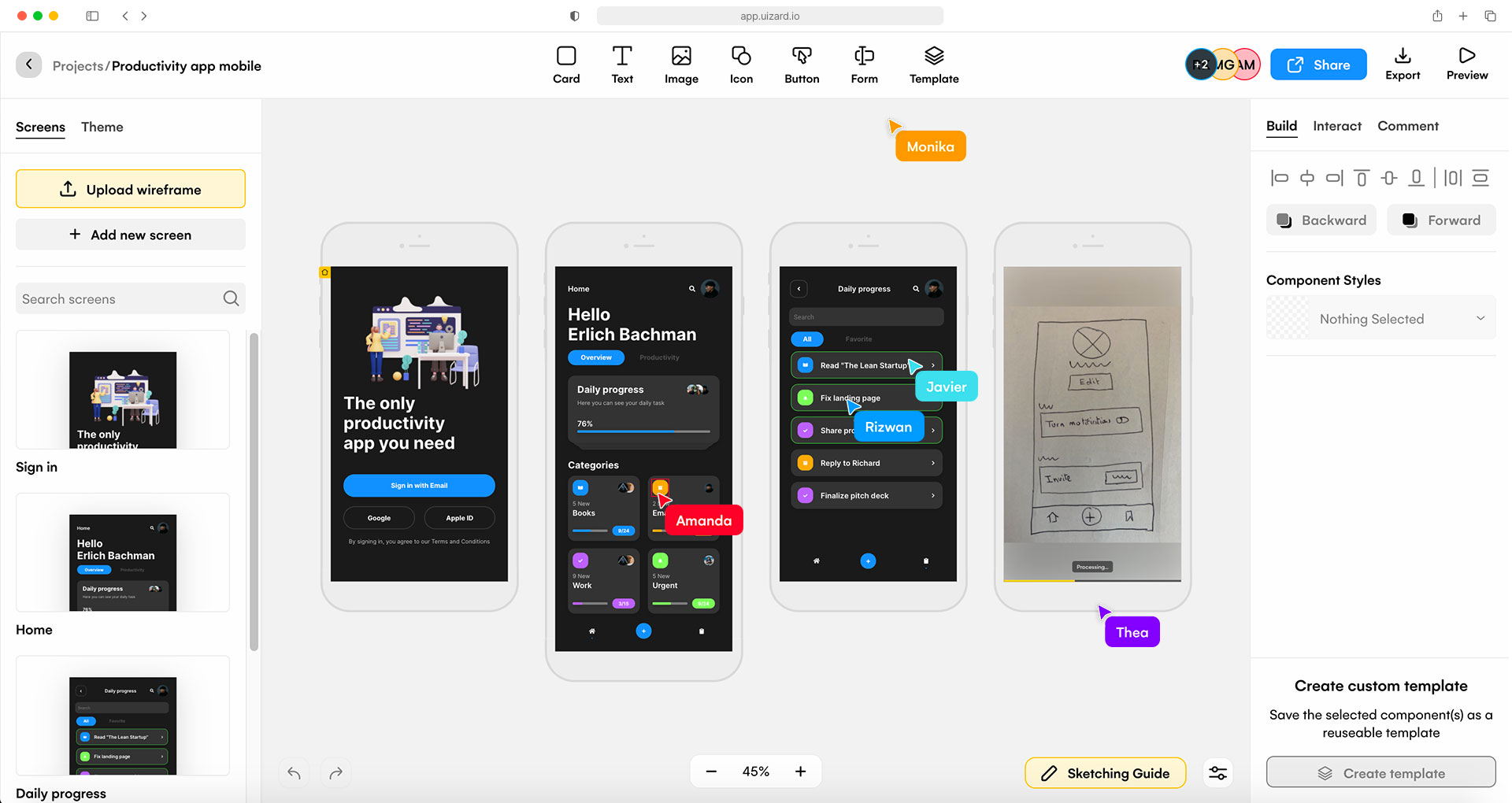 The industry shift towards design AI design tools
Over the last decade, the importance of design in software has become significantly clearer. Organizations around the world started to understand the value of design to improve the quality of their offerings and to serve their customers better. You don't simply win the heart of your customers by providing them with the best features. You have to make sure that the quality of your product's design and user experience is vastly superior to the one offered by your competitors.
"If products and companies would live or die by code before, they now live or die by their product design and design literacy." Peter Levine, General Partner at Andreessen Horowitz
As a result, companies started investing heavily in design in the early 2010s. As a notable example, a survey from the team at Figma highlighted that IBM used to employ a ratio of 1 designer for 72 engineers in 2012, and then transitioned to 1 designer for 8 engineers in 2017.
The value of design in software has never been so well-understood, and more importantly, quantified. In 2018, McKinsey & Company estimated that companies with the strongest commitment and execution of design principles achieved 32% more revenue and returned 56% more to their shareholders. Proper UI design and UX design is absolutely necessary to the success of a digital product.
"Customer experience is the battleground for every business, and customer experience now happens on screens. Software alone is no longer a competitive advantage; great software requires great design." Andrew Reed, Partner at Sequoia
As the ratio of designer per developer approaches 1:1, more people within organizations start being involved in design. Design-matured companies such as Airbnb agree that openness and inclusivity are key to successful design processes and that people from all departments and backgrounds should be involved  — especially the people that understand the customers the most. For example, if we want to improve the user experience of the subscription flow for an online music streaming service, it's a good idea to brainstorm and ideate  —  not just with the design team  —  but also with people from the commercial team, the chief of product, and also the folks from the customer support team who face user feedback firsthand.
"As more and more companies become product-led, how quickly and precisely a company identifies new customer needs and ships product ultimately determines its success." Jennifer Li, Partner at Andreessen Horowitz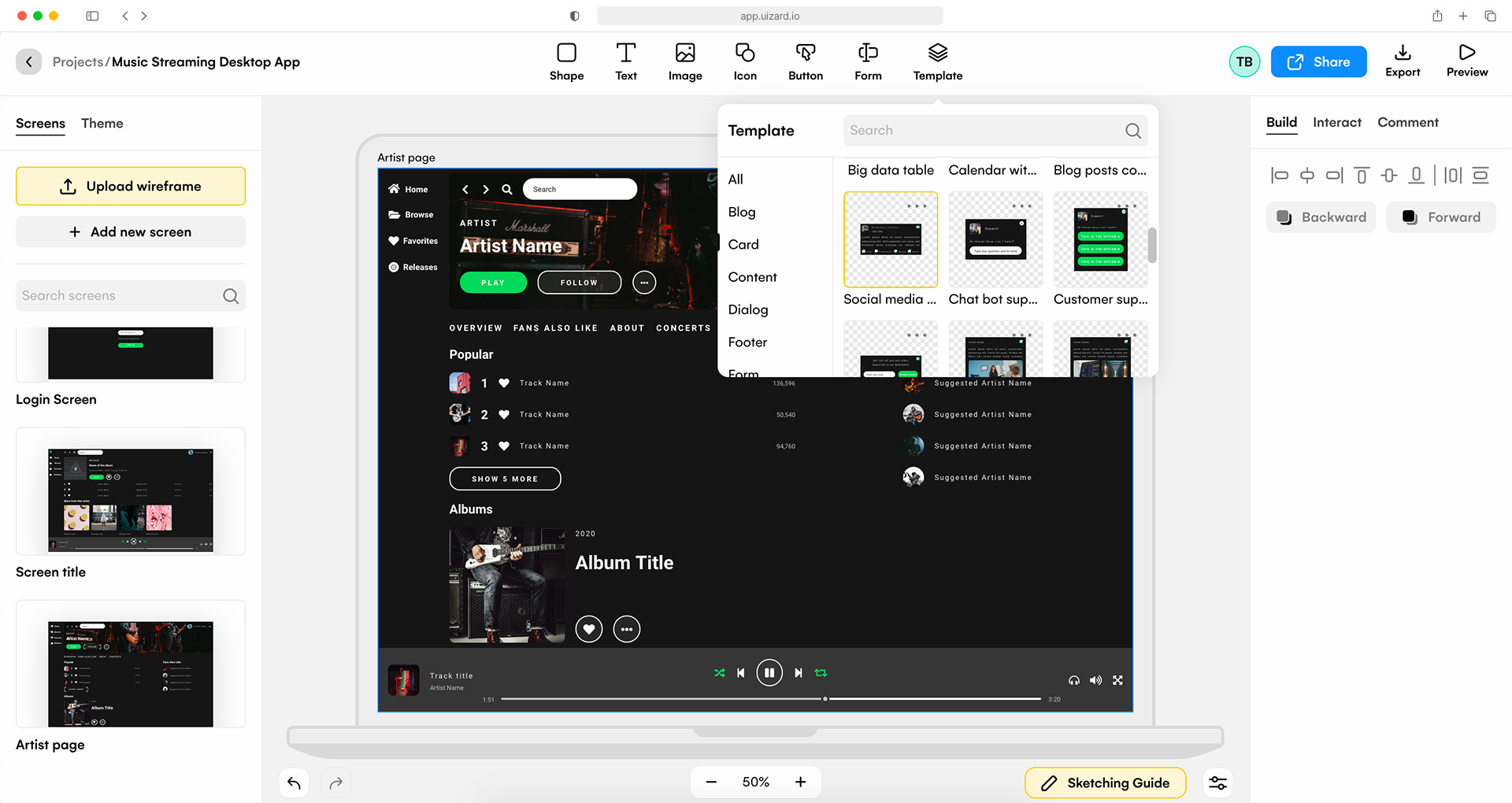 The importance of user-friendly design software
Every company today, regardless of its industry, is a software company. Every company needs to design user-friendly software either to serve its customers or to serve its staff and operations.
Driven by the consumerization of enterprise software and the increasing customer demand for good design, every company today needs to make sure that within their organization, as many people as possible are fluent in communicating around design. To put it differently: design is no longer just for designers.
"Design is inherently cross-functional; it should sit at the center of every organization." Dylan Field, Co-Founder & CEO at Figma
However, the amount of people in a given company that can efficiently convey their thoughts and ideas into visual designs and prototypes is low because of:
Bandwidth: The company's design and tech staff is already busy working on other projects. As a matter of fact, creative professionals are completely overworked.
Hiring is hard: A lot of design and tech talents are driven to the five tech giants, thus making it hard for other large enterprises and startups to attract top talents. Additionally, there is a worsening shortage of design and tech talents. In 2018, Korn Ferry estimated that by 2030, the shortage of talents would result in nearly $8.5 trillion of revenue opportunity loss worldwide.
Tooling is complicated: Existing design and UX prototyping tools are too complex to use for non-designers without extensive training. All current professional digital product design tools have so far been exclusively created to help expert designers (e.g. Adobe Creative Suite, Sketch, Figma, InVision Studio, etc.).
Basically, this means that domain experts, business leaders, and decision-makers are not able to efficiently visualize, communicate, and test their ideas because the tooling is too complex to use, their design team is already too busy, and it's hard to hire. Very often, software like Google Slides, PowerPoint, or Keynote become the substitute to design tools for managers, leaders, and non-designers in general.
If design-matured companies and design tool providers agree that successful design processes should be collaborative, open, accessible, and inclusive, then we need a solution for designing digital products that is truly usable by everyone regardless of their technical/design background. This is exactly the problem that Uizard is trying to solve!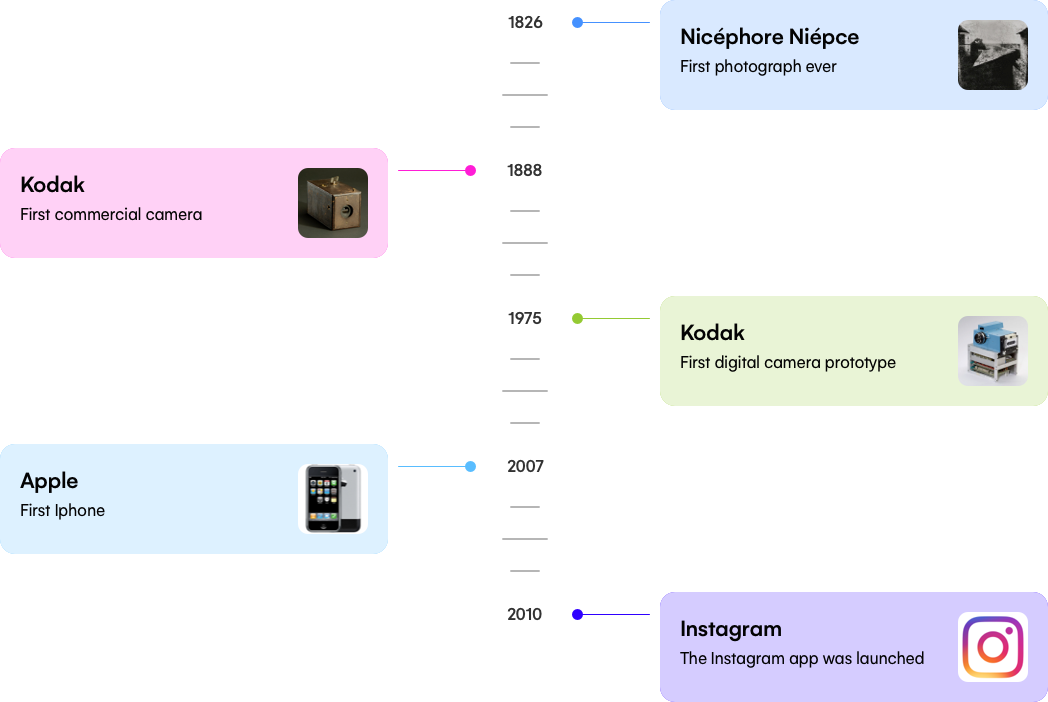 Empowering non-designers with AI design tools
Before we can talk about the democratization of design and the emergence of AI design tools, let's look at what happened with the democratization of photography.
Photos are everywhere! In 2020, there were over 100M photos and videos uploaded to Instagram every single day. The journey toward the democratization of photography started in 1888 when Kodak released the first commercial camera, but democratization didn't take place until very recently. This democratization didn't just happen because cameras became a thing. It happened because the technology became specialized, attainable, easy to use, and smart.
Every time you take a selfie, a lot of fancy algorithms are doing complex operations in the background so you don't have to think about shutter speed, aperture size, lens diameter, and so on. Democratization happened because the user can focus on the task at hand while the technology takes care of the rest.
"More people can use the democratization of design than can use a Macintosh." Guy Kawasaki, Chief Evangelist at Canva & former Chief Evangelist at Apple
If democratization happens when technologies become specialized, attainable, easy to use, and smart, how is Uizard enabling non-designers to design digital products?
Why non-designers choose Uizard
We think it's because Uizard operates with a significantly different paradigm form its predecessors, similar to the way Canva's paradigm is different from Adobe Photoshop.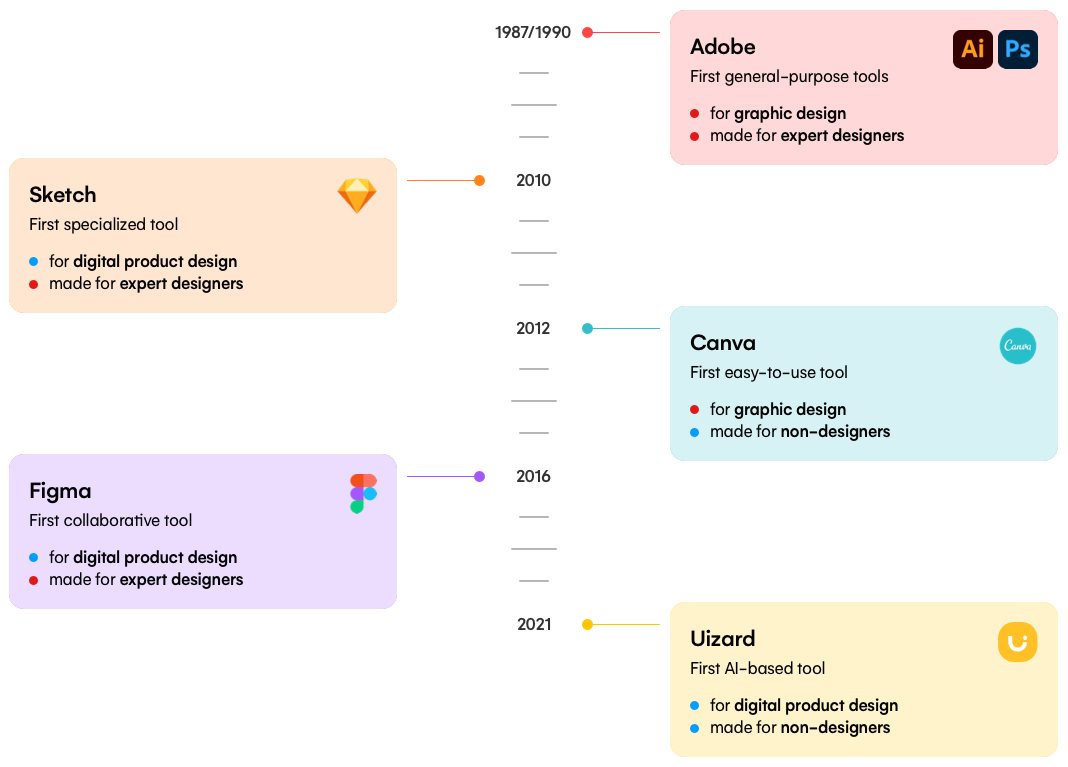 Uizard is specialized
One of the key reasons enabling the democratization of photography is the specialization of the camera. Out of the box, the camera on your smartphone isn't designed for long-distance shots or microphotography. It's designed to let you capture everyday life: people, animals, landscapes. It's specialized for one specific purpose. That's it.
When Sketch launched in 2010, the design world was dominated by two general-purpose graphic design tools: Adobe Photoshop and Adobe Illustrator. Sketch became the first specialized vector-based tool for screen design. It was specially made for professional UI designers that needed a dedicated software for designing digital products such as websites and mobile apps.
Similarly, Uizard is made for designing digital products and isn't built to be a general-purpose graphic design tool with hundreds of options and menus most people would never use. It's a specialized tool for designing mobile apps, websites, and desktop software. That's it.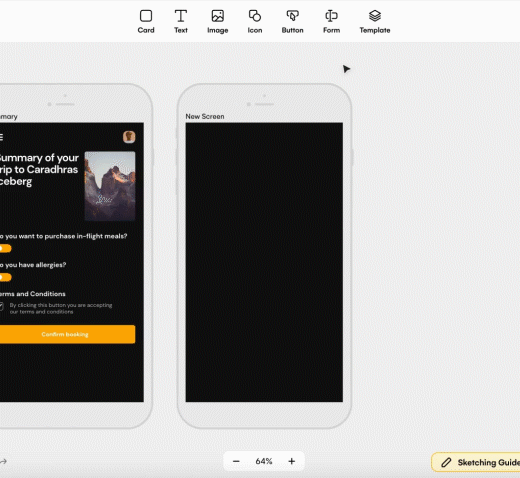 Uizard is attainable
To be attainable to the masses, photography equipment needed to be manufactured and distributed cheaply. For software to be truly attainable, it shouldn't force users to use a specific operating system, and it should remove any barrier to adoption.
Inspired by the success of the Google Suite, Figma became the first web-based collaborative design tool that could run on any operating system. This is a pretty big deal and Adobe and Sketch are still struggling to catch up to Figma on making their own tools truly attainable. When COVID hit, collaboration in the workplace became instantly virtual and companies like Figma won.
When we built Uizard, this was a no-brainer: it had to be an online software accessible on any modern web browser. Uizard is fully collaborative and enables real-time collaboration whether teams are spread across continents and time zones or sitting next to each other in an office.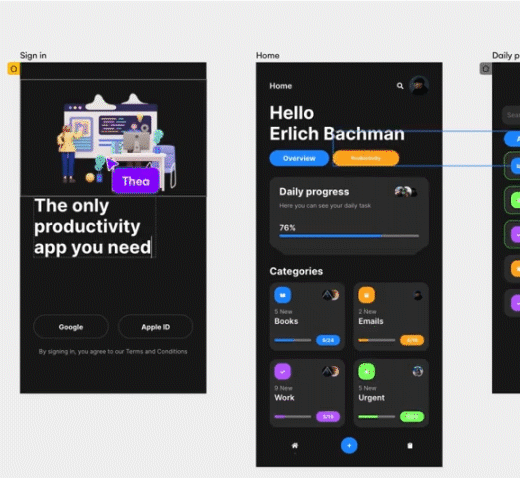 Uizard is easy to use
When you open your smartphone camera app, you aren't choosing the shutter speed, aperture size, and lens diameter. All these concepts are abstracted away. You tell the app you want to shoot a portrait, a slow-mo movie, or a panoramic photo, and you just hit a button.
When you open expert design tools such as Photoshop, Sketch, or Figma, you are expected to work with pixels and vectors. All these concepts makes perfect sense for expert designers that need fine controls and high precision. But if your goal is to quickly design the home screen for an app, it's not the most efficient way to work.
Canva was the first design tool to get rid of the pixel/vector paradigm in favor of embracing templates and layouts for general-purpose design tasks (e.g. social media post, presentation slides, business card).
Similarly, Uizard enables an easy design experience by letting users craft apps and websites by using components and templates: buttons, input fields, login forms, navigation bars, e-commerce payment section, etc. Pixels and vectors are abstracted away, and the core building blocks are easy to understand, manipulate, and assemble.
"The best products map to how customers think about their workflow. They match the abstraction level of their customers: not too high that it's unusable, but not too low that it's hard to use easily or extend in more complex ways." Kevin Kwok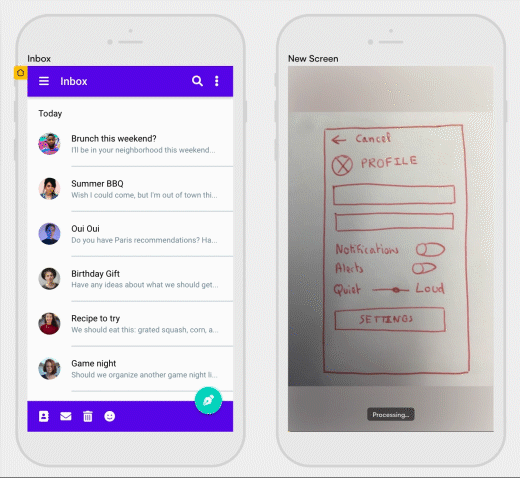 Uizard is smart
When you pull out your phone to take a picture of your morning latte with a blurry cityscape in the background, you don't set the focal length and depth of field manually. Instead, smart algorithms take care of all these operations in the background so you can just frame and press the button. Software is eating the world, and AI is eating software. Smart algorithms are here to help people achieve their goal effortlessly.
Similarly, when designing a digital product, the last thing you need is to waste time with repetitive tasks. The product and the technology should work for the user, not the other way around. You should be able to focus on your goal while your tool takes care of time-consuming operations. Machine learning-based algorithms truly have the uncanny magical potential to turn complex tasks into simple ones.
In 2018, we built the most sophisticated deep learning-based technology to teach computers to understand interface design in a similar way people do. This technology is one of the core building blocks enabling non-designers to use our product to design like the pros.
Uizard's AI-powered Design Assistant can do a few magical things! It can automatically turn hand-drawn scribbles into customizable designs. It can automatically extract and apply the style of any source of inspiration (e.g. screenshot, photo, moodboard, URL, etc.) to a given project. It can automatically change the design style of a project in one click while preserving information hierarchy. And this is just the beginning!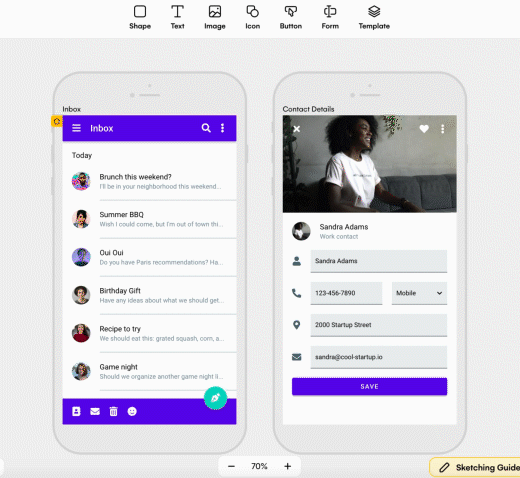 Bring your idea to life with Uizard, the AI design tool for non-designers
Hopefully, this blog post provided a good overview of how Uizard is providing value to non-designers and how it can be a stepping stone toward the democratization of design.
One thing for certain is that good design is key to good software, and companies have never before understood this as clearly as they do today. As we move toward the democratization of design, more people will be able to take part in product ideation, brainstorming, and design in general, to develop the best solutions for their customers.
"Now, we are moving into the decade of design. […] More people today  — not only designers  —  now need to be fluent in communicating around design." Peter Levine, General Partner at Andreessen Horowitz
Importantly, the democratization of photography doesn't mean that there is no longer a need for professional photographers or that manufacturers stopped producing cameras for the experts. It simply means that more people can express themselves more easily regardless of their background.
We don't claim that everyone is a designer or that everyone will ever become one. We claim that everyone can have great ideas and that everyone deserves to be able to express them!
Building great products is always a team effort. When anyone in a team can easily and efficiently visualize, communicate, test, and validate their wild ideas, the entire team benefits, learns faster, iterates more, and focuses resources on what matters. Great ideas can come from anyone, and design should be as accessible, inclusive, open, and collaborative as possible.
Needless to say, we're extremely excited about the near future and partnering up with the brilliant team at Insight Partners!
Ready to bring your own product idea to life with the power of AI UI design? Sign up to Uizard for free today. Want to learn more about Uizard and about design in general? Head over to the Uizard blog now.