The complete guide to Uizard's Magic Features
Uizard is an AI design tool that can be used to create wireframes, mockups and prototypes of web and app designs. Beginning your design journey with Uizard is quick and simple. Start from scratch with a blank canvas, pick out a UI design template, or type in just a few prompts into Uizard Autodesigner to generate a multi-screen project.
Whatever you decide, from here you can edit premade design screens, or add new ones to create your own, unique design. Drag and drop elements and components into your screens, map the user flow between screens, and use Uizard's Magic Features to create an amazing web or app design. In this article, we will discuss Uizard's Magic Features, and how they can simplify, improve and add some fun to your design process.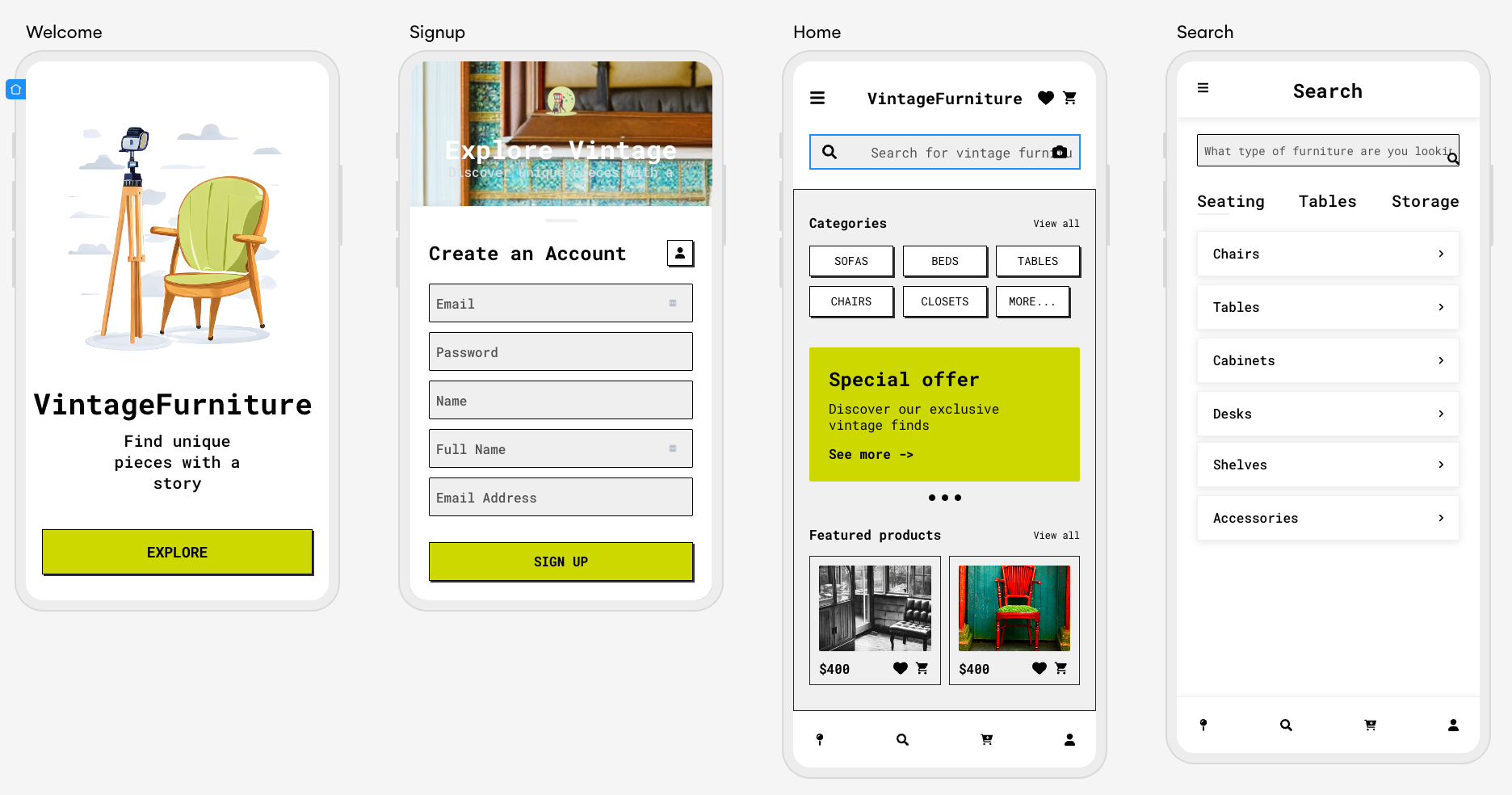 Skip to a Magic Feature:
---
Uizard Autodesigner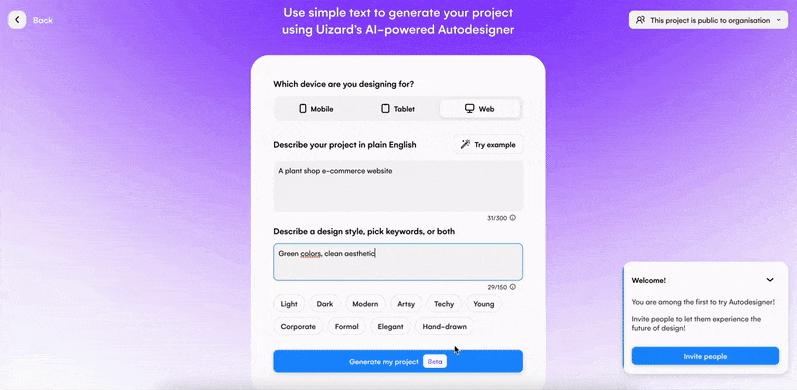 Uizard Autodesigner uses AI to allow you to generate a multi-screen app or web design using prompts. To get started, select a device type. You have three options, either mobile, tablet or web. You can then go ahead and describe your desired design project. There are two prompt boxes, one for describing your project, and one for describing the design style you would like. Using descriptive prompts, such as specifying a button color, will help Autodesigner to provide the output you're hoping for. To finish, go ahead and press 'Generate my project'.
In seconds, you will have a fully-fledged prototype, composed of several design screens with relevant elements and components. Uizard Autodesigner also intuitively maps the user flow between your design screens. Editing your AI-generated creation is super simple, and you can tailor it to your liking.
Uizard Screenshot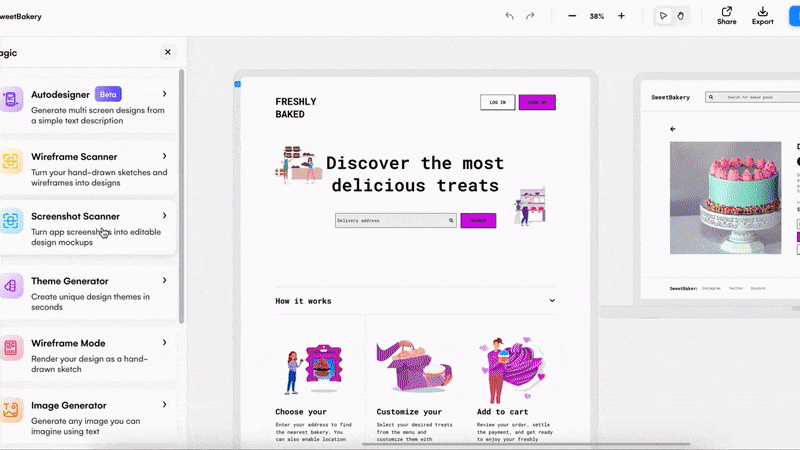 Turn screenshots into customisable and editable design screens with Uizard Screenshot. Take inspiration from your favorite web and app designs and apply them to your Uizard project. With this magic feature, all you need to do is upload a screenshot of your desired design, and Uizard Screenshot will turn this into a new, editable design screen. Change the color of elements, add in new components and even use other magic features to help you create your new design screen.
Uizard Wireframe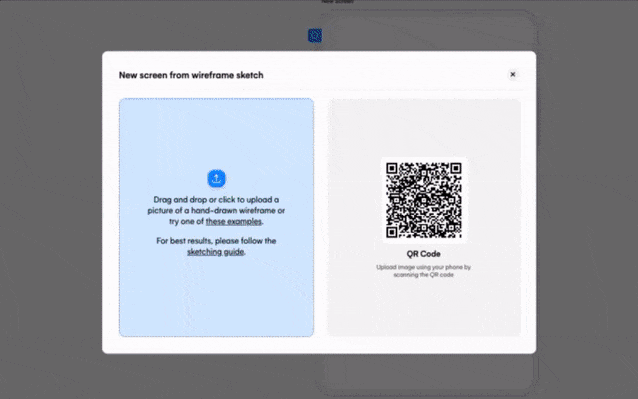 From paper to screen, take your hand-drawn sketch and transform it into a fully-editable UI design with Uizard Wireframe. To get started, simply snap a picture of your wireframe sketch, and upload it via the wireframe scanner in the magic tab. Uizard Wireframe will transform your sketch into a mockup in seconds, and you can change the text, images and even upload extra wireframe sketches to complete your project.
Theme Generator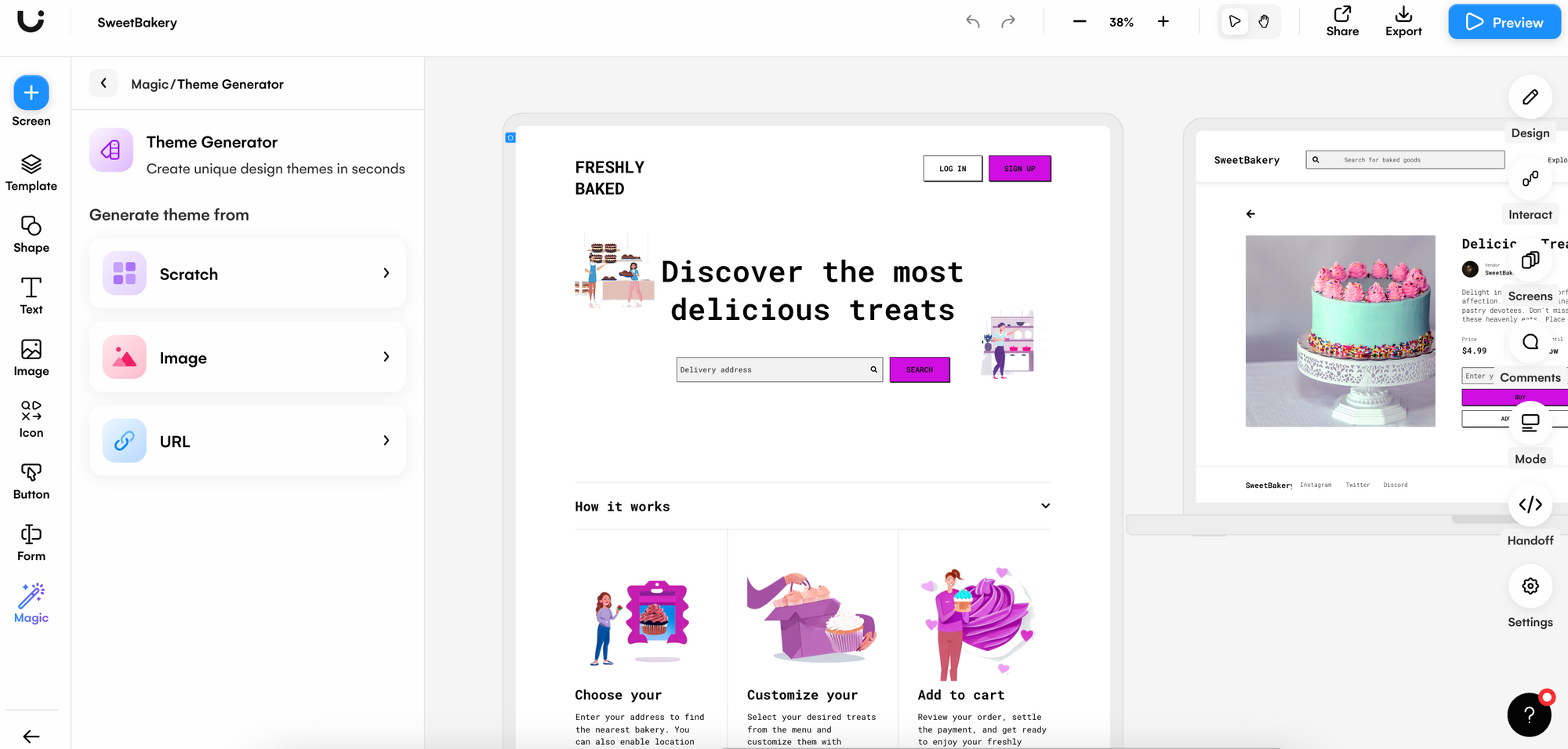 Generate and apply a unique design theme to your entire Uizard project using Theme Generator. You can either create a theme from scratch, using an image as inspiration, or input a URL to collect a design theme from a page online.
Opting for the 'Generate theme from scratch' tab allows you to pick colors, font styles, corners, shadows and borders to personalize your project further. Generating from an image requires an upload of a web or app design, and Uizard's Theme Generator will update your project accordingly. Similarly, the URL functionality will take inspiration from a page link, and your project will change to reflect this design.
Wireframe Mode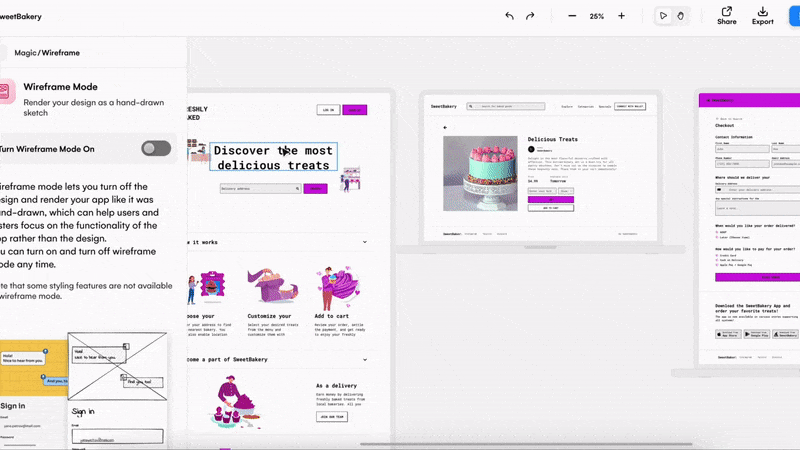 At the flick of a switch you can turn your high-fidelity design into a low-fidelity wireframe using Wireframe Mode. Within the Wireframe Mode tab, you will find a toggle with which you can turn on and off to view your design project in a wireframe format. The bonus of viewing your mockup or prototype in its bare-boned form is that you are able to test the functionality of your app or web design. Use this feature anytime you need to take your design back to basics.
Image Generator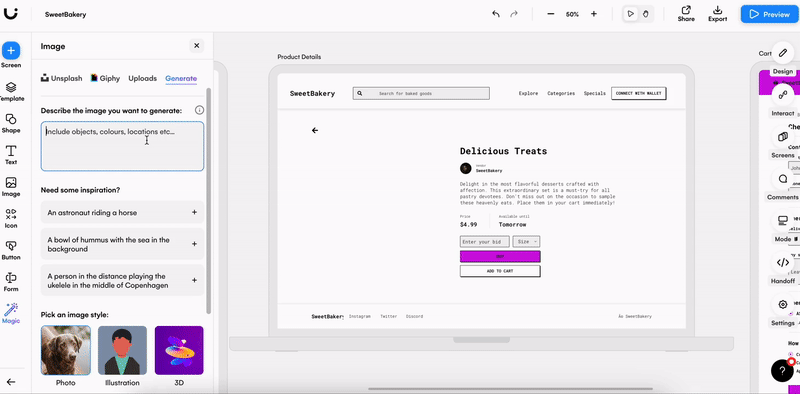 Generate images from prompts in seconds using the Image Generator in Uizard. All you need to do is describe your desired image, and pick an image style. With six image style options to choose from, you can customize your generated image even further. Once clicking 'Generate image' you will be provided with four image options, and these can be easily dragged and dropped onto one or multiple design screens. Selecting the 'Start again' option will take you back to the start, where you can generate another set of images.
Focus Predictor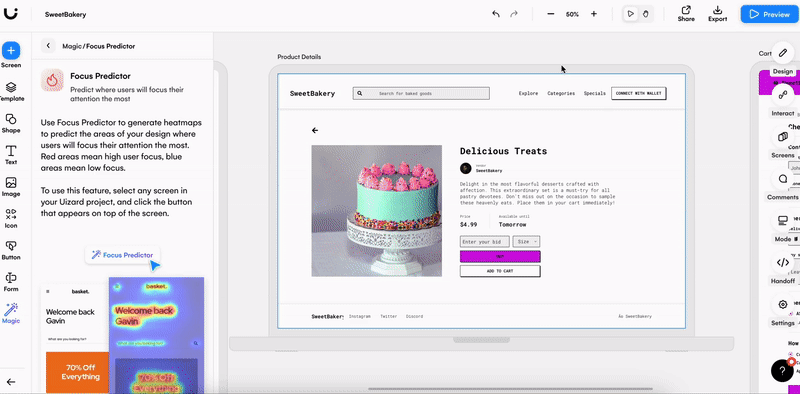 Locate attention hotspots on a single design screen with Focus Predictor. Select the design screen you require, and the 'Focus Predictor' button will appear above it. Clicking this will create a heatmap of your design screen, presenting the high and low areas of user focus and attention. This can then be downloaded to use as a reference for improving your design screen.
Text Assistant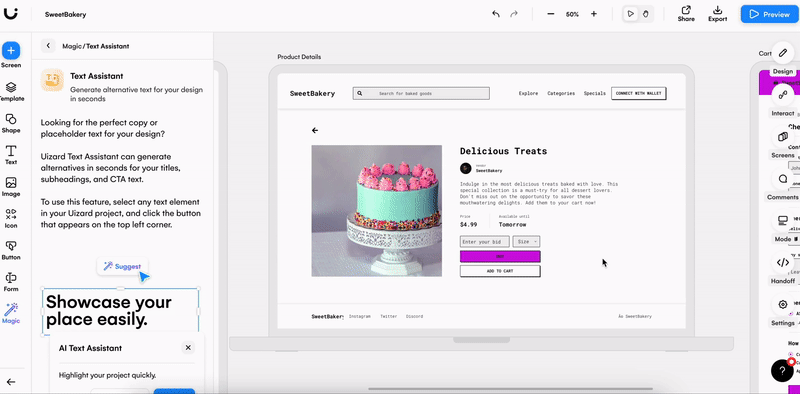 Use AI to generate text alternatives with Text Assistant in Uizard. For when inspiration is lacking, this magic feature is here to help. Choose the section of text you want to change, and opt for the 'Suggest' button in the panel that appears. This AI feature will then generate alternative text that can replace your existing copy. If you want to see what else Uizard's Text Assistant has to offer, simply click on the 'Generate' button, and create a new text alternative.
Image Assistant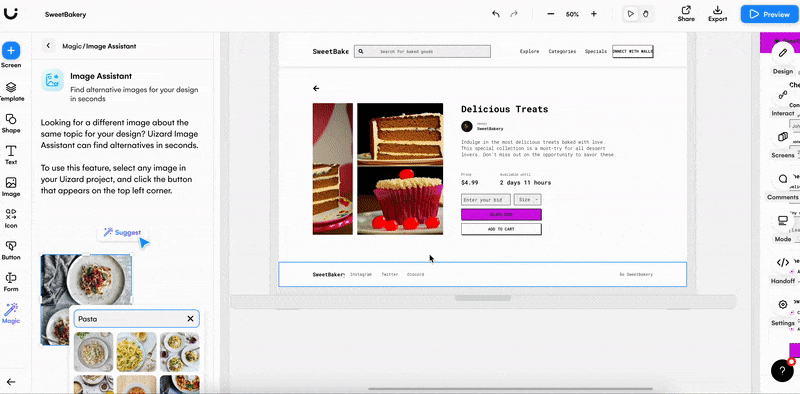 Find alternative images quickly and easily using Image Assistant in Uizard. To try out this magic feature, simply select the image you want to change, click 'Suggest' and then describe the image you are looking for. Try using various keywords to locate new images until you find the perfect one. Upon clicking on one of the image options, this feature will automatically update your desired image.
Uizard's Magic Features will make your design journey easier, and cooler, so why not test them out for yourself? Sign up today to get started. Want to try out Uizard Autodesigner? Make sure to sign up to Pro.