How to become a UI designer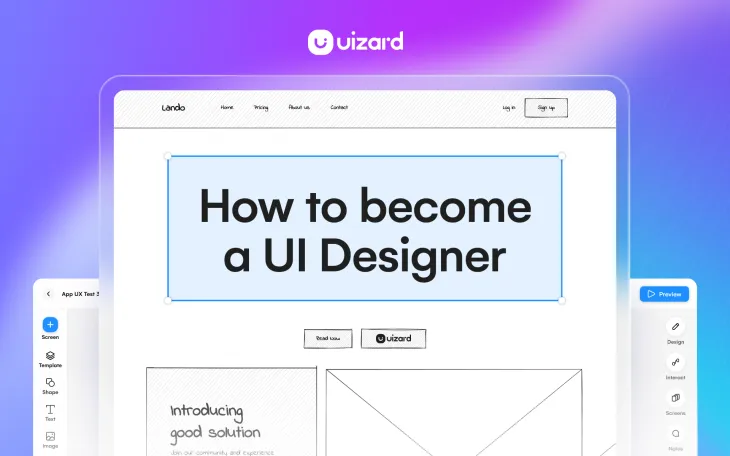 Make no mistake about it, the UI design scene is booming. The market's worth reached an impressive 1.596 billion USD in 2021 alone, and is forecast to rise to a staggering 3.693 billion USD by 2028 (Business Research Insights). With our day-to-day lives becoming ever-increasingly digital, and with more and more businesses appreciating the value of great UI design to effectively connect with users, there's never been a better time to kick off your UI design career.
Perhaps even more exciting for aspiring UI designers though is the recent emergence of AI UI design. Tools such as Uizard, for example, are changing how we approach even the most basic UI design tasks. More than that, AI can now provide UI designers with very real solutions when it comes to ideation, working at speed, and collaboration.
Whether you want to convert hand-drawn app designs into digital mockups, convert screenshots into editable designs, or even generate professional UI designs using simple text prompts – it's all now possible. Essentially, we're heading towards a future with more dynamic and personalized user interfaces, a future where UI design is more streamlined and more accessible to those new to the field.
So, if you're a budding designer, there's never been a better time to join the frontline of UI design innovation. With AI by your side, breaking into the field or enhancing your skills is more feasible than ever. Stick with us as we delve deeper into how you can make it in the world of UI design.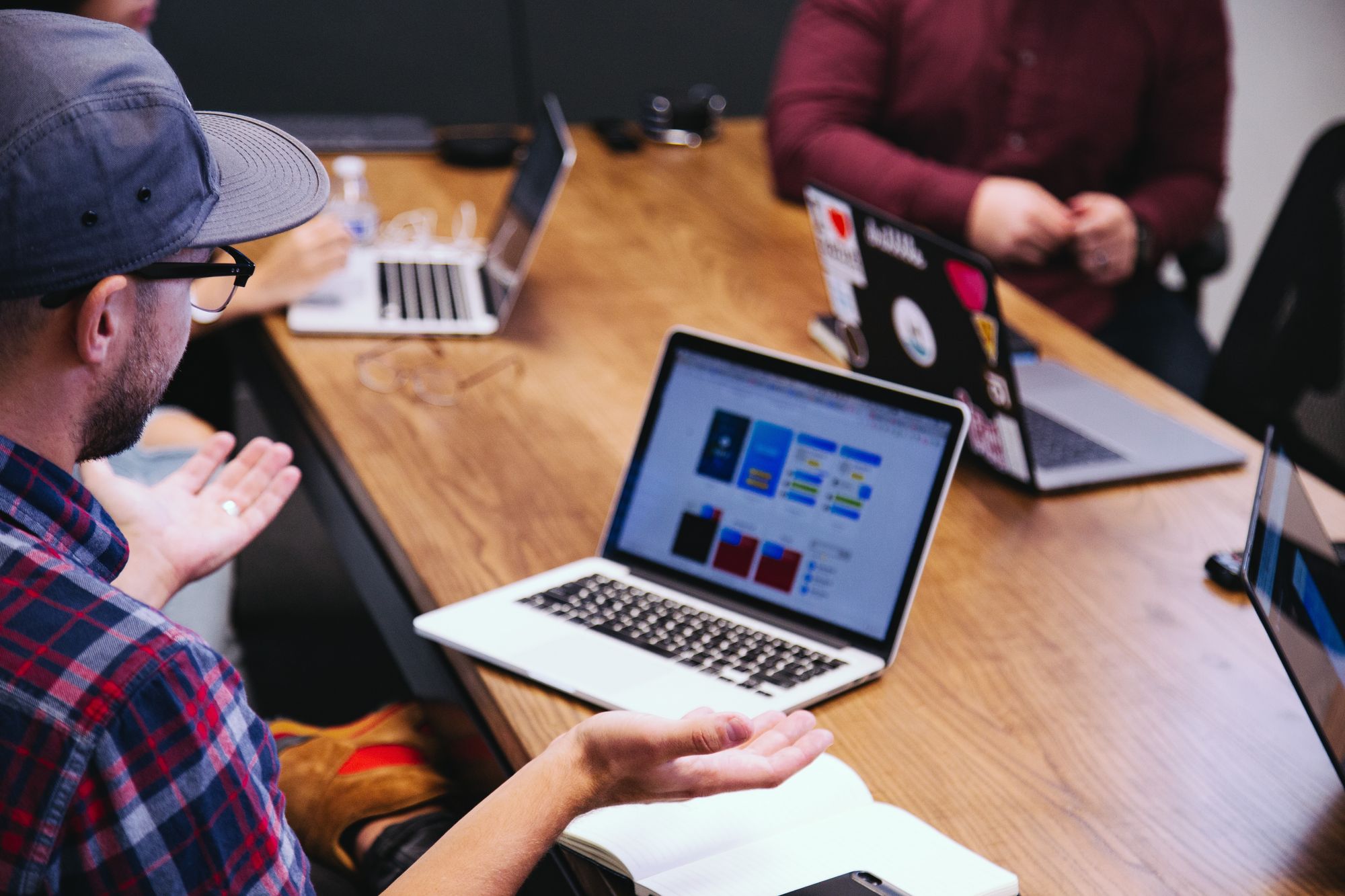 ---
Skip to section:
What skills does a UI designer need?
How to become a user interface designer - 5 steps to success
---
Before we dive into some of the practical tips you can take to become a UI designer, let's first take a look at what a UI designer is, and what one does...
What is a UI designer?
💡
A user interface designer is responsible for designing the look, feel, and interactivity of a digital product, usually a mobile app, desktop software, or website. Their work is crucial in determining how users interact with a product and their experience using it. UI designers focus on the product's visual aspects and interactive properties, creating a design that is both aesthetically pleasing and easy to navigate.
Essentially, a UI designer creates the visual elements that a user sees and interacts with. This includes everything from the navigation bar right through to the cool animation that plays when a user completes a task. A UI designer's work goes beyond just making things look good though; they make sure that everything a user needs is easy to find and understand, aiming for a smooth, seamless, and enjoyable user experience.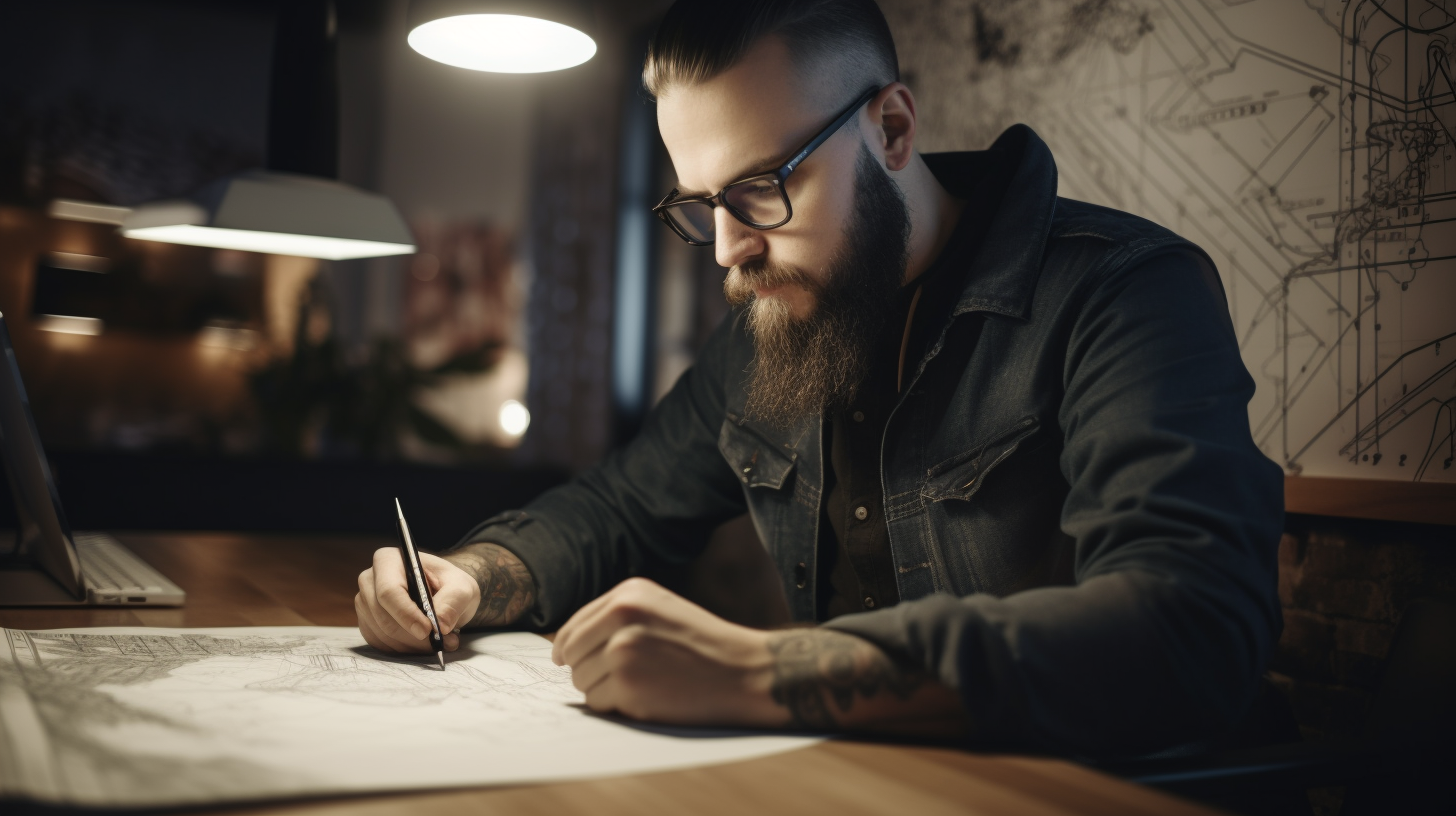 What does a UI designer do?
💡
A UI designer creates the visual elements and interactivity of digital products, such as apps and websites. Their work includes designing graphics, selecting colors and fonts, arranging layouts, and defining how interactive components behave. They aim to make the product visually attractive and user-friendly, often working alongside UX designers and developers.
Beyond the visual elements, UI designers anticipate the needs of a user. They'll design an interface in a way that guides the user where they need to go, even if they're not exactly sure what they're looking for. UI designers are constantly thinking about how to make a digital experience as enjoyable and seamless as possible. In essence, they are the masters of the experiential side of digital interfaces.
What skills does a UI designer need?
Diving into the world of UI design demands a distinctive toolkit of skills (even with the emergence of AI design to make life easier, you still need to learn the core skills that underpin great UI design). Here are some of the essential skills that you'll need to become a successful UI designer...
Visual communication skills
Collaboration skills
Problem-solving skills
Willingness to learn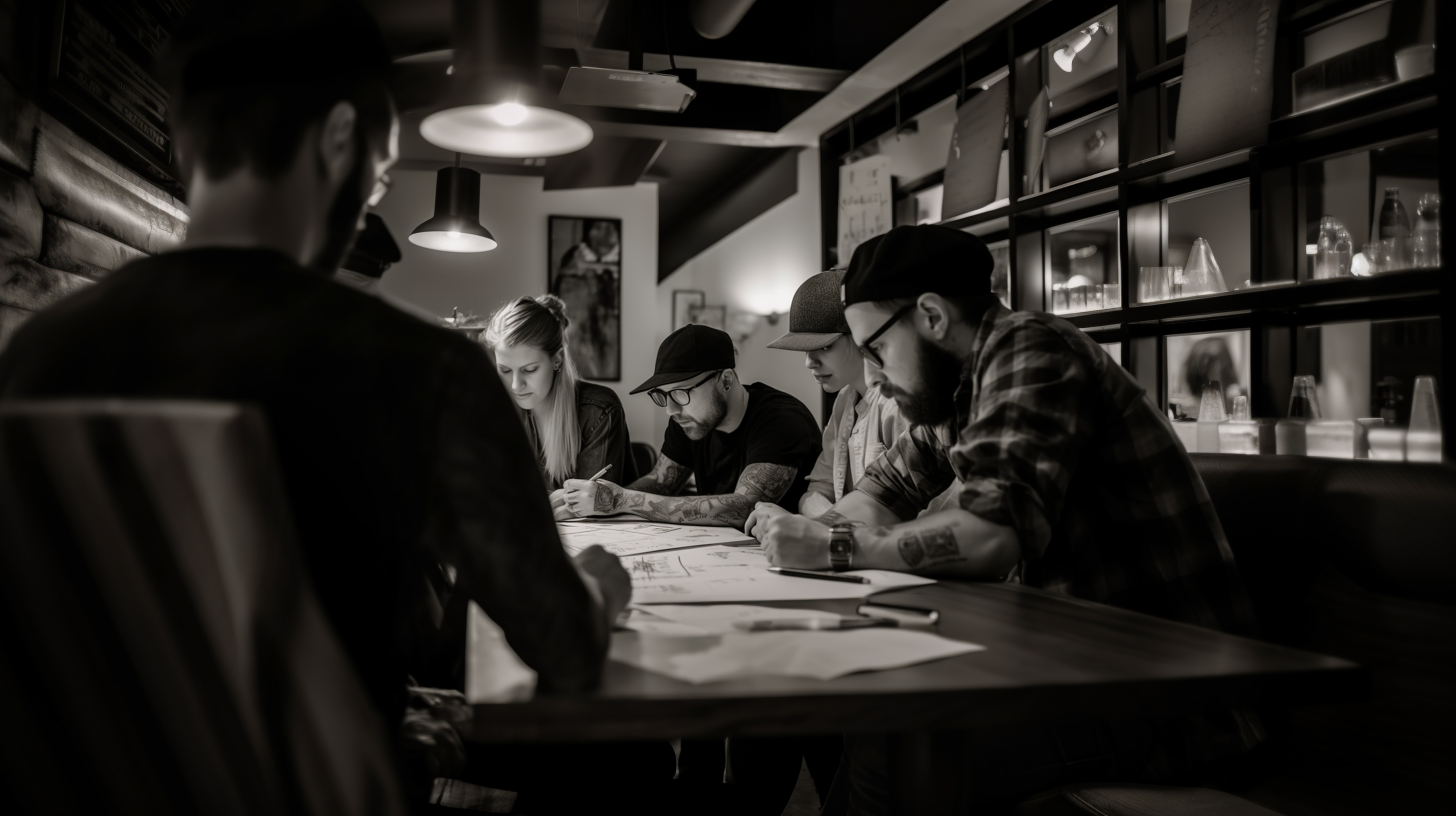 Visual communication skills
Visual communication is the secret language of a UI designer; it's how they convey the intent and purpose of a design. As an example, the way that buttons are designed or the colors that a UI designer chooses is not just about aesthetics.
These visual elements serve as signals that guide users and show them how to navigate and use a product. Is that button important? The size and color might tell you. Is this icon for sharing or signing in? The design will clue you in. This is visual communication in action.
But it's not just about guiding users. Visual communication also helps UI designers set the mood and tell a story that aligns with the brand. A playful color scheme can create a fun vibe, while a minimalistic design might convey a sense of elegance. The visuals contribute significantly to the overall user experience, making a product more than just functional, but also enjoyable to use.
Collaboration skills
UI designers often find themselves as part of a larger team, working alongside UX designers, developers, product managers, and even clients. Each of these individuals brings a different perspective to the table, and so collaboration is key to making sure these perspectives merge into a cohesive and effective final product.
Without good collaboration skills, differing opinions can lead to friction, miscommunication, and an end product that falls short of its full potential.
UI designers need to be effective communicators and team players and they also need to be able to understand and integrate the needs and constraints of different stakeholders. This isn't just about avoiding conflict - it's about creating the best possible product by harnessing the collective know-how of the team.
Problem-solving skills
UI designers often have to balance different needs and constraints. They need to align their designs with business goals, work within technical limitations, and still create a great user experience. That's where problem-solving comes in. It helps UI designers navigate these complexities and find innovative and effective solutions. In short, problem-solving is what allow UI designers to create interfaces that look great but also work well for the user.
The golden rule of UI design: If a design choice hinders the user instead of benefiting them, then don't do it. Great UI design is about crafting a seamless and frictionless experience. As a UI designer, you'll need to have a user-first mindset with any design choice you make - this goes for any specific design problem you encounter during your next (or first) UI design project.
Willingness to learn
Finally, if you're going to make a success of your blossoming UI design career, you're going to need to dedicate your time to learning about the field (see step one of our 5 steps to success below for more details). The field of UI design is always evolving with new tools, trends, and best practices emerging regularly. Successful UI designers are those who stay curious, keep up with industry trends, and commit to continuous learning.
How to become a user interface designer - 5 steps to success
Ready to kickstart your UI design career? Here is how you can become a UI designer in 5 steps:
Learn about UI design
Learn how to use UI design tools
Practice UI design
Create a UI design portfolio
Engage with the UI design community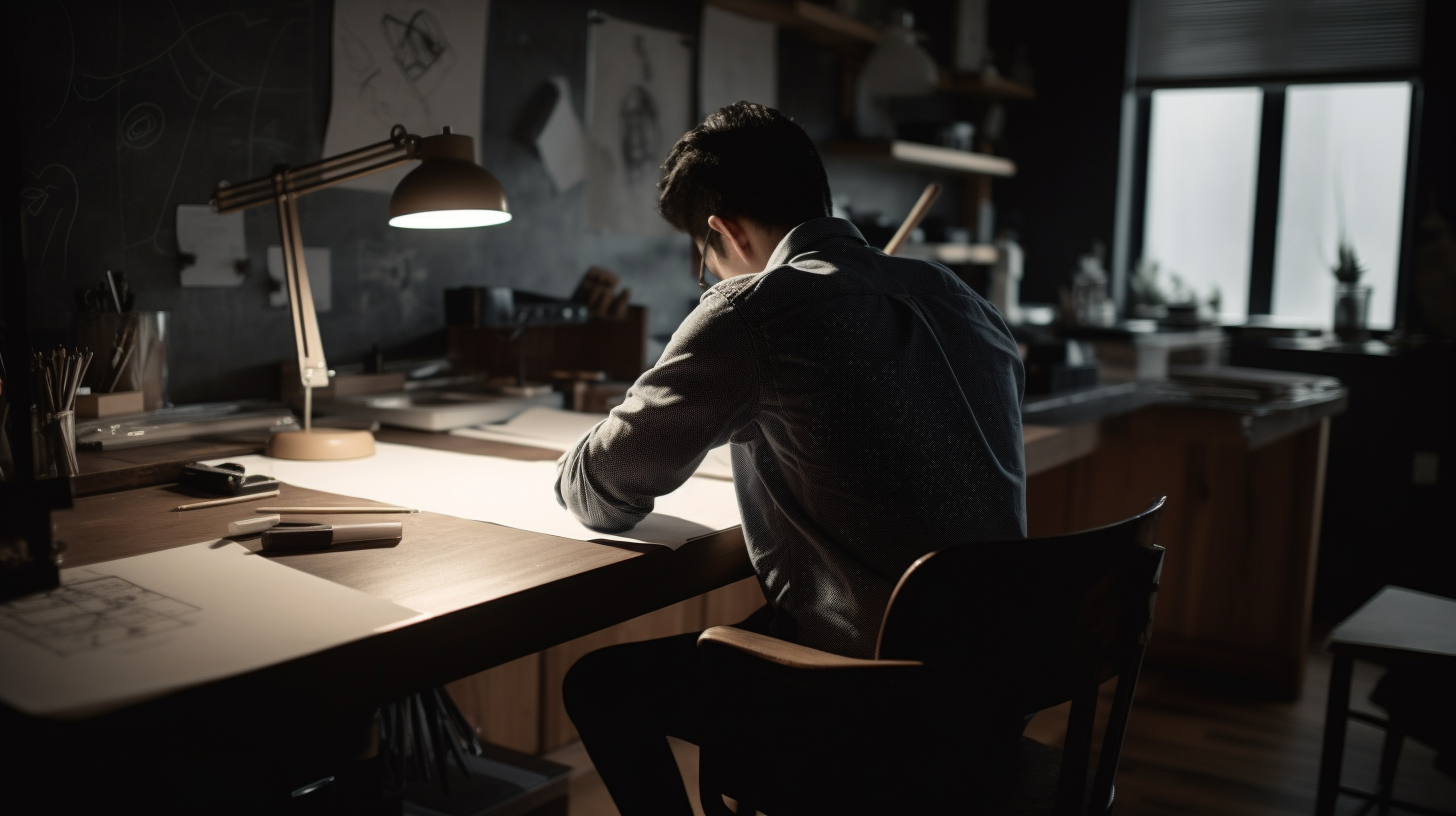 1. Learn about UI design
Congratulations, you've already kicked off your UI design journey by reading this article; knowledge is power and the more you know about UI design as a discipline, the faster you will progress as a designer.
Begin by familiarizing yourself with the basics of UI design and you'll soon develop a foundation for more advanced learning and practice. This includes understanding key design principles and learning about color theory, typography, layout, and other fundamental aspects. There are loads of online courses and resources available on platforms to help you get started.
Head over to the Uizard blog to learn about all things design, from our beginner's guide that focuses on what UI design is, right through to our more advanced guides for app and web design.
2. Learn how to use UI design tools
As well as learning about UI design itself, you'll also need to learn how to use a UI design tool. Find an easy-to-use tool that you're comfortable with and you've got yourself a creative playground to start putting your design skills to the test.
As vector-based design tools can be tricky to master, a tool like Uizard is the perfect choice to get started. Uizard's drag-and-drop editor makes UI design a breeze. You can kickstart a project with one of Uizard's pre-made UI design templates, or start a project from scratch by simply dragging and dropping the components or elements you need into your design.
If you really want to work at speed, then Uizard also offers a host of AI design features that will supercharge how you work (more on that later). Check out our beginner's guide to Uizard or watch the video below to find out more.
3. Practice, practice, practice!
Practice makes perfect. Once you've signed up to Uizard, there's no better way to master your UI design skills than to keep practicing. Create new design projects from scratch or try recreating existing app or web interfaces to master using UI elements and components.
With Uizard's Screenshot Scanner, you can even import screenshots of other apps or websites and convert them into editable designs - this is a great way to try your hand at copying and updating a design you like with minimal effort.
Practical experience is crucial to developing your design skills and understanding, so the more you practice the better.
4. Create a UI design portfolio
Once you've got an understanding of design theory and you're comfortable with your UI design tool of choice, you can now start putting a portfolio together. A design portfolio is a great way to demonstrate your UI design knowledge whilst also showcasing your work and skills.
5. Engage with the UI design community
Connect with other designers, attend design meetups, and join online design communities. Networking can often lead to job opportunities but it's also a great way to meet mentors and speak to professional UI designers who will be able to provide you with invaluable insight into how you can keep improving your skills.
When you're ready, start applying for junior UI design positions or internships. One surefire way to improve your skill and knowledge is by seeking out valuable real-world experience.
UI design made easy with AI
If you're really looking to get ahead of the game with your UI designs, Uizard has a host of features to help you do just that. As well as converting screenshots of established designs into editable mockups, you can also upload your hand-drawn wireframes in digitize them in seconds. With Uizard's AI, you can even generate images, text, or entire multi-screen UI designs from simple text prompts with Uizard Autodesigner. Head over to our complete guide to Uizard's AI features to find out more!
Generate a UI design from a text prompt with Autodesigner
Ready to begin your UI design journey? Sign up to Uizard for free today for instant access to the world's easiest UI design and ideation tool. Want to know more about the world of UI design? Head over to the Uizard blog where we discuss everything from the design basics right through to how AI is changing the industry for the better.